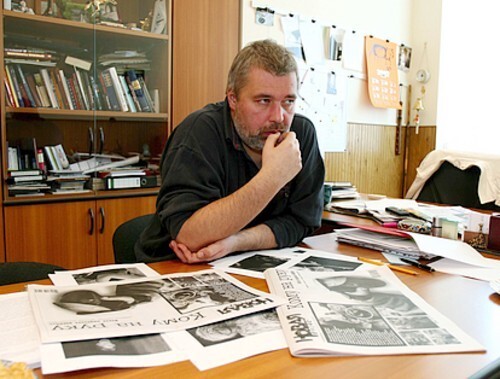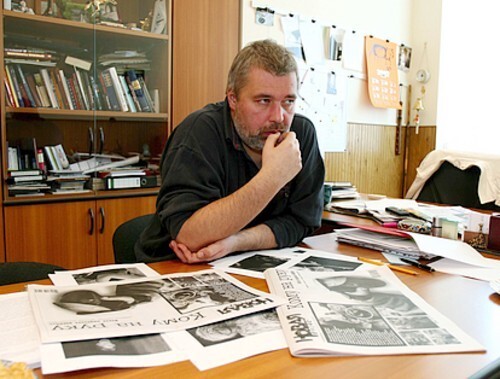 Novaya Gazeta editor-in-chief Dmitry Muratov checks an issue of his paper before it goes into print. Launched in 1993, the Gorbachev-funded paper soon won respect for its coverage of subjects such as corruption and the misdeeds of Russian forces in war-torn Chechnya.
The thrice-weekly publication, which claims circulation of nearly 700,000, stands out ever more as a lonely bastion of independent critical reporting.
(Sergei L. Loiko / LAT)
Novaya Gazeta editor Dmitry Muratov's office wall is adorned with a painting depicting, from left, the newspaper's chief sponsors, Alexander Levedev and Mikhail Gorbachev, and Russian President Vladimir V. Putin poring over an edition.
(Sergei L. Loiko / LAT)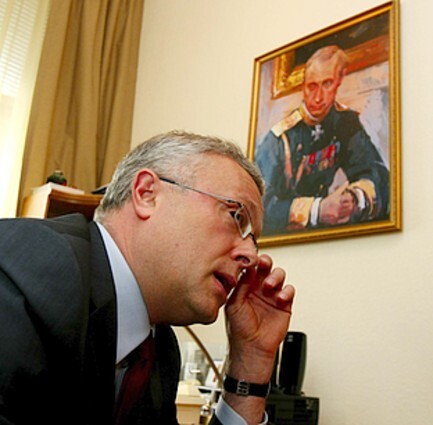 Lawmaker Alexander Lebedev in his office at the State Duma in Moscow. Lebedev, a billionaire with a KGB past, teamed with Gorbachev last year to financially rescue Novaya Gazeta. On the wall is a portrait of Vladimir Putin.
(Sergei L. Loiko / LAT)
Former Soviet President Mikhail Gorbachev used his Nobel Peace Prize money to launch the newspaper in 1993.
(Sergei L. Loiko / LAT)