The European country that makes the U.S. look lenient on immigration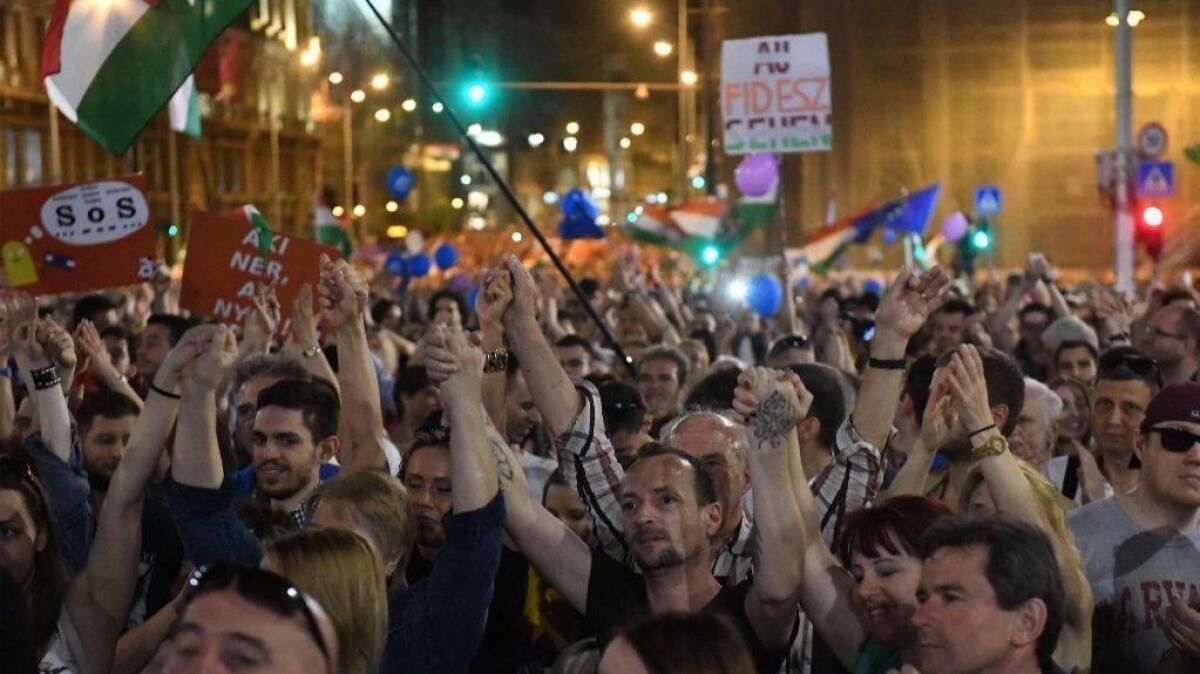 Reporting from Budapest, Hungary —
Nearly every day, an immigration lawyer makes his or her way to a barbed-wire enclosure along Hungary's border with Serbia, ready to walk an asylum seeker through the daunting process of pleading for safe haven in one of the most refugee-resistant countries in Europe.
Now these lawyers risk jail time if they so much as help a client fill out a complicated Hungarian-language form. Hungary's parliament last week approved a legislative package aimed not only at barring the gates to almost any outsider — but also decreeing punishment for those who try to aid would-be migrants.
Amid paroxysms of immigration-related political strife in the United States — family separations at the border with Mexico, the Supreme Court's upholding of the administration's travel ban targeting nationals from certain Muslim-majority countries — Hungarian Prime Minister Viktor Orban, a self-professed fan of President Trump, is savoring his latest and most sweeping victory in the migration wars shaking Europe.
The new measures, set to take effect as early as this weekend, allow for the prosecution and jailing of human rights workers and volunteers for providing services, advice or support to migrants and asylum seekers. The package, which prompted vehement criticism from the European Union and human rights groups, could still be vetoed by Hungary's president, Janos Ader, but such a scenario is seen as highly unlikely.
Hungary has taken in vanishingly small numbers of migrants, refugees and asylum seekers, but Orban — whose populist Fidesz party swept to victory in April elections, securing him a third term — sees vindication in the draconian anti-immigration measures increasingly espoused not only by hard-right leaders elsewhere in Europe, but also by the U.S. president.
Even before the latest stringent measures, Hungary earned a reputation for hostility toward migrants who surged through Europe three years ago, a wave made up largely of Syrian war refugees trying to make their way to friendlier destinations such as Germany and Sweden. Hungary erected a barrier on its border with Serbia and Croatia; state media relentlessly bashed Muslims as a threat to Christian Hungary. A much-viewed video showed a Hungarian camerawoman tripping a Syrian man as he ran across a field carrying his child, sending him sprawling.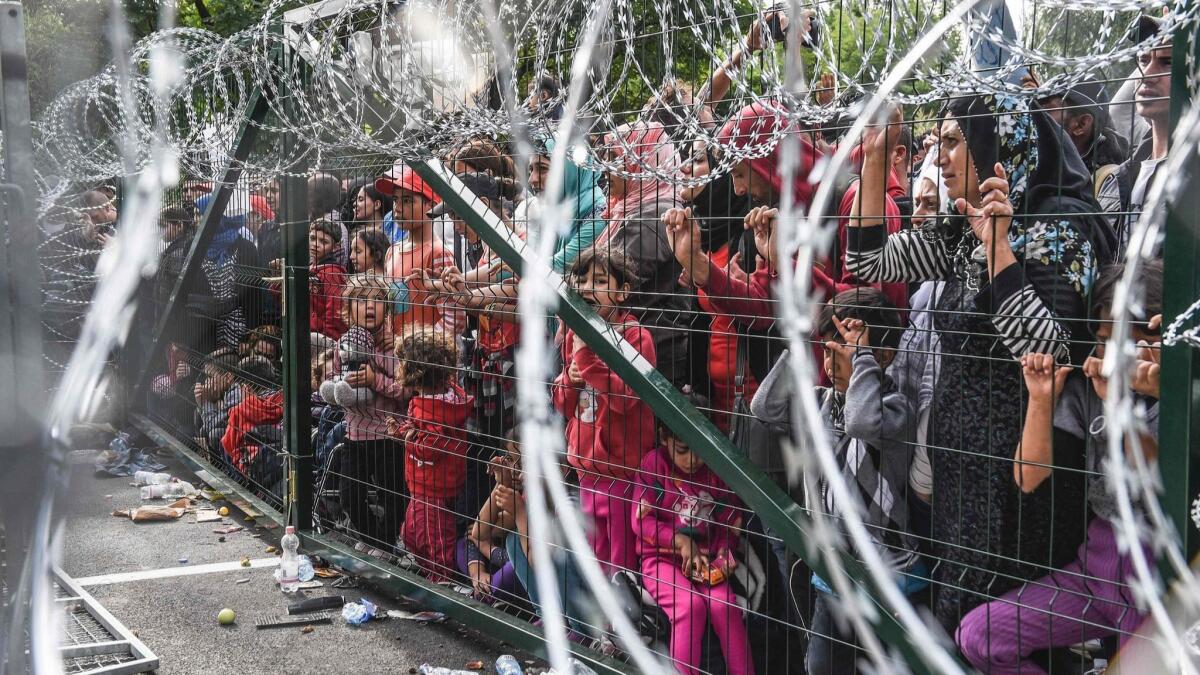 Orban, who crowed at being the first European head of state to congratulate Trump on his 2016 election victory, sees the U.S. president as a kindred spirit. Critics agree, often portraying the pair in the same unflattering light, particularly on immigration issues.
Jan Egeland, the secretary-general of the Norwegian Refugee Council, tweeted last week that Budapest and Washington were seemingly in a "race to the bottom" when it came to dealing with foreigners seeking refuge from violence.
Hungary has responded with defiance toward those who say Orban's aspirations to an "illiberal state" — with moves that have included a constitutional rewrite and a crackdown on press freedom — mark a blatant break with EU norms and values.
"We want to keep Hungary a Hungarian country, and we don't think that multiculturalism is by definition good," Foreign Minister Peter Szijjarto told the BBC this week.
Orban's government, like the Trump administration, has repeatedly cited border security and the need for anti-smuggling measures as a pretext for the newly tightened laws. And like Trump, the Hungarian leader appeals to his base with routine use of harsh, heightened language to characterize immigrants.
"The invasion should be stopped!" Orban told reporters in Brussels on Thursday.
Adding fuel to the fire, the EU's internal struggles over the migrant issue have been greeted with seeming glee from both Trump and Russian President Vladimir Putin, set to meet next month in Helsinki, Finland.
At a moment when leaders such as German Chancellor Angela Merkel and French President Emmanuel Macron are trying to maintain a united European front in the face of aggressive trade moves by Trump and the threat of election interference from Russia, migration is perhaps the most polarizing issue confronting the bloc. Merkel, speaking Thursday to Germany's Parliament, called it a "make-or-break" question.
The battle is in many ways paradoxical. The number of arrivals in Europe has dropped off dramatically since the 2015 crisis.
But in an echo of the U.S. dynamic of falling rates of migrant arrivals coinciding with ever more strident efforts to place the issue at political center stage, Orban has set himself up as the champion of an anti-migration faction mainly made up of countries that were satellites of the former Soviet Union.
That cohort also includes a chorus of far-right voices in countries that weren't part of the Soviet bloc, such as Austria and Italy. One of the most vocal and vitriolic of those is Matteo Salvini, Italy's combative new interior minister, who is also the deputy prime minister.
Leader of the anti-immigration League party, Salvini has taken aim at ethnic minorities including Italy's Roma population, blocked refugee rescue boats from docking and declared that the country needed "mass cleansing."
Salvini was among the Italian officials who met Tuesday with John Bolton during the U.S. national security advisor's Rome stopover en route to Moscow to lay groundwork for the Trump-Putin meeting.
An emergency gathering Sunday by a group of leading European Union members, which was boycotted by Hungary and several other states, was meant to engineer at least a show of unity on migrant burden-sharing. Instead it showcased deep divisions, rendered all the more painful by Trump's apparent glee over splintering of the EU and political schisms within member states that count among America's closest allies.
This month, the U.S. president shocked Germans with his open jeering of Merkel over the pressures her governing coalition faces on the migration issue, coupling his gibes with a false insistence that migrants have driven up German crime rates.
Vessela Tcherneva, program director for the European Council on Foreign Relations and the head of its Bulgaria office, cited Trump's use of "nativist, nationalistic forces" to deepen splits within the bloc as well as efforts at inroads in individual member states where his message might resonate.
Orban has long proudly showcased his affinity for Trump, and the two leaders had a friendly phone call this month as a political storm gathered over the U.S. president's since-softened policy of separating migrant parents and children at the southwestern border.
For Orban, "the immigration issue is an area of commonality with Trump policies," Tcherneva said. She cited a "wider context of what kind of societies these politicians want to lead, being sovereign and powerful at the expense of others…. This is very alien to the nature of the European Union."
Former Trump strategist Stephen K. Bannon, exiled from the White House but focused on offering encouragement to Europe's hard right, has had particularly kind words for Orban. Appearing at a conference in Budapest last month, he hailed the Hungarian leader as "Trump before Trump."
In Hungary, activists say the new immigration legislation portends a long struggle. Marta Pardavi, the co-chair of the Hungarian Helsinki Committee, a human-rights watchdog group, said the harsh new measures, while not unexpected, were nonetheless "very, very shocking."
Some of Orban's critics have called for the invoking of Article 7 of the EU's founding Treaty of Lisbon, which calls on all member states to "respect the values" of the bloc. Hungary has already been called out in the European Parliament for at least a dozen democratic breaches, and the European Commission could launch a so-called infringement proceeding, which could open the way to contesting the measures in court.
But a two-day EU summit that began Thursday brought more messy public acrimony, with Orban and his partisans loudly spurning calls for migrant burden-sharing. Most observers believe that at most, the bloc may manage symbolic accord on tightening Europe's external borders and steps such as creating incentives for third countries to dissuade migrants from trying to reach Europe's shores.
In the meantime, activists say, Hungary's new measures are likely to have a profound chilling effect, made all the worse by uncertainty, on those who try to move ahead with previously legal forms of migrant aid.
"You don't have to be convicted for this to massively disturb your day-to-day work, and your personal and family life," said Todor Gardos, who carries out Eastern European research for New York-based Human Rights Watch.
"The law is very vague, but at the same time allows for very specific application," he said. "Suddenly you have people who view your files, the police and prosecution can be investigating you … and without even knowing, you can be entering into the criminal justice system."
Sign up for Essential California for news, features and recommendations from the L.A. Times and beyond in your inbox six days a week.
You may occasionally receive promotional content from the Los Angeles Times.