From the Archives: In India, love tests world's longest hunger strike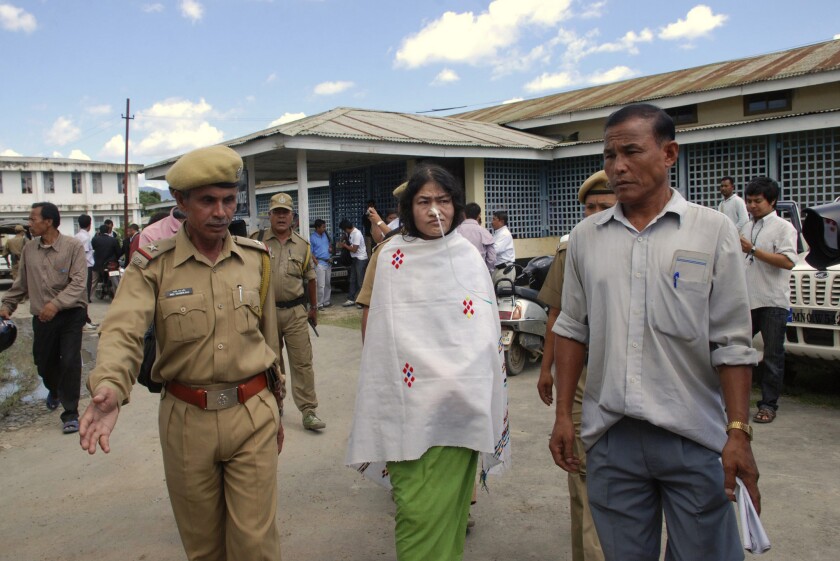 Imphal, India —
Irom Sharmila's mother has a simple dream: sitting down to a meal with her daughter.
Irom hasn't willingly ingested food or water for 11 years, in protest of a law granting legal immunity to the armed forces for human rights abuses. As the anniversary of her hunger strike nears, her mother imagines what might be.
"I'm still waiting for her to come home," said Shakhi Devi, 78, holding an album of her daughter's photos. She rarely visits the 39-year-old, the world's longest-serving hunger striker, because it's too painful.
"I only cry. The distance is so near, but so far. I want her to come for me and we'll share a meal together."
Septuagenarian anticorruption activist Anna Hazare drew huge crowds during a 12-day hunger strike this summer in New Delhi, but Irom has been largely ignored outside this remote corner of northeastern India where a disparate collection of insurgent groups has for decades been fighting for independence.
Force-fed by the government through a nose tube, she languishes in a guarded hospital ward here in Manipur state, charged with attempted suicide. This carries a maximum one-year sentence, so every year she's released and rearrested.
Every 15 days, a judge asks her whether she'll eat. Her answer, repeated more than 200 times: no, not until the Armed Forces (Special Powers) Act is repealed. The national law, passed in 1958 and applied to Manipur in 1980, was envisioned as a short-term measure. But it remains in effect.
Now insular Manipur has been rattled by a complication in the lonely crusade of a woman who is the symbol of its battle against the Indian government: Irom, who is single, has received a marriage proposal from a man she has met only once, during a brief court appearance.
Her family and local activists are opposed to the relationship, arguing that the struggle comes before romance. Some suggest that her suitor is a government spy sent to weaken her resolve.
Others say her inner circle is putting its own interests above hers.
"They're worried their symbol will be gone," said Binalakshmi Nepram, founder of the Manipur Women Gun Survivors Network, a civic group. "She has every right to get married, and wear a beautiful Manipur wedding dress."
As for Irom, even as she vows to continue her fast, she also dreams of a normal life, and love.
"I'm an ordinary human being," Irom said during a brief visit, with tears in her eyes and her nose tube slung behind her ear like a grocer's pencil. Some of the activists are "very mean," she said. "After fulfilling my demands, I want to live just as other common people."
During the visit and in written comments, the gaunt woman with tussled jet-black hair grapples with finding the balance between love and mission.
"Life without romance cannot be called a social being's life," she said. "I struggle as a human for humanity's sake, not as a role model."
Few would have bet on Irom becoming a role model. The youngest of nine children, the introverted girl occasionally wandered off unnoticed amid the family bustle, relatives say.
But there also were hints of resolve. In the eighth grade, she swore off all animal products — her Meitei Hindu community traditionally eats fish and milk products — and a few years later started fasting every Thursday.
She left high school without graduating, worked at odd jobs and, in the late 1990s, started attending human rights meetings.
Then, on Nov. 2, 2000, a roadside bomb exploded near a passing paramilitary vehicle outside Imphal, the state capital. Although no one was hurt, battalion members reportedly returned and shot and killed 10 residents, ages 17 to 62. Many were standing at a bus stop. Paramilitary members later said they acted in self-defense, although a judicial inquiry found no supporting evidence. The law precluded any prosecution.
Two days later, an incensed Irom sought her mother's blessing and quietly started fasting. As word spread, state authorities arrested her. Two weeks later, with Irom's strength failing, then-Manipur Human Rights Commission member Yambem Laba recommended a feeding tube. "I told her, 'Don't die for Manipur, live for Manipur,'" he said.
For 11 years, in addition to refusing food or water, she hasn't washed her shoulder-length hair or cut her nails, giving her a look that scares children. She's stopped menstruating. She cleans her teeth with cotton balls and practices yoga, paces the hallway, reads and writes.
Irom's feeding tube, about a foot long, is attached to her nose with tape. The other end can be easily detached from the feeding apparatus, allowing her to move around with it dangling. In the early years, the contraption caused her discomfort, but that's all but disappeared with time.
The state force-feeds her supplements with names like Nutrocal and Naturolax twice daily and maintains a close watch. Her mother needs dozens of signatures to visit. Even convicted criminals are granted regular family visits, a difference supporters say amounts to unfair treatment for Irom. The state, which doesn't mention her opposition to the armed forces act on legal documents, doesn't explain its reasoning.
In recent weeks, supporters have tried to capitalize on Hazare's mass support, organizing seminars, planning a Nov. 5 protest fast on her 11th anniversary and linking up with campaigners in northeastern Kashmir, also subject to the armed forces act. The defense establishment, meanwhile, continues to uphold the need for legal immunity while insisting that abuses don't occur.
"The armed forces are not into atrocities," said someone close to the military who requested anonymity. "In this media environment, there's too big a chance of getting caught."
Irom says Nelson Mandela of South Africa has been an inspiration, but most who know her say she lacks the strategic vision of Mandela or Mohandas Gandhi.
"She's just a simple old soul," said Pradip Phanjoubam, the Imphal Times' editor. "That kind of vision won't be there."
Relatives differ on the source of her resolve and idealism. Some cite a strong-willed grandmother, others say her placenta wasn't buried near the house at birth, a local custom, others that she was breast-fed by strangers after her mother stopped producing milk, fueling her "communal love."
The object of her more temporal love, Desmond Coutinho, 48, writes, travels and practices meditation. He was born in East Africa and spent time in western India but holds a British passport. In 2009, he wrote to Irom after reading about her in a book. The two started corresponding. He eventually proposed, and she accepted.
He came to Manipur in February to see her. Their single meeting occurred on March 9 during one of her periodic court hearings a few months after their engagement.
"She does love me and I love her," he wrote in The South Reports, a blog.
Several human rights activists who've supported her since the beginning, holding vigils, sparring with the state and visiting her when possible, say they initially tried to help him get into the hospital for a longer visit soon after he arrived. He brought her a laptop and, members of her Just Peace Foundation say, suggested he was well-off and would build an ashram near where the 10 shooting deaths occurred.
But differences soon emerged between Coutinho and foundation members, who say he was dismissive and belittled the decades-long fight against the armed forces' immunity.
Family members say he never visited Irom's mother or older siblings to show respect, customary in this conservative society.
"I didn't like his attitude," said Shinghajit, 53, her brother. "I thought her boyfriend might help the movement, but it was totally different."
Rumors soon spread that Coutinho was a government agent, with Irom brainwashed into liking him to weaken the movement.
"The government has many ways to try and change her mind," said Bijenti, 41, her older sister. "Maybe there are drugs in her food to cleverly weaken her."
Local human rights activist Babloo Loitongbam says that on a trip to London, he contacted a Manipur student group, which found Coutinho had no property, fixed address or steady income.
"To her, he projects himself as a millionaire who can build an ashram, but we know it's not true," said Loitongbam, characterizing Coutinho as "a little nutty." "He's not wooing a girl from a family. He's wooing a symbol. He's trying to drive a wedge between her and the movement."
Coutinho left in April, accusing Loitongbam and other supporters of corruption and trying to kill Irom.
In an email, Coutinho said powerful women can have a family and maintain their activism. Irom is the movement, he said, not the nongovernmental organizations around her.
"I appreciate many NGOs make their living off her, but they have never had any say in her campaign," he wrote.
So the rancor between the two sides continues, with Irom in the middle, her affections sought by both.
Coutinho acknowledges that he's not especially patient, but insists his outbursts and accusations are designed to protect a noble woman surrounded by questionable advisors. Members of her foundation counter that, on closer reflection, his behavior is probably too erratic for him to be a spy, and if he were, he'd probably be easier to deal with.
Irom's mother, meanwhile, sits and waits, aware she might not have many years left.
"Sharmila tells me to be stronger," she said. "But I'm only feeling what any mother would feel."
---
Must-read stories from the L.A. Times
Get all the day's most vital news with our Today's Headlines newsletter, sent every weekday morning.
You may occasionally receive promotional content from the Los Angeles Times.