7 Images
Bombings in India
Bombings in India
Unidentified people react after a blast in the city of Jaipur, India. Authorities said as many as seven explosions struck the city within a few minutes of each other, starting at about 7:30 p.m.
(Associated Press)
Bombings in India
People carry the bodies of two men injured by the blasts to a van. The series of explosions killed at least 60 people and injured scores of others, triggering panic in busy market areas in one of India's most popular tourist cities.
(AFP/Getty Images)
Bombings in India
Police and residents stand near a blast site where one of the bombs hit Hanuman temple, a Hindu site dedicated to the monkey god, where a large number of devotees had gathered for prayers on a day of the week when the temple attracts more worshipers than usual.
(EPA)
Bombings in India
Jaipur residents look at the one of the sites of a series of bomb blasts that tore through markets crowded with evening shoppers. Given their placement and timing, the bombs were "obviously a terrorist plot" planted to cause "maximum damage," police said.
(EPA)
Bombings in India
People attend to an injured woman at the spot of a bomb blast. All of the blasts went off around the historic walled district for which the city is famous. It was the worst such attack to hit India since bombings in August 2007 in the southern technology hub of Hyderabad, which killed more than 40 people.
(Associated Press)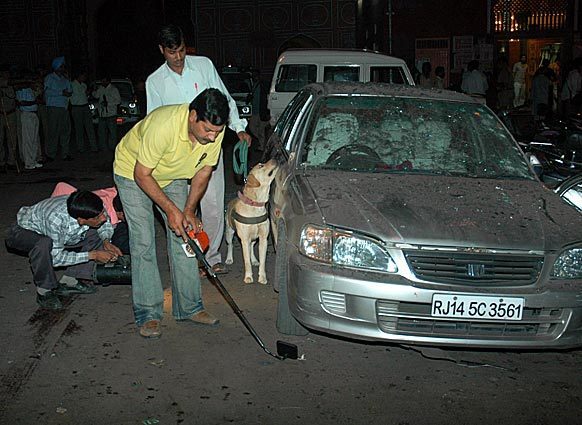 Bombings in India
Indian officials with a sniffer dog check for a bomb under a car at Chandpoll, one of the sites of the blasts. New Delhi, the capital, and Mumbai, India's financial and entertainment hub, were put on heightened alert -- standard practice after such attacks.
(AFP/Getty Images)
Bombings in India
One bomb squad official holds a light as another works to defuse a live bomb they found in the area. Although nobody immediately claimed responsibility for the serial bombings, Kashmiri militants, who want the contested Himalayan region to be independent or part of Pakistan, are suspected to be responsible for the attacks.
(EPA)