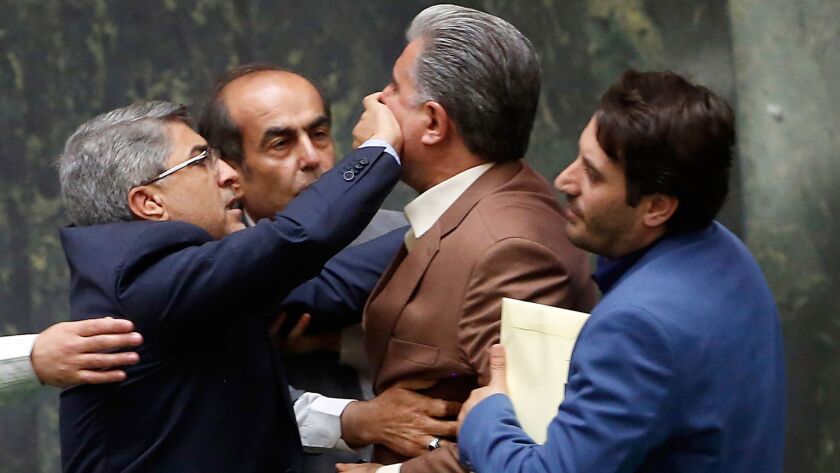 Reporting from Tehran —
Iran's parliament voted Sunday to fire the country's finance minister amid an economic free fall fanned by America's withdrawal from the nuclear deal with world powers, dealing another blow to President Hassan Rouhani's embattled administration.
It's unlikely that parliament's dismissal of Masoud Karbasian will stem the downward spiral, with the currency, the rial, falling to new lows against the U.S. dollar amid chronically high unemployment and inflation in the country.
But it shows the Shiite Muslim theocracy's growing recognition of the anger felt across the country of 80 million, which has seen months of sporadic protests challenging the ruling clerics.
"Over the last year since you became the minister, the dinner table of the people has shrunk to the point of invisibility," conservative lawmaker Hosseinali Hajideligani of Esfahan told Karbasian during the legislative hearing. "The purchasing power of the people has dropped down at least by 50%. You have made the people poorer every day."
A narrow majority of 137 lawmakers in the 260-seat parliament voted to fire Karbasian, an economist who became finance minister in August 2017 after Rouhani won reelection. He replaced Ali Tayebnia, who served as finance minister for the entirety of Rouhani's first four-year term.
Karbasian sought to defend himself, saying that America had "targeted our entire economy and social fortifications."
"America is seeking to block the country's economic vessels to put people under pressure and stir dissatisfaction," he told lawmakers. "They are after hitting the government and ruling system. You should believe that we are at an all-out economic war."
Yet even reformist lawmakers who often back Rouhani, a relatively moderate cleric within Iran's government, lashed at out at Karbasian.
"What have we done? What have we done" to the Iranian people? reformist lawmaker Elias Hazrati of Tehran asked at one point. "Why should the people suffer from this situation? What is the people's fault?"
Karbasian's dismissal comes after lawmakers similarly dismissed Rouhani's labor minister, Ali Rabiei, this month. But while Rabiei had served since the beginning of Rouhani's administration, Karbasian joined only a year ago as the nuclear deal looked increasingly precarious amid President Trump's constant criticism of the accord.
Iran's nuclear deal with world powers, reached in 2015 under the Obama administration, saw Tehran agree to limit its enrichment of uranium in exchange for the lifting of economic sanctions. That included allowing the country to replace its aging commercial aircraft fleet.
But Trump's decision in May to withdraw from the accord halted billion-dollar deals Iran struck with oil firms and aircraft manufacturers. American sanctions are beginning to ramp up, with Iran's crude oil soon to be targeted in November, which could further worsen the economy.
Iran's economy long was hobbled by years of sanctions over its nuclear program, sparked by Western fears that Tehran could use it to build a nuclear weapon. Iran has long denied having ambitions to build atomic bombs. Other sanctions date to Iran's 1979 Islamic Revolution and the takeover of the U.S. Embassy in Tehran; the country also faced economic troubles amid and after its devastating 1980s war with Iraq.
As uncertainty over the Iran nuclear deal grew after Trump entered the White House, Iran's already anemic economy nosedived. The country's monthly inflation rate has hit double digits again at 10.2%, and the national unemployment rate is 12.5%. Among the youth, the rate is even worse, with about 25% out of a job.
The rial meanwhile has fallen to 107,000 to the dollar. A year ago it was about 33,000 rials to $1.
Seeing a political opportunity, Iran's hard-liners have increasingly criticized Rouhani and his administration. But protests against the economic situation in the country have spun out of control in recent months. In late December and January, demonstrations sparked by economic woes that later directly challenged the government spread across 75 cities in Iran. Those protests saw at least 25 people killed and nearly 5,000 others arrested.
As sporadic protests continue, authorities have sought to mollify an angry public. Judiciary spokesman Gholam Hossein Mohseni Ejehi said this month that authorities recently arrested 45 people, including the central bank's deputy chief, as part of a crackdown on financial fraud.
But widespread public anger continues.
"Our problems are not caused by America, Israel or any other country," banker Farhad Jaberi said. "This is the result of what we have done by ourselves. Unfortunately, those who are in power do not want to accept this fact."
---