Iran's hard-liners outraged by viral videos of schoolchildren dancing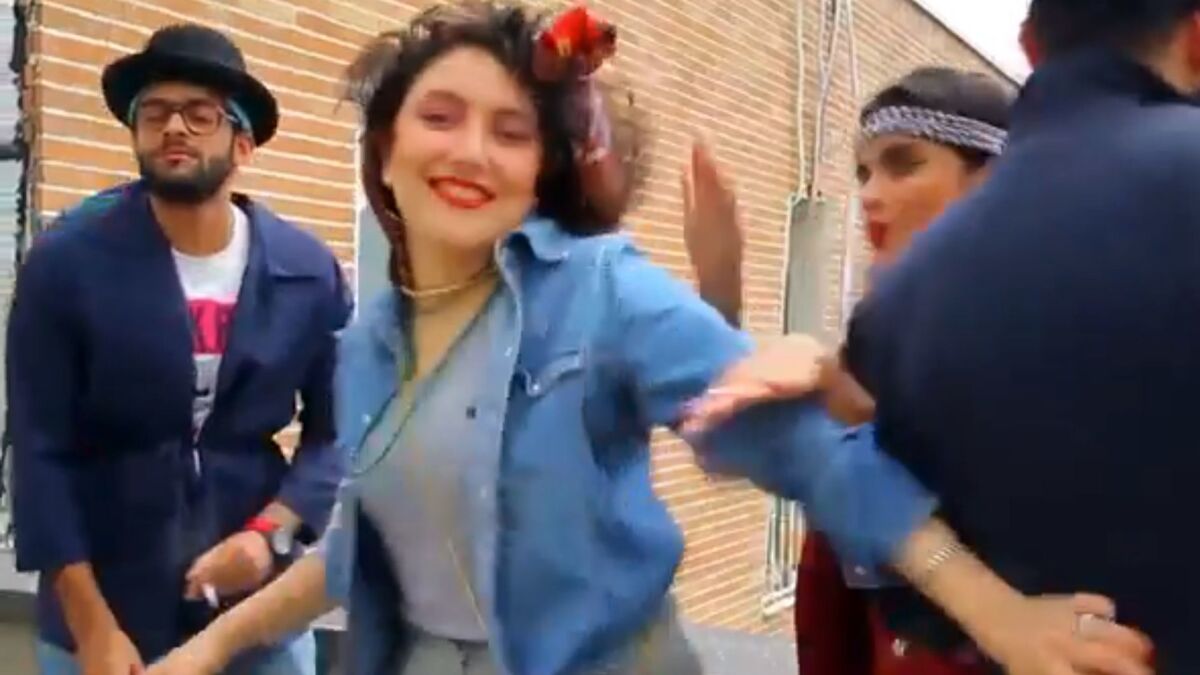 It was lighthearted fun: children singing and dancing to a popular Persian pop song. But when hard-line Iranian authorities saw the videos, uploaded to social media by teachers at several schools, they were not amused and unleashed their wrath.
"The enemy is trying different ways to create anxiety among the people, including by spreading these disturbing videos we have been seeing in cyberspace," Iran's education minister, Mohammad Bathaei, said last week. "I'm certain there's some kind of political plot behind the publication of these devious clips in schools."
Such outrage is nothing new. Since the 1979 revolution that toppled the shah, conservative Islamic clerics have tried to reduce or eliminate the influence of Western culture. Ayatollah Ruhollah Khomeini, for example sought to ban all music from radio and television after solidifying control over the burgeoning Islamic Republic.
But with the rise in popularity of social media platforms, Iranian efforts to remain insular face a greater threat than ever. That's because the types of entertainment that hard-line authorities have long abhorred are now spread and disseminated throughout society at speeds faster than can be controlled.
"These viral videos are cracks in the Iranian government controls and the internet has opened them up thanks to the ease of access," said Holly Dagres, an Iran expert at the Atlantic Council. "In the eyes of hard-liners, messaging apps and the internet have become hubs for incitement against the state. Without their control on the flow of information, it can become a liability for hard-line authorities."
Now, members of Iran's parliament have launched an investigation to identify those responsible for the viral videos, with some saying they should be fired and prosecuted.
Education minister Bathaei announced last week that authorities had convened a team of three "experts" to find the school administrators and teachers.
Ministry spokesman Massoud Saghafi said several schools in Tehran were being investigated, including one elementary school, the semiofficial Fars News Agency reported.
The videos were part of an online "dance challenge" meant to mark the country's Teachers' Day celebration, held annually on May 2, according to news reports in Iran.
They show children at several schools dancing and singing to Los Angeles-based Iranian singer Sasy Mankan's song, "Gentlemen."
Sasy, whose real name is Sasan Heydari, has been one of Iran's best-known underground rap singers for nearly two decades. During the disputed 2009 presidential election, Sasy was living in Iran and supported reformist candidate Mehdi Karroubi.
In one video, dozens of children in blue uniforms can be seen clapping to the beat while chanting the lyrics in unison. In another, children smile as they jump up and down and sway their bodies to the same popular tune.
Sasy, responding to the backlash, posted several of the videos on his Instagram account and appeared to mock conservatives spearheading the investigation.
"How many people do you want to fire?" the entertainer wrote in an Instagram post.
They can't go back to Iran. So L.A. Persians built 'Tehrangeles' and made it their own »
It's unclear what charges school officials and teachers could face, but authorities contend that the dance videos are meant to subvert the Islamic Republic and that those who fail to uphold the standards of Iran's education system should be prosecuted.
Although it isn't illegal to sing and dance in private in Iran, men and especially women are typically barred from doing so in public. Such activities, according to conservatives, run contrary to Islamic ideals for modesty in behavior and attire.
"What's upsetting Iranian authorities is that their schools are supposed to mold, in the eyes, an ideal Islamic youth," Dagres said. "Yet here we have that very youth breaking the mold."
Conservative pundits have told Iran's Kayhan newspaper and Fars News Agency that the teachers and school officials have committed punishable offenses.
And Iran's Basij paramilitary forces, made up mostly of fervent religious volunteers, have called on the education minister to identify those responsible.
"What has befallen our country that inspired some students to launch a dance challenge with an indecent, meaningless song filled with ominous ideas of underground DJs?" members of the Basij group wrote.
Others are pushing back. Some criticize hard-liners for investigating entertainment videos rather than tackling Iran's deteriorating economy and other important everyday issues.
"In these depressing times when we are constantly hearing about increases in the prices of goods, is it really a priority to prevent students from having fun?" commentator Soudabeh Sadri wrote last week in an op-ed for popular website Asr Iran. "Can't they be merry just for a few minutes be it with a song by an Iranian singer in Los Angeles?"
The outrage on both sides is part of a decades-long culture war that in part was responsible for the 2017 reelection of President Hassan Rouhani, a moderate who campaigned on the promise of granting more personal freedoms and easing internet restrictions.
But hard-liners, who have been regaining influence since President Trump pulled out of the Iran nuclear accord and reimposed tough economic sanctions on the country, have resisted calls for reform.
The rise of social media platforms such as Instagram has proved a major sticking point.
Authorities have tightened their grip over access to the internet since the 2009 Green Movement — a massive political uprising in Iran that started after the disputed presidential election.
Iran, like other countries such as China, have blocked thousands of websites, including Facebook, Twitter and YouTube and the messaging app Telegram. Authorities have also discussed created their own domestic internet in order to better control the information flowing in and out of Iran and have considered a ban on Instagram.
In the meantime, authorities have clamped down on those perceived as behaving immorally on websites. In 2018, authorities arrested a 19-year-old woman for posting videos of herself dancing on her Instagram account. A few months later she was seen apologizing on state television.
In 2014, six people who had posted a video of themselves dancing on a roof to Pharrell Williams' song "Happy" received a suspended sentence of 91 lashes and six months in prison.
Officials in the central city of Esfahan announced several days ago that women would no longer be able to ride bicycles. City prosecutor Ali Isfahani told the official Islamic Republic News Agency that the ban was based on Islamic law and the opinion of religious scholars.
Recently, women at the University of Tehran have had to adhere to stricter dress codes. Before the rules were tightened, women pushed their head scarves to the back of their heads, revealing some hair. Now, they're being told to cover all their hair. Basij forces disrupted students who protested the tightened rules, according to the New York-based Center for Human Rights in Iran.
Still, with more than half of Iran's 82 million people under the age of 30, subtle changes in society have begun taking place.
Many young people have learned to circumvent Iran's internet restrictions. They watch Western movies on satellite TV and follow diaspora musicians, such as Sasy, on the internet by using VPNs, which provide access to blocked sites by allowing users to mask their web browsing through an unblocked server.
Such tools have also allowed Iranians to access Twitter, with some turning to the site this month to give their two cents' worth on the dancing debate.
Conservatives "want to mobilize the whole country to find out which school started the Sasy Mankan singing challenge!" one Twitter user, who goes by Peyman Moghaddam, tweeted. "But at the same time, they blame others for swelling inflation, corruption, lawlessness and incompetence. May God cure your insanity, although it's doubtful."
Must-read stories from the L.A. Times
Get the day's top news with our Today's Headlines newsletter, sent every weekday morning.
You may occasionally receive promotional content from the Los Angeles Times.