From the archives: Family, friends mourn 'Neda,' Iranian woman who died on video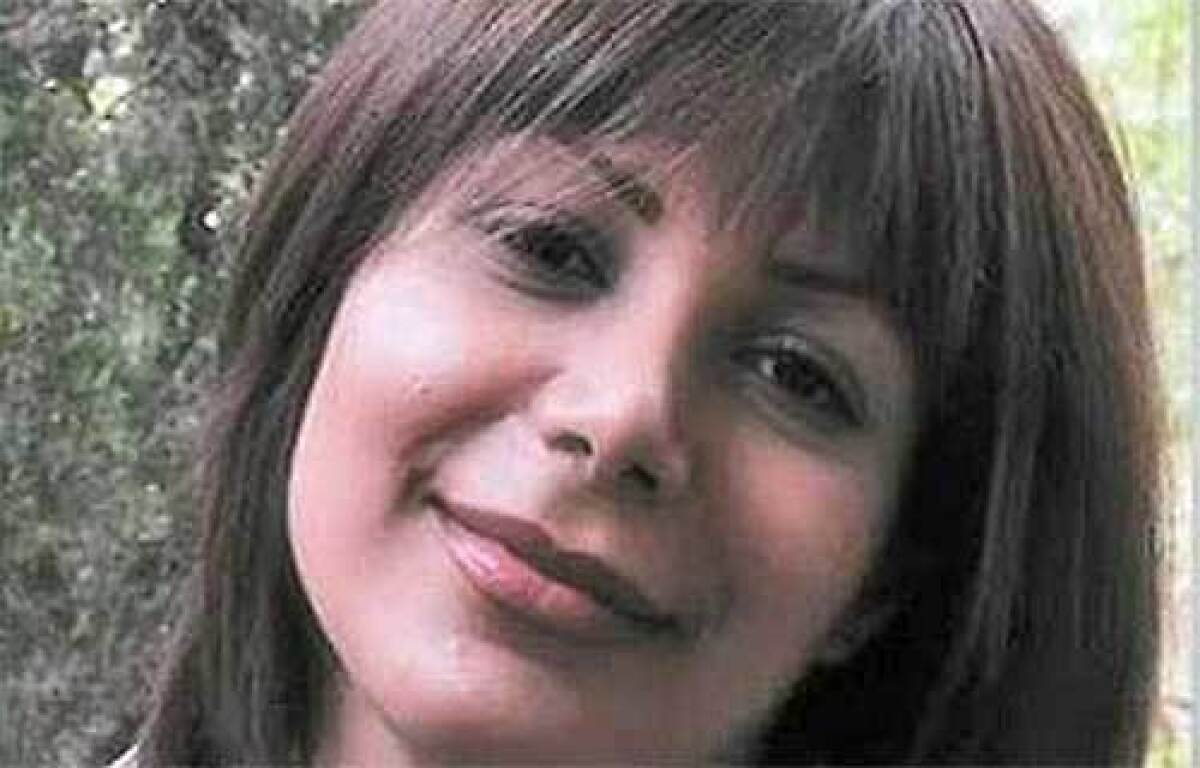 Reporting from Tehran —
The first word came from abroad. An aunt in the United States called her Saturday in a panic. "Don't go out into the streets, Golshad," she told her. "They're killing people."
The relative proceeded to describe a video, airing on exile television channels that are jammed in Iran, in which a young woman is shown bleeding to death as her companion calls out, "Neda! Neda!"
A dark foreboding swept over Golshad, who asked that her real name not be published. She began calling the cellphone and home numbers of her friend Neda Agha-Soltan -- who had gone to the chaotic demonstration with a group of friends -- but Neda didn't answer.
At midnight, as the city continued to smolder, Golshad drove to the Agha-Soltan residence in the Tehran Pars section in the eastern part of the capital.
As she heard the cries and wails and praising of God reverberating from the house, she crumpled, knowing that her worst fears were true.
"Neda! Neda!" the 25-year-old cried out. "What will I do?"
Neda Agha-Soltan, 26, was shot dead Saturday evening near the scene of clashes between pro-government militias and demonstrators who allege rampant vote fraud in the reelection of President Mahmoud Ahmadinejad. The jittery cellphone footage of her bleeding on the street has turned "Neda" into an international symbol of the protest movement that erupted after the June 12 balloting. Images of her final moments have spread virally on social networks, been beamed across the world on cable and held aloft on placards on the streets of Tehran.
'A beam of light'
To those who knew and loved Agha-Soltan, she was far more than an icon. She was a daughter, sister and friend, a music and travel lover, a beautiful young woman in the prime of her life.
"She was a person full of joy," said her music teacher and close friend Hamid Panahi, who was among the mourners at her family home Sunday, awaiting word about her burial. "She was a beam of light. I'm so sorry. I was so hopeful for this woman."
Security forces urged her friends and family not to hold memorial services for her at a mosque and asked them not to speak publicly about her, associates of the family said. Authorities even asked the family to take down the black mourning banners in front of their house, aware of the potent symbol she had become.
But some insisted on speaking out anyway, hoping to make sure the world would not forget her.
Neda Agha-Soltan was born in Tehran, they said, to a father who worked for the government and a homemaker mother.
They were a family of modest means, part of the country's emerging middle class who built their lives in rapidly developing neighborhoods on the eastern and western outskirts of the city.
Like many in her neighborhood, Agha-Soltan was loyal to the country's Islamic roots and traditional values, friends say, but also curious about the outside world, which was easily accessed through satellite TV, the Internet and occasional trips abroad.
The second of three children, she studied Islamic philosophy at a branch of Tehran's Azad University until deciding to pursue a career in tourism. She took private classes to become a tour guide, including Turkish-language courses, friends said, hoping to someday lead groups of Iranians on trips abroad.
Travel was her passion, and with her friends she saved up enough money for package tours to Dubai, Turkey and Thailand. Two months ago, on a trip to Turkey, she relaxed along the beaches of Antalya, on the Mediterranean coast.
She also loved music, especially Persian pop, and was taking piano lessons, according to Panahi and other friends. She was also an accomplished singer, they said.
But she was never an activist, they added, and she began attending the mass protests only because she was outraged by the election results.
'Neda, don't go'
Her parents and others told her it would be dangerous to go to Saturday's march, said Golshad.
On Friday, Iran's supreme leader, Ayatollah Ali Khamenei, had warned in his weekly sermon that demonstrators would be responsible for any violence that broke out. Even Golshad stayed away. At 3:30 p.m., the two friends spoke.
"I told her, 'Neda, don't go,' " she recalled, heaving with sobs.
But Agha-Soltan was as stubborn as she was honest, Golshad said.
"She said, 'Don't worry. It's just one bullet and its over.' "
Her friends say she, Panahi and two others were stuck in traffic on Karegar Street, east of Tehran's Azadi (Freedom) Square, on their way to the demonstration sometime after 6:30 p.m.
After they stepped out of the car to get some fresh air and crane their necks over the jumble of cars, Panahi heard a crack from the distance. In the blink of an eye, he realized Agha-Soltan had collapsed to the ground.
"We were stuck in traffic and we got out and stood to watch, and without her throwing a rock or anything they shot her," he said. "It was just one bullet."
Blood poured from the right side of her chest and began bubbling out of her mouth and nose as her lungs filled up.
"I'm burning, I'm burning!" Panahi recalled her saying, her final words.
Those nearby gathered around. A doctor tried to help, Panahi said, telling him to put his palm over the wound and apply pressure. A driver coming from the other direction urged the crowd to put her into his car.
A frantic search for a hospital followed. They took a wrong turn down a dead end and switched her limp body to another car.
Along the way, protesters and others screamed at drivers to clear a path in the snarled traffic.
The medical staff of Shariati Hospital made a heroic effort to rush her into surgery, but it was too late. She was dead by the time she arrived at the emergency room, Panahi said.
"This is a crime that's not in support of the government," he said. "This is a crime against humanity."
Iranian authorities have strenuously denied that police were using lethal force to quell the protest.
During tours of the riot scene before, during and after the worst of the melee, there were no signs of security officials using guns.
Investigation begun
The prosecutor general's office has launched an investigation into the killing of "several people" Saturday and arrested one "armed terrorist," the website of Iran's Press TV said. At least 13 people were killed in Saturday's rioting.
"Policemen are not authorized to use weapons against people," said Tehran Police Chief Azizollah Rajabzadeh, according to Press TV. "They are trained to only use anti-riot tools to keep the people out of harm's way."
The government has suggested that loyalists to the exiled, outlawed opposition group Mujahedin Khalq may bear responsibility for the killings.
But family members and friends suspect that zealous pro-government paramilitaries, the Basiji or Ansar-e Hezbollah, might have been responsible.
Panahi said witnesses at the scene said the shooter was not a police officer but among a group of plainclothes security officials or militiamen lurking in the area.
On Sunday at the Agha-Soltan residence, friends and relatives came in droves, weeping and bent over, clutching one another.
A steady murmur of sobs and wails emanated from the apartment.
Mascara stained the cheeks of the women, some in sweeping black chadors and others in shapely designer mini-coats and sunglasses.
The men's eyes looked sore and bloodshot. Two helped a distraught young man walk along the hallway, one of Agha-Soltan's two brothers, someone said.
"She died full of love," Golshad said.
The relatives and friends piled into minivans for the hourlong trek to Tehran's Behesht Zahra cemetery, where she was buried. Her loved ones were outraged by the authorities' order not to eulogize her, to loudly sing her praises and mourn her loss. But they were too afraid and distraught to speak out, except for Panahi, who said he had nothing more to lose.
"They know me," he said. "They know where I am. They can come and get me whenever they want. My time has gone. We have to think about the young people."
Neda, he said, was smart and loving. She had a mischievous streak, gently teasing her friends and causing them to laugh. She was passionate about life and meant no one any harm.
In the election unrest, friends found in her an unexpected daring, a willingness to take risks for her beliefs.
"She couldn't stand the injustice of it all," Panahi said. "All she wanted was the proper vote of the people to be counted.
"For pursuing her goals, she didn't use rocks or clubs," he said. "She wanted to show with her presence that 'I'm here. I also voted. And my vote wasn't counted.' It was a very peaceful act of protest, without any violence."
As to the person or persons responsible for her death, they will not be forgiven, he said.
"When they kill an innocent child, this is not justice. This is not religion. In no way is this acceptable," he said. "And I'm certain that the one who shot her will not get a pass from God."
Must-read stories from the L.A. Times
Get the day's top news with our Today's Headlines newsletter, sent every weekday morning.
You may occasionally receive promotional content from the Los Angeles Times.