Turkish fighters bomb northern Iraq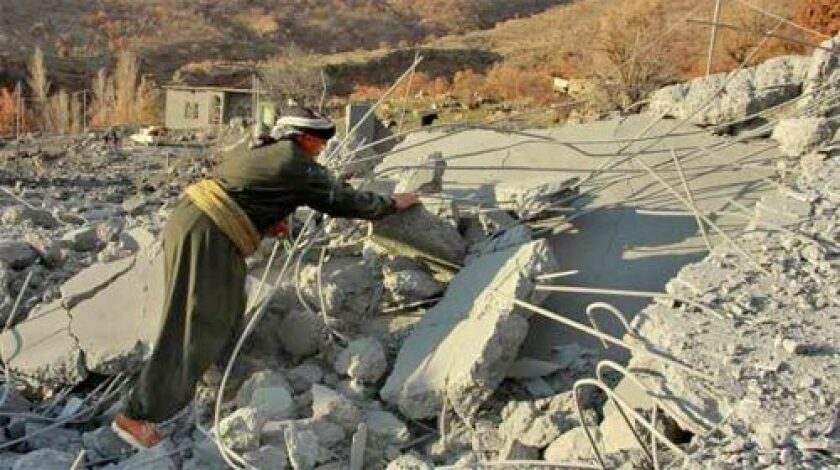 Special to The Times
SURADEH, IRAQ —
Turkish jets bombed several villages in northern Iraq early Sunday in the most aggressive action in years against Kurdish rebels who take sanctuary in the Kurdistan border region of Iraq.
Local officials said at least one civilian was killed and several wounded. The Firat news agency, which is linked to the Kurdistan Workers Party, or PKK, said that five guerrillas and two civilians were killed and that many of the damaged buildings were schools and homes.
The targeted towns included Suradeh, a hamlet of about 30 homes nestled in the Qandil mountains more than 50 miles from the Turkish border. On Sunday afternoon, residents who had sought shelter in frigid mountain caves during the nighttime bombardment returned to a scene of damaged homes and dead livestock. Many were packing up and leaving in fear of additional attacks. As they bundled blankets, dishes, food and clothes into vehicles or onto the backs of mules, they spoke of the predawn terror.
"My youngest daughter is still crying and saying, 'Mama, I'm scared,' " said Muneera Khalid, who sought shelter in a cave with her husband and three children, ages 7, 10 and 14. It took them half an hour to reach the cave, going on foot in the dark after the first airstrikes began about 2 a.m.
"Why is the Turkish army bombing our village?" she said, breaking into tears.
In Turkey, press reports quoted Prime Minister Recep Tayyip Erdogan as saying the bombings were "a comprehensive operation against camps of a terrorist organization in the north of Iraq."
He warned of more military assaults against the PKK, which has fought the Turkish government since 1984 for a separate Kurdish state.
The United States considers the organization a terrorist group, and during a visit to Iraq this month, U.S. Deputy Secretary of State John D. Negroponte said Washington shared Turkey's goal of ending PKK activities "once and for all."
The Reuters news agency quoted Turkey's top military commander, Gen. Yasar Buyukanit, as saying the United States had approved the raid. Washington has denied Turkish claims that it gave the green light for previous raids, and a State Department official would not comment on the latest report.
Some U.S. officials previously suggested that they would not oppose Turkish strikes on the PKK, as long as they did not involve occupation of Iraqi territory. However, the United States also worries that increased military activities along Iraq's northern border could uncork new volatility in the country at a time when security has been improving elsewhere in Iraq.
When asked about America's position at a briefing Dec. 4, a State Department spokesman, Tom Casey, said: "We've talked in the past, as have the Iraqis, as have the Turkish government, about our desire to see everyone work together on this and not engage in any broad military incursions, and our position hasn't changed on it."
Turkish action had been anticipated since the government in Ankara sent about 100,000 troops to the border region in October after an increase in PKK raids on Turkish targets. Turkey's parliament has also approved a resolution giving the government the legal go-ahead for cross-border operations.
A Turkish military statement said the jet fighters, backed by long-range missiles fired by ground troops, targeted PKK sites and returned to their bases at 4:15 a.m. Turkey's Hurriyet newspaper said the PKK's main command center was among the targets hit.
But residents said that civilians bore the brunt of the attacks. Musheer Ahmed said his daughter lost a leg in the bombing and his home was destroyed. Nashneel Bayz, a teacher, said she was sleeping in her bedroom when the windows were shattered by bombs.
"I ran like a crazy person. I saw the others running in panic and terror. It was chaos," Bayz said. "We are non-armed people, we have nothing, and they send modern airplanes to bomb us."
She said those who suffered were civilians rather than PKK fighters.
"The PKK positions are still intact," she said. "We even had some PKK fighters with us in the cave, in addition to women, children."
Times staff writer Susman reported from Baghdad and special correspondent Ahmed from Suradeh. Special correspondent Yesim Borg in Ankara, Turkey, and staff writers Julian Barnes and Peter Spiegel in Washington contributed to this report.
---
Must-read stories from the L.A. Times
Get all the day's most vital news with our Today's Headlines newsletter, sent every weekday morning.
You may occasionally receive promotional content from the Los Angeles Times.