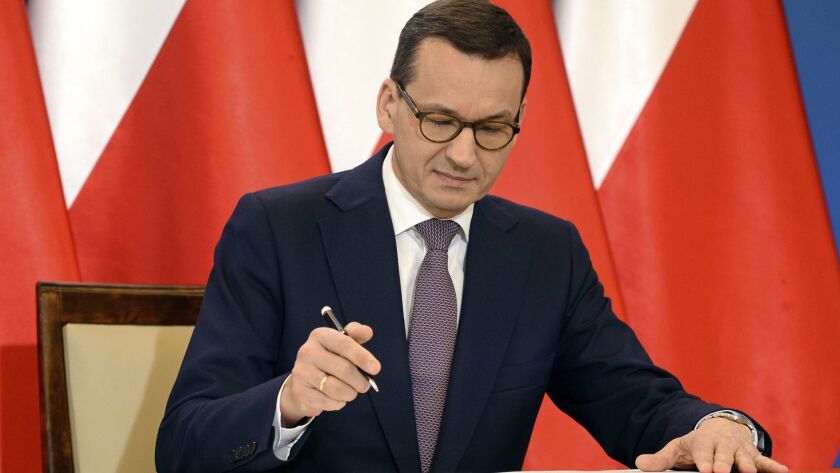 Reporting from JERUSALEM —
Israel's Holocaust memorial on Thursday harshly criticized a deal by the prime ministers of Israel and Poland aimed at repairing a rift tied to a controversial Polish law, saying the agreement includes grave errors and deceptions.
Yad Vashem, the World Holocaust Remembrance Center, said that a review by its historians found problems with assertions in last week's agreement that were presented as unchallenged facts.
Its "highly problematic wording … contradicts existing and accepted historical knowledge in this field," Yad Vashem said of the agreement between Israeli Prime Minister Benjamin Netanyahu and his Polish counterpart, Mateusz Morawiecki.
The wording, the center said, in effect supports "a narrative that research has long since disproved, namely, that the Polish government in exile and its underground arms strove indefatigably — in occupied Poland and elsewhere — to thwart the extermination of Polish Jewry."
The June 27 agreement between Netanyahu and Morawiecki stated that the term "Polish death camps" is "blatantly erroneous" and that the World War II Polish government in exile "attempted to stop this Nazi activity by trying to raise awareness among the Western allies to the systematic murder of the Polish Jews."
The center said the agreement contradicts "decades of historical research [that] reveal a totally different picture: Poles' assistance to Jews during the Holocaust was relatively rare, and attacks against and even the murder of Jews were widespread phenomena."
Polish lawmakers last month removed some criminal provisions to a disputed Holocaust speech law passed this year that had called for prison terms for anyone convicted of accusing Poland of responsibility for crimes by Nazi Germany.
Israeli Education Minister Naftali Bennett, meanwhile, tweeted that the Netanyahu and Morawiecki statement "is a disgrace, saturated with lies, that betrays the memory of those who perished in the Holocaust."
"As minister of education, entrusted with passing on the memory of the Holocaust, I reject it completely," he said. He called on Netanyahu to rescind his signature and annul the statement.
Yair Lapid, the leader of the centrist Yesh Atid party, cited Holocaust historians who claim at least 200,000 Jews were killed by Poles during the Holocaust. "Netanyahu must cancel this agreement immediately," he said.
Netanyahu is preparing to host Hungarian Prime Minister Viktor Orban this month despite widespread pleas from lawmakers for him to cancel.
Poland and Hungary, along with Slovakia and the Czech Republic, form the Visegrad Group, an alliance of right-wing, nationalist governments straining the bounds of the European Union with anti-immigration positions and laws that do not conform to European standards.
In its statement, Yad Vashem showed concern for freedom of expression in Poland. The Netanyahu-Morawiecki agreement leaves intact "the possibility of real harm to researchers, unimpeded research, and the historical memory of the Holocaust."
Netanyahu biographer Anshel Pfeffer, a political analyst for the Israeli newspaper Haaretz, said in an interview that "Netanyahu has always used history for his own political purposes, and he tends to occasionally blur the lines between historic reality and political expediency."
"Netanyahu hopes the Visegrad group, plus Austria and Italy that are now under right-wing regimes, will disrupt the EU's Middle East policy," Pfeffer said. "He views the more western, liberal nations as interfering with his vision for the Middle East."
The agreement, he said, was a "devastating mistake" by Netanyahu and Yad Vashem's rebuke "a major blow given how much diplomatic capital Netanyahu has spent courting the Visegrad Group."
Tarnopolsky is a special correspondent.
---