At least 19 killed, 20 injured in knife attack near Tokyo
Journalists surround Kanazawa Prefecture Gov. Yuji Kuroiwa as he offers a prayer for victims killed at a residential-care facility for disabled people in Sagamihara, near Tokyo.
(Kimimasa Mayama / European Pressphoto Agency)
Japanese police give directions on a blocked road in front of residential-care facility for disabled people, where a former worker fatally stabbed 19 residents.
(Kimimasa Mayama / European Pressphoto Agency)
Investigators work at a care facility for the disabled where a fired worker killed 19 and wounded many more.
(Kimimasa Mayama / European Pressphoto Agency)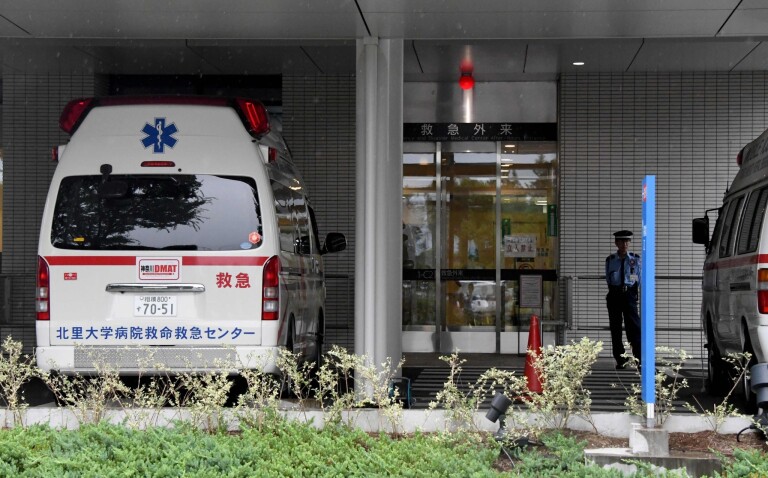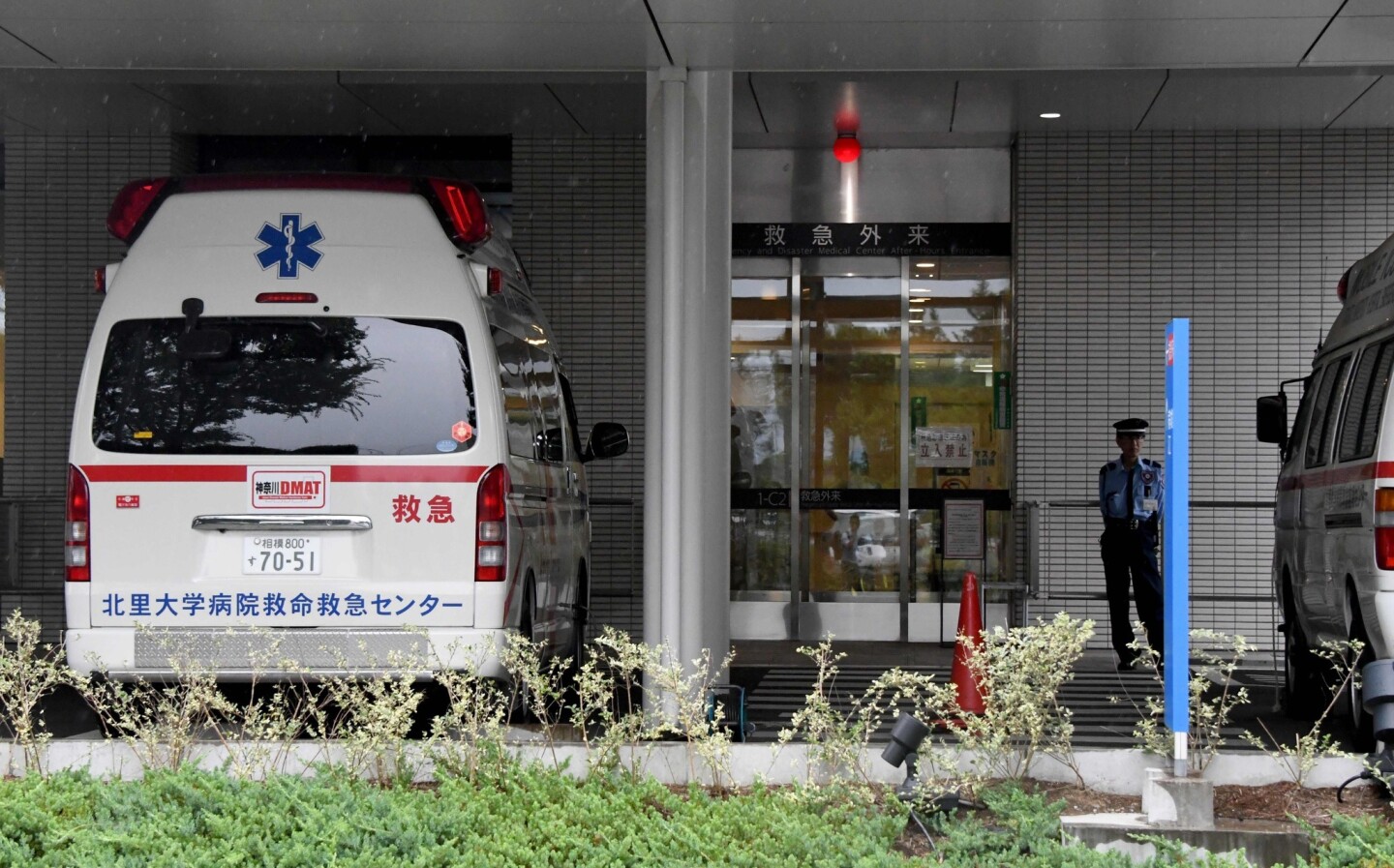 Ambulances wait at the entrance of Kitasato University hospital after more than a dozen injured people were brought after an attack at a residential-care facility.
(Toshifumi Kitamura / AFP/Getty Images)
Journalists gather in front of the house of the man suspected of killing 19 people and injuring dozens in a knife attack at a facility for the disabled outside Tokyo.
(Eugene Hoshiko / Associated Press)
A police officer guards the front of the Tsukui police station, where a suspect is being held after a deadly knife attack.
(Mari Yamaguchi / Associated Press)
Women talk with police at the Tsukui Yamayuri-en facility for the mentally disabled.
(Kimimasa Mayama / European Pressphoto Agency)
Members of the news media gather in front of the Tsukui Yamayuri-en facility in Sagamihara, about 30 miles west of Tokyo.
(Kimimasa Mayama / European Pressphoto Agency)
Reporting from TOKYO —
A man armed with a knife stormed into a home for the disabled in Sagamihara, just outside Tokyo, early Tuesday and stabbed at least 19 people to death while injuring about 20 more.
"I did it," 26-year-old Satoshi Uematsu announced to police upon turning himself in at a police station at 3 a.m., a half hour after the attack, according to police in Kanagawa prefecture.
He was arrested on charges of trespassing and attempted murder — since the deaths had not yet been confirmed.
The attack has been reported as Japan's largest mass slaying by a lone killer since World War II.
Uematsu was wearing a black shirt and slacks when he turned himself in, and had dyed blond hair, police reported.
Detectives escorted him back to the scene of the killings in a search for weapons and were interrogating him about the motivation and circumstances of the attack.
Uematsu, who identified himself as a former employee at the facility, told police in his initial statement that "it would be better if all the damn handicapped just went away."
Nippon News Network reported that Uematsu used a hammer to break a window and enter the facility. He tied up a staff worker who tried to stop him, then took the worker's keys and used them to enter residents' rooms, stabbing whomever he found.
He told police that he had been forced out of his job. "I held a deep grudge against them," he told the authorities, according to the network.
Several residents are in critical condition, according to Japanese media. News reports showed ambulances surrounding the facility as police and fire department personnel carried out the injured.
The home for the disabled, Tsukui Yamayuri-en, is in a residential neighborhood near several city schools. It houses up to 160 people who require help with bathing, eating and daily functions, according to its website.
The facility, constructed by the local government, is run by a social welfare organization called Kanagawa Kyodokai. Residents there have varying degrees of physical disability, with some requiring extensive assistance.
The facility provides both residential facilities and day care, offering a swimming pool, gym and a medical clinic.
Satamoi Kurihara, a spokesman for the Sagamihara Fire Bureau, confirmed that 19 were confirmed dead and at least 24 people severely injured as of 9 a.m. Tuesday, several hours after the attack.
Some victims had been stabbed, while others had been sliced with a sharp weapon.
Gun violence in Japan is extremely rare, with gun-related homicides remaining in single-digit figures for the last decade in a nation of more than 126 million people.
However, mass murders with knives and other weapons have occurred before.
In 2001, Mamoru Takuma, a former soldier and janitor with a history of mental illness, murdered eight children at an Osaka elementary school with a knife. He was found guilty and hanged in 2004.
In 2008, Tomohiro Kato, who was 25 at the time, plowed a rental truck into a crowded intersection in Tokyo, killing three people and injuring two. He then got out of the vehicle and stabbed bystanders at random, killing four and wounding eight — killing seven people in total. He was sentenced to death.
Adelstein is a special correspondent.
ALSO
Germany on edge after recent violence from asylum seekers
Tiger mauls grandmother to death at Beijing safari park
Government flood warning in China was too little, too late, survivors say
---
UPDATES:
5:45 p.m.: The article was updated with additional details from police, and new background material.
3:55 p.m.: This article has been updated with Times reporting.
2:55 p.m.: This article was updated with conflicting reports on the number of dead and wounded.
This article was originally posted at 2:30 p.m.
---
Must-read stories from the L.A. Times
Get all the day's most vital news with our Today's Headlines newsletter, sent every weekday morning.
You may occasionally receive promotional content from the Los Angeles Times.