8.9 quake kills hundreds in Japan
Customers in a bookstore take cover as the
earthquake
hits March 11 in Sendai, Japan.
(Kyodo News)
A giant fireball rises from a burning oil refinery on March 11.
(EPA)
This picture was taken by a Miyako City official on March 11 and shows a tsunami breaching an embankment and flowing into the city of Miyako.
(Jiji Press)
Earthquake-triggered
tsunami
waves devastate the coast in northern Japan.
(Kyodo News)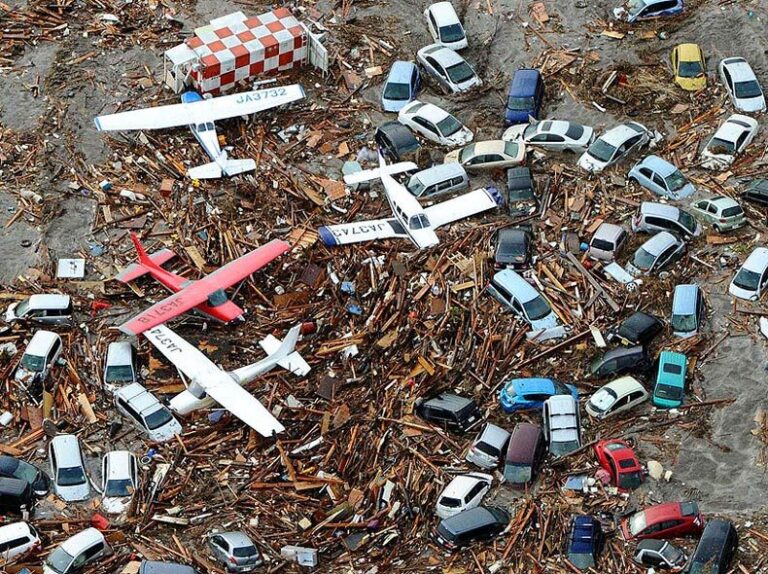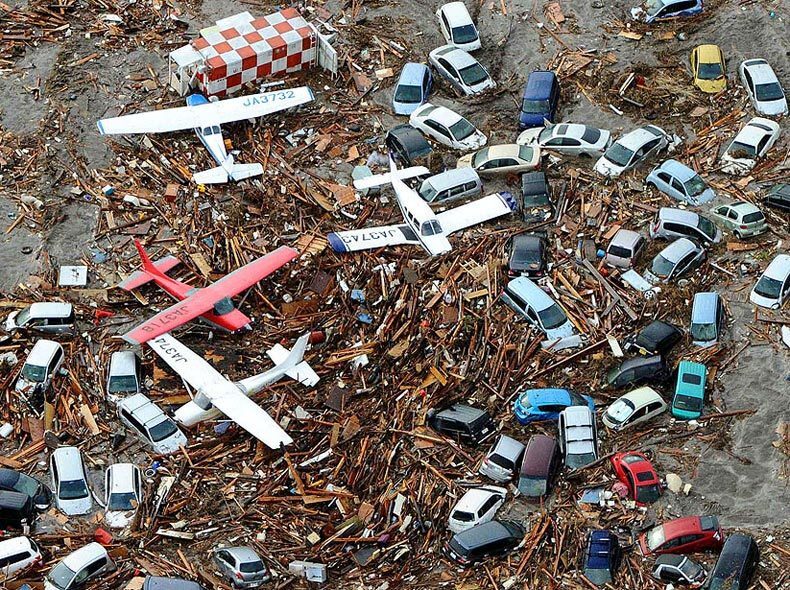 Light planes and vehicles sit among the debris after they were swept by a tsunami that struck Sendai airport March 11.
(Kyodo News)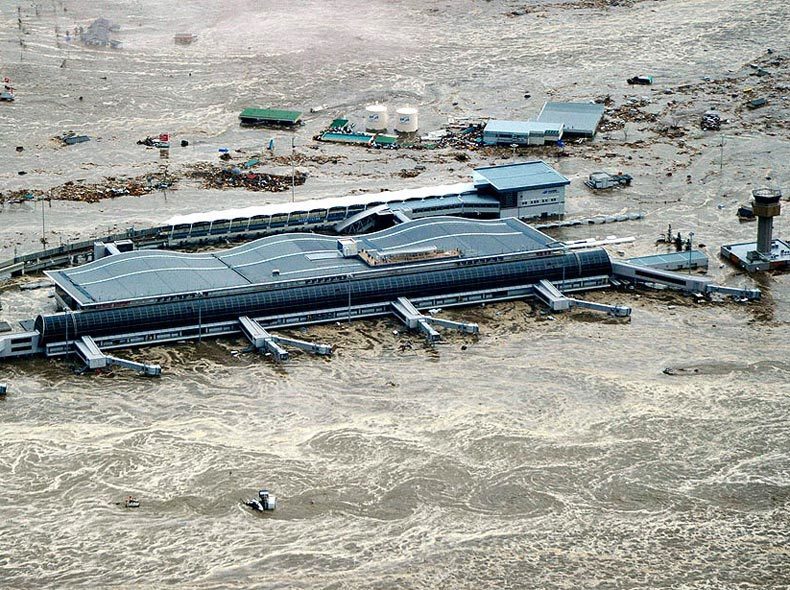 Sendai Airport is surrounded by floodwaters on March 11.
(Kyodo News)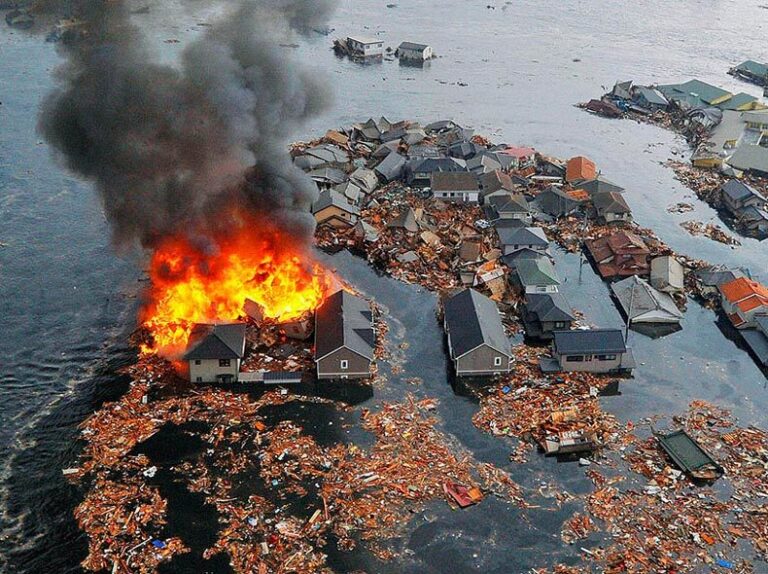 Burning houses are surrounded by water March 11.
(Kyodo News)
The Natori area of the town was completely destroyed by the earthquake and tsunami that followed. Fires burn in the neighborhood as civil servants are finally able to enter the area to look for the dead on March 13.
(Carolyn Cole / Los Angeles Times)
A family looks over what is left of their destroyed home in the Natori neighborhood hit hard by the tsunami on March 13.
(Brian van der Brug / Los Angeles Times)
9.0 Magnitude Earthquake; Destruction; Devastation; Disaster; Earthquake; Ruin; Sendai Earthquake and Tsunami;
(Hiroto Nomoto / The Yomiuri Shimbun)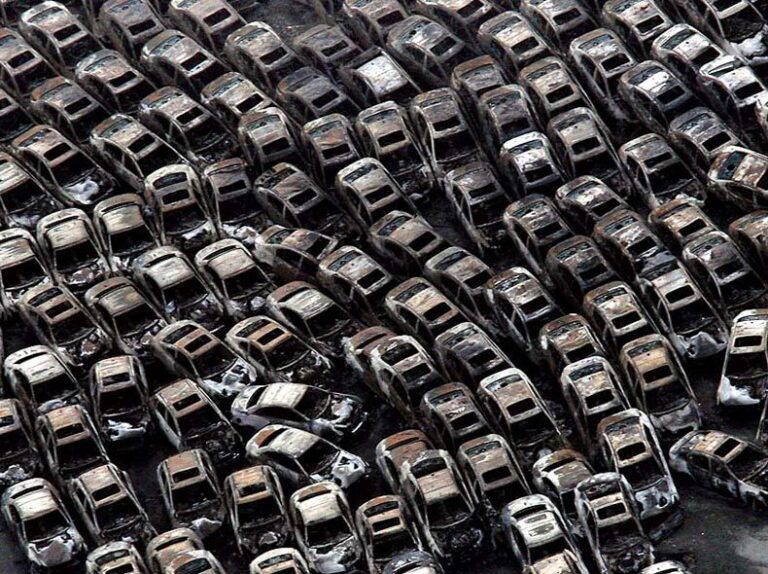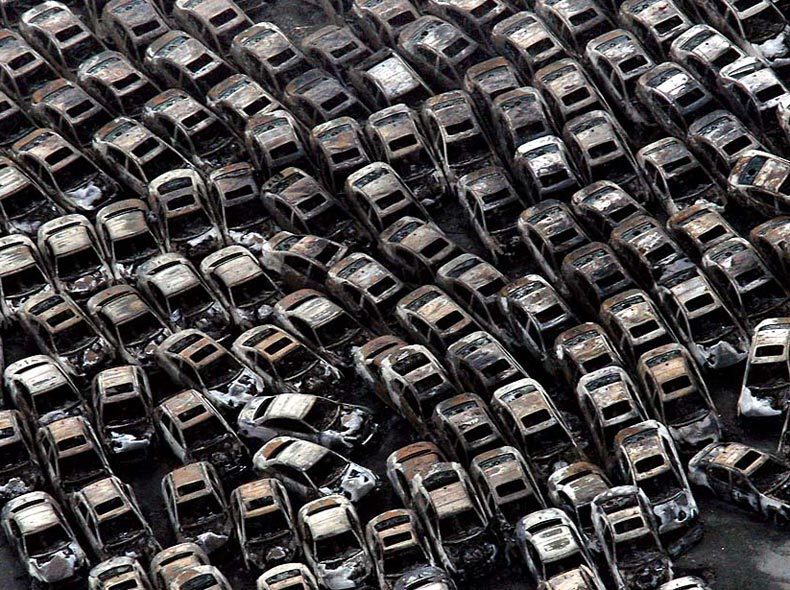 An aerial view shows a mass of cars burned by fires in Sendai on March 14. The
earthquake
and tsunami damage could have a profound effect on Japan's production sites and economic institutions.
(Noboru Hashimoto / AFP/Getty Images)
A man waits as firefighters pry open his car to look for missing family members on March 14 in Natori. There was no one inside.
(Brian van der Brug / Los Angeles Times)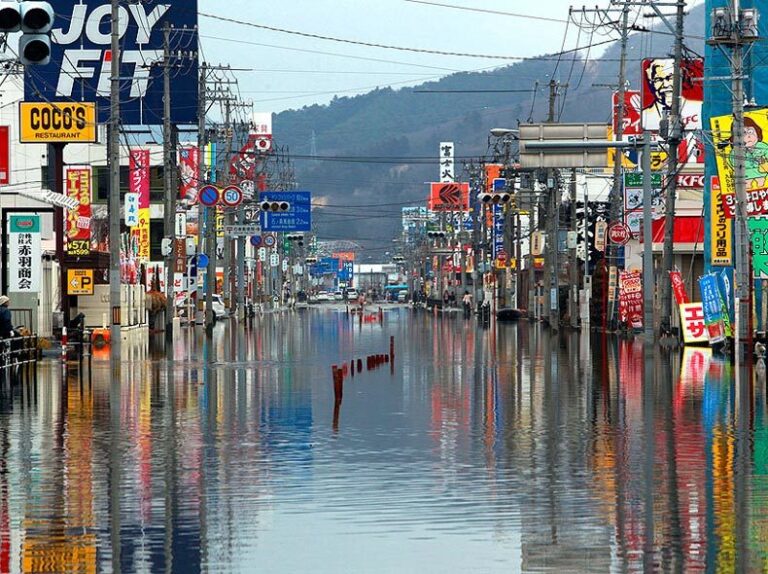 The town of Ishinomaki is flooded and the city's downtown area remains deserted on March 15.
(Brian van der Brug / Los Angeles Times)
A man cries next to his destroyed house where his dead mother is still buried under rubble in Onagawa on March 17.
(Yomiuri)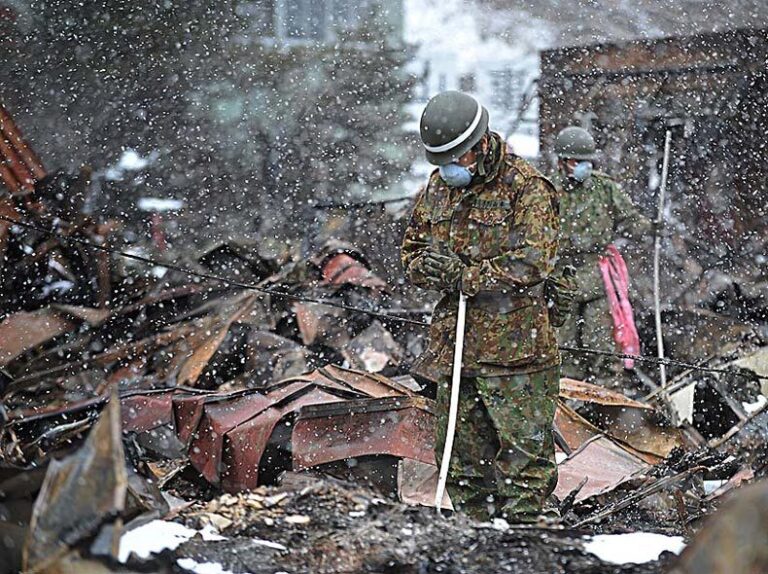 A Japanese Self-Defense Force soldier prays before removing the body of a tsunami victim found in debris in Otsuchi.
(Takashi Noguchi / AFP)
Government officials walk down a recently cleared roadway where the earthquake-spawned tsunami caused a massive fuel spill and fire on March 17.
(Brian van der Brug / Los Angeles Times)
Reporting from Beijing and Tokyo — —
Hundreds are dead after the worst earthquake in generations struck off the northeast coast of Japan on Friday, setting off a devastating tsunami that swallowed swaths of coastal territory and fanned out across the Pacific Ocean, threatening everything in its path.
The 8.9-magnitude earthquake -- the world's fifth-largest since 1900 and the biggest in Japan in 140 years -- struck at 2:46 p.m. local time, shaking buildings violently in Tokyo for several minutes and sending millions fleeing for higher ground.
Nearby islands are bracing for the tsunami and warnings have been issued for 53 countries including ones as far as Colombia and Peru.
Photos: Scenes from the earthquake
The Kyodo News service reported police finding up to 300 bodies in the city of Sendai in Miyagi prefecture, a part of northeastern Japan believed to have been hit hardest by the tsunami.
The city of 1 million was struck by a wave 20 feet high, then another 33 feet high. A hotel collapsed and large ships in port were seen lying on their sides.
About 1,100 people were stranded and awaiting help in Sendai's airport terminal, according to state-funded broadcaster NHK. The airport had no power and was dark. The runway and roads surrounding the airport were submerged under a layer of muddy water.
At least 80 fires have been reported across the country and large areas are without electricity submerged under water.
Japanese television showed aerial footage of an ominous 13-foot muddy wave washing across land along the northeastern coast of the main island of Honshu, which appears to have sustained the worst damage.
Kyodo News reported that a ship carrying 100 people had been carried away by the tsunami.
According to East Japan Railway, 14 bullet trains were between stations with passengers still aboard, after the quake triggered emergency safety systems. The whereabouts of at least one train near the coast in Miyagi prefecture was unknown late Friday, Kyodo News said.
In other locations, live TV coverage showed massive damage from the waves with dozens of boats and even buildings being carried along by waters. Cars could be seen futilely trying to speed away from the rolling wall of debris.
A large ship swept away by the tsunami rammed into a breakwater in Kesennuma city in Miyagi prefecture. Waves could be seen splashing into city streets and over bridges.
Further south in Chiba prefecture, firefighters battled an out-of-control oil refinery blaze that spewed fireballs into the sky. The Cosmo Oil Co.'s facilities produce about 220,00 barrels a day.
Japanese Prime Minister Naoto Kan in a press conference called for people to remain calm and reported that the nation's nuclear power plants showed no signs of damage.
"The government will make its utmost efforts to secure people's safety and limit any damages to the minimum," said Kan, who was in parliament when the quake struck.
All trains were stopped in Tokyo where debris fell off many buildings and black plumes of smoke rose over the skyline. Tokyo Disneyland's parking lot was reportedly flooded and the tip of the Tokyo Tower was bent. Office workers rushed out of their buildings. Subways were halted, trapping commuters underground. Millions were still trying to find their ways home by the late evening. In the nation with the world's third-largest economy, all airports were closed for hours.
"I thought I was going to die when it hit," said Megumi Ishii, 26, who was walking miles home in Tokyo. "At first, it didn't shake that much. But then the shaking got more violent and everyone in my office got under their desks. The ceiling tiles came off and some things fell off shelves."
Anthony Weiss, a 29-year-old from Florida studying Japanese in Tokyo who was on a train when the quake hit, shaking his passenger carriage sharply back and forward.
"People covered their heads with their bags as dust and small debris fell," Weiss said. "Something sprung a leak, as there was a lot of water on the platform."
Many riders evacuated the train and headed for the archways, but not Weiss. "I stayed on because I was concerned about the roof and hanging lights and ventilation systems," he said. "Lights went on and off in the train. It felt a lot like the earthquake attraction at Universal, to be honest, but it wasn't stopping.
"It was pretty scary," Weiss said in an e-mail to a friend. "It felt pretty strong. People were scrambling for the doorways. The aftershocks are continuing even now."
People at Tokyo's Narita International Airport were told to evacuate buildings and head for the tarmac.
"It felt like a jet had come too close to the window and everything started shaking and rocking, and there was a huge rumbling noise," said David Pierson, a 32-year-old U.S. Army helicopter pilot who was waiting for a flight to Newark. "All the signs started swaying and fixtures started popping out. When I saw the panic on people's faces, I made a move for the exit."
The epicenter of the quake was 81 miles off the coast of Sendai, and it struck at a depth of 15 miles. The combination of its shallow depth and proximity to the coast made the temblor a "perfect storm for the tsunami generation" said Susan Hough of the U.S. Geological Survey in Pasadena.
Japan has a long history of large earthquakes, and its buildings are well-girded to withstand damage. Observers said this could help minimize casualties.
Photos: Scenes from the earthquake
---
The stories shaping California
Get up to speed with our Essential California newsletter, sent six days a week.
You may occasionally receive promotional content from the Los Angeles Times.