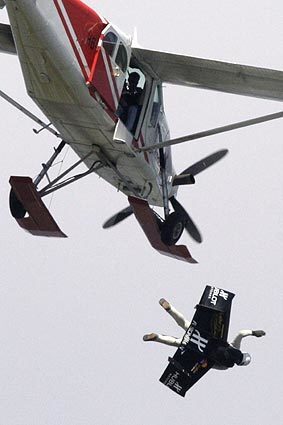 7 Images
"Fusion man" takes flight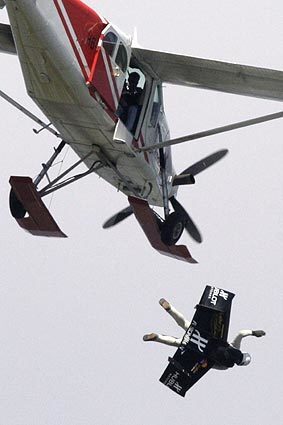 Yves Rossy, aka Jetman
Swiss pilot Yves Rossy, strapped with a jet-powered wing, jumps from a plane at 7,500 feet above the Alps in Bex, Switzerland. The 48-year-old designed the 8-foot wing fitted with four jet turbines.
(Laurent Gillieron /Associated Press)
Yves Rossy, aka Jetman
Rossy, known as "Jetman," spent five years building and training for his flight above the Alps, which lasted five minutes because of the jets' fuel capacity. He reached a speed of 186 mph, 65 mph faster than a falling skydiver, and used his body weight to steer, turning, diving, soaring and making figure eights.
(Nicholas Cronin / EPA)
Jetman, aka Yves Rossy
Rossy is a professional pilot and flies an Airbus for a Swiss airline. The wing he built is made of carbon and combined with his flight suit weighs about 120 pounds. The jet turbines are fueled by kerosene.
(Fabrice Coffrine / AFP/Getty Images)
Jetman above the Swiss Alps
Admiring crowds below gasped and cheered as Rossy flew around for five minutes. After one last wave to the crowd, he executed a perfect 360-degree roll. Later he said: "That was to impress the girls."
(Fabrice Coffrine / AFP/Getty Images)
Jetman lands
"This flight was absolutely excellent," said Yves Rossy, who has served as a fighter pilot and is an extreme sports enthusiast, after deploying a parachute to land at an airfield near the eastern shore of Lake Geneva.
(AFP/Getty Images)
Jetman lands
Rossy, who calls himself "Fusion Man," finds media awaiting him on landing. He said he now wants to try crossing the English Channel this year; he plans to practice for the 22-mile trip by flying between two hot-air balloons.
(Fabrice Coffrine / AFP/Getty Images)
Jetman's mission accomplished
Yves Rossy is all smiles after completing his flight. "I still haven't used the full potential," he said, telling the Associated Press that one day he hopes to fly through the Grand Canyon.
(Fabrice Coffrine / AFP/Getty Images)