8 Images
Rioting in Kenya
Angry mobs clash with police in Kisumu and other Kenyan cities as news spread about the slaying of a second opposition lawmaker. The newly elected parliament member, David Kimutai Too, and a female companion were shot to death in a car in what police described as a "crime of passion" arising from a love triangle.
(Associated Press)
A man accused of harassing girls during the chaos, center left, is helped by another man, right, to escape a mob trying to attack him in Kisumu, Kenya. The violence erupted after the shooting deaths of Kenyan opposition lawmaker David Kimutai Too and a female companion. The man suspected of killing Too is a policeman said by authorities to have been having an affair with the woman, also a police officer serving in the same station.
(Associated Press)
Gangs of men armed themselves with machetes and set up burning barricades, businesses shut down, and workers began to flee from Kisumu after news of the killing of opposition lawmaker David Kimutai Too.
(Associated Press)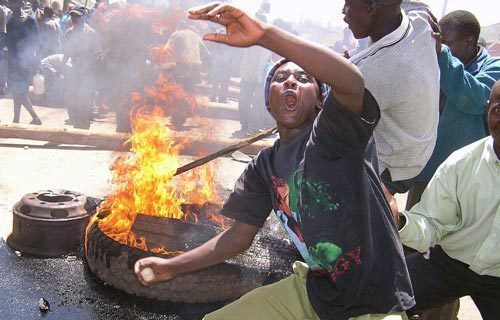 Kenyan youths protest the arrests of fellow tribal members who police claimed had planned to engage in interethnic battles in Kisii, Kenya.
(EPA)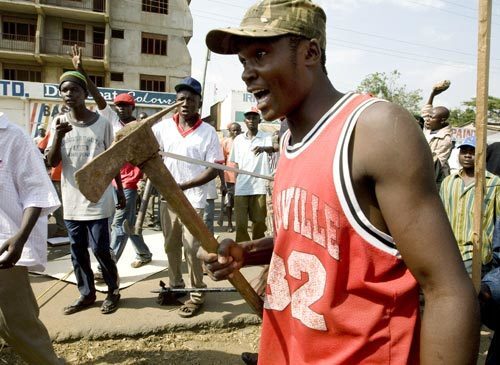 A man carrying an ax joins supporters of Kenya's opposition leader, Raila Odinga, in the streets of Kisumu.
(Yasuhyoshi Chiba / AFP/Getty Images)
Supporters of Odinga block a road in Kisumu.
(Yasuyoshi Chiba / AFP/Getty Images)
Women take cover under some market stalls during an outbreak of rock-throwing.
(Yasuyoshi Chiba / AFP / Getty Images)
Relatives mourn during the funeral service of a protester shot by Kenyan police in Limuru, west of Nairobi.
(Jon Hrusa / EPA)