Poison suspected in death of North Korean leader's half brother and rival
Kim Jong Nam, the half brother of North Korean leader Kim Jong Un, was killed Monday in Malaysia after being ambushed in the Kuala Lumpur airport by two women who apparently poisoned him.
Once considered the successor to his father, Kim Jong Il, Kim Jong Nam, 45, had been living incognito in exile in Macau, reportedly under the protection of the Chinese government. Even though he disavowed any aspirations to leadership, North Korea watchers invariably raised his name as a potential replacement in the case of a coup d'etat against Kim Jong Un.
Although the bizarre killing remains under investigation, intelligence officials in the U.S. and South Korea are calling it a likely assassination by the North Korean government. Kim was reportedly approached from behind while he waited in the departure area of the airport in Kuala Lumpur, the Malaysian capital.
Joongang Ilbo, a South Korean newspaper, quoted an unidentified intelligence official as saying that Kim was "stung by a poisoned needle" after being approached by "two female spies" working for North Korea. (Link in Korean.)
"They fled in a taxi right after the crime," the newspaper quoted the official as saying.
Another version of events came from Malaysian police official Fadzil Ahmat, who told reporters that Kim said before his collapse that "someone had grabbed him from behind and splashed a liquid on his face.'' A different Malaysian official described a cloth placed over his face.
By whichever method, the killing had all the hallmarks of a North Korean assassination. "This sounds like a classic North Korean operation," said Sue Mi Terry, who was a senior North Korea analyst for the CIA from 2001 to 2008. "Kim Jong Nam was the most reform-minded person in the family and whenever there are discussions about regime change, his name comes up."
The timing of the apparent assassination might be linked to reports of instability in North Korea. Kim Jong Un has purged many of his former deputies, most recently his minister of state security. A North Korean diplomat, Thae Yong Ho, who defected last summer said in a news conference last month that the "traditional structures of the North Korean system are crumbling."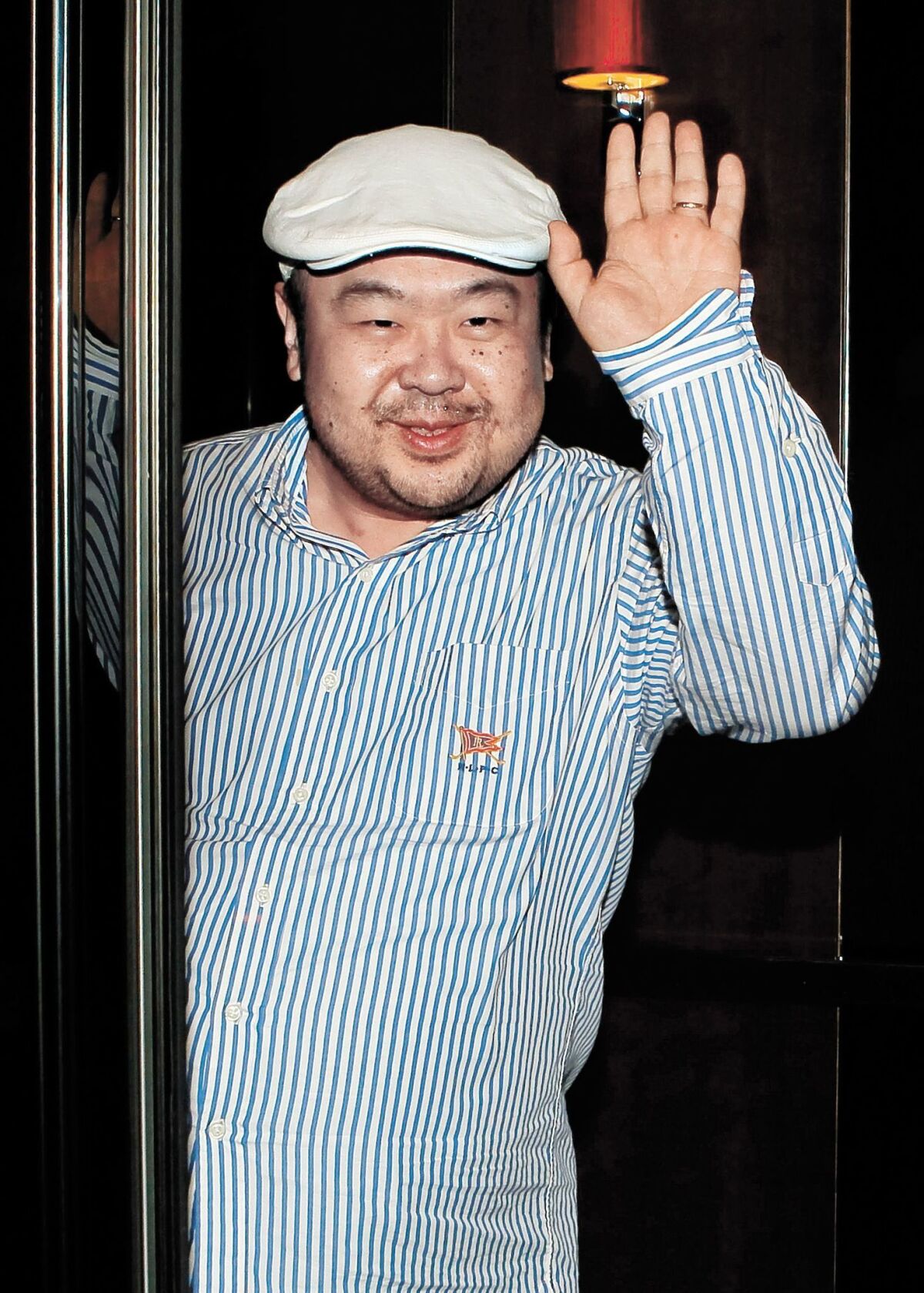 Kim — portly like his father and brother, and frequently photographed unshaven with his shirttails hanging out — was the heir apparent to North Korean leadership until 2001, when he was arrested in Tokyo trying to enter Japan on a false Dominican Republic passport. He told authorities he was trying to bring his son to Tokyo Disneyland.
After his public disgrace, the North Korean government began grooming Kim Jong Il's youngest son, Kim Jong Un, who ended up taking over the country while still in his 20s after the 2011 death of the father.
Kim Jong Nam gave occasional interviews to Japanese media. Despite his slovenly appearance and a penchant for drinking and gambling, he was said to be something of an intellectual who expressed his belief in globalization, market economies and the need for North Korea to reform its communist economy.
"He sees his brother failing," said a Japanese journalist, Yoji Gomi, who released a 2012 book about Kim Jong Nam, "My Father, Kim Jong Il and Me." "He thinks [Kim Jong Un] has a lack of experience. He's too young and he didn't have enough time to be groomed.''
Kim Jong Nam lived much of his life in hiding. He is believed to have been the first of Kim Jong Il's offspring, a love child of a long affair with Song Hye Rim, a North Korean actress. Their relationship and the existence of the child were kept secret for years out of fear that it would not be accepted by Kim Jong Il's father and North Korea's founder.
"Wisteria House," a book about the family written in Korean by his aunt, Song's sister, described how the secret family was shuttled among secluded villas and seaside retreats in North Korea, Switzerland and Russia, a pampered but precarious life of luxury.
Kim Jong Nam's mother had psychological problems and is believed to have died in Russia.
Although Kim Jong Il publicly acknowledged his first son and was said to be an affectionate father, he reportedly thought the young man had become too Westernized because of the time he spent abroad.
In recent years, Kim Jong Nam lived in exile in Macau but traveled frequently. For his protection, he often traveled under an assumed name; initial reports from Malaysia said he was using the name Kim Chol.
Kims son, Kim Han-sol, 21, educated in Hong Kong and the West, has spoken out about humanitarian issues such as human rights and famine in North Korea. Wearing ear studs and speaking unaccented English, he gave a videotaped interview in 2012 in which he said his father never wanted to be a North Korean leader. "My dad was definitely not really interested in politics,'' he said.
Kim was reportedly in Kuala Lumpur visiting a girlfriend, and it was unclear whether she was suspected of having lured him away from Macau. An assassination in Macau would have been more likely to incur the anger of Beijing.
If an assassination is confirmed, it would be in keeping with the modus operandi of the North Korean government. Pyongyang has been blamed for numerous attacks against defectors and critics abroad, including the 1987 bombing of a South Korean airliner by a female North Korean agent and a 1983 bombing in Burma directed against South Korean President Chun Doo-hwan.
Kim's first cousin and childhood playmate, a defector, was shot outside his home in South Korea in 1997.
The North Koreans have been implicated in at least one other poison needle attack, in 2011, when a South Korean pastor and activist died mysteriously in China.
"Somebody like Kim Jong Nam who was living overseas must have been aware of the possibility of being assassinated,'' said Joel Wit, a senior fellow at the U.S.-Korea Institute at Johns Hopkins University's School of Advanced International Studies. "He was originally going to succeed Kim Jong Il. He had been very critical of the regime. He was a focal point for potential opposition. Certainly the North Koreans had plenty of motives."
It is unclear whether Kim Jong Nam and Kim Jong Un spent any time together or had even met. In any case, familial loyalty has not stopped Kim Jong Un before. His uncle and regent, Jang Song Taek, was publicly purged and executed in 2013 after the young leader believed he had become too powerful; more than 100 other North Korean officials have met similar fates.
In his five years of leadership, Kim has resisted calls to reform his economy and has methodically pursued the development of weapons of mass destruction. Since the beginning of last year, North Korea has conducted two nuclear tests and more than two dozen missile tests, the most recent last weekend, when an intermediate-range missile flew about 300 miles from a launch site northwest of Pyongyang.
---
UPDATES:
7:44 p.m.: This article was updated with additional details about the assassination and political analysis.
3:25 p.m.: Updates throughout with additional quotes and details.
This article was originally posted at 9 a.m.
Must-read stories from the L.A. Times
Get the day's top news with our Today's Headlines newsletter, sent every weekday morning.
You may occasionally receive promotional content from the Los Angeles Times.