In a crushing vote, Merkel's allies suffer massive losses in Bavaria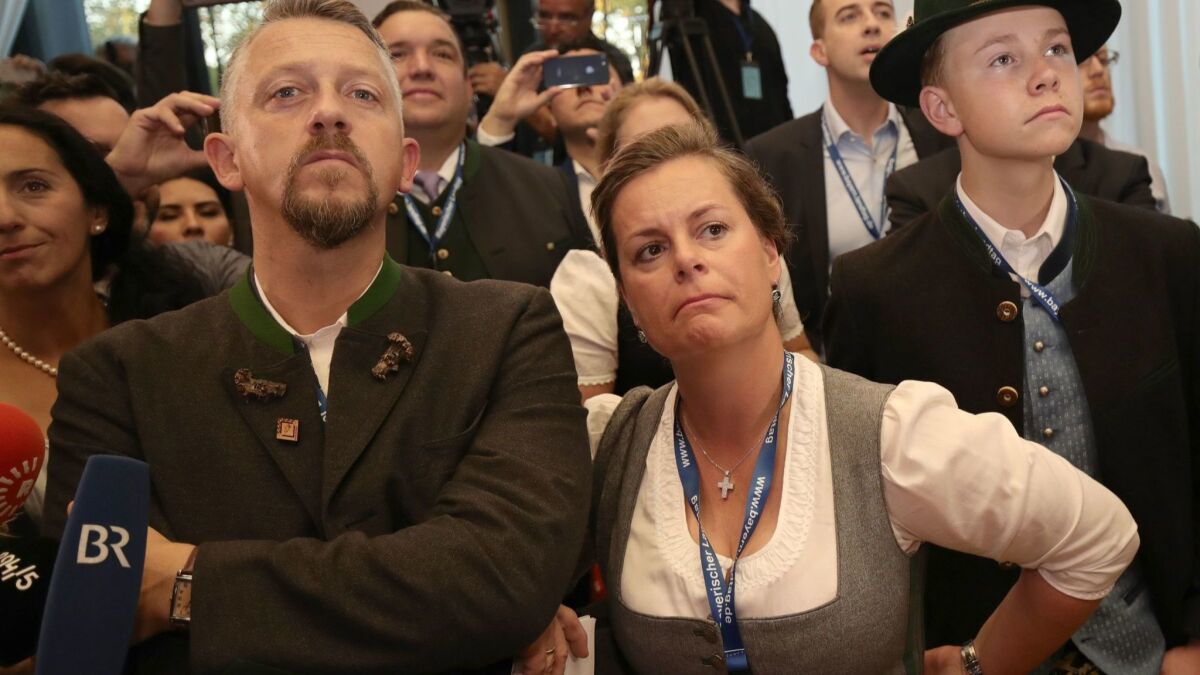 Reporting from Berlin —
German Chancellor Angela Merkel's beleaguered and now-fragile "grand coalition" government was handed a stinging setback Sunday when her conservative party in Bavaria suffered its worst showing in 68 years in an important regional election that will likely increase tensions for her on the national level.
While the conservative Christian Social Union party in Bavaria that is aligned with Merkel and her Christian Democrats will still cling to power in the prosperous state bordering Austria and the Czech Republic, exit polls showed its support slumped to 37.3%. The once-dominant party that had won as much as 61% of the vote just 15 years ago will now be forced to find a junior coalition partner — a humiliating step for a party that once enjoyed such deep support.
"This was an earthquake in Bavaria, and it shows that the federal government is a lot more fragile than it appears to be on the outside," said Thomas Jaeger, a political scientist at Cologne University.
"They're pretending that we've got a stable government. But it looks to me now like it could collapse any day. I'd say it's 60%-40% that this grand coalition won't last until the next election due in 2021."
Merkel's name was not on the ballot in Bavaria, but her pro-refugee policies certainly took center stage.
After an ugly election campaign tinged with xenophobic reaction to the 1.5 million refugees and migrants fleeing war and poverty in the Middle East, Asia and Africa who arrived with Merkel's blessings, her conservatives and her junior coalition partners in Berlin, the center-left Social Democrats, were in a state of shock over their steep falls.
The Social Democrats, who share power with Merkel's conservatives at the national level, fell 11 points to 9.6% in Bavaria — their worst state election performance anywhere since World War II.
Two smaller opposition parties in Bavaria appeared to profit from the uproar over the refugees and the heated battles between Merkel and her Bavarian allies over the last six months, but for different reasons.
The far-right Alternative for Germany won 10.6% after an unabashed campaign aimed at the refugees who have poured into the country since 2015. Yet the pro-Europe Greens party that supports refugees and immigrants won 17.8% — double its share in the last election in Bavaria in 2013, further siphoning support from Merkel's party.
Analysts and political leaders in Berlin believe the results in Bavaria could further exacerbate fissures in the already tenuous grand coalition and might lead to its collapse before the national elections in 2021.
There is another important state election in Hesse, home to the German financial capital of Frankfurt, in two weeks, and a drubbing there could lead to more serious turbulence in the Berlin government. Merkel hopes to be reelected as the leader of the conservatives at a party congress in December, but there are growing doubts about that now.
"There's no doubt about it that the debates we've endured in recent months, especially the tone and the style of it, did not help us at all in Bavaria," Annegret Kramp-Karrenbauer, Merkel's deputy party leader, told reporters in Berlin.
Markus Soeder, Bavaria's governor, is likely to stay in office if he can pick a small party to be his coalition partner. He made it clear he favors an alliance with the Free Voters party that is active only in Bavaria and won 11.5% of the vote, but he could enter a coalition with the Greens.
"This is painful for us," Soeder told reporters in Munich after the results were announced. "We had to face a lot of challenges because of the tricky balancing act going on in the federal government. The important thing now is that we get a stable government for Bavaria."
Kirschbaum is a special correspondent.
---
Must-read stories from the L.A. Times
Get the day's top news with our Today's Headlines newsletter, sent every weekday morning.
You may occasionally receive promotional content from the Los Angeles Times.