Mexican official says 250 skulls found in what appears to be a cartel mass burial ground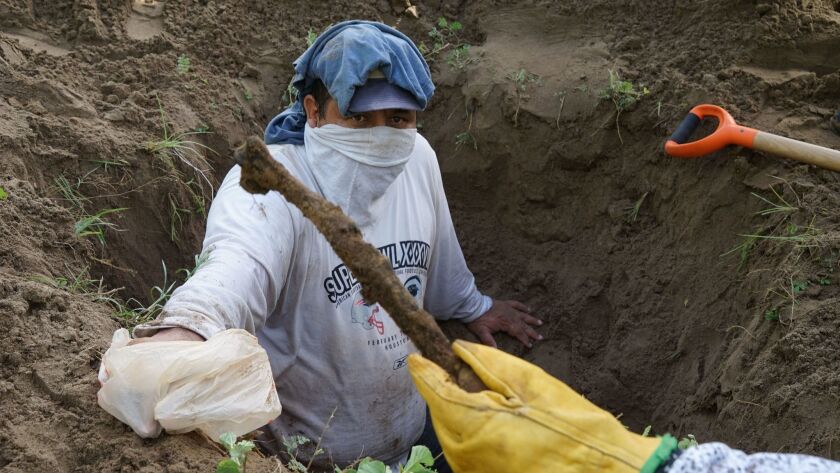 Reporting from MEXICO CITY —
Authorities in southern Mexico's Veracruz state are seeking international aid in identifying the remains of scores of people who were probably murdered and dumped in common graves on the outskirts of Veracruz city, the state prosecutor said.
On Tuesday, the prosecutor, Jorge Winckler, told the Televisa network that about 250 skulls had been found at the site.
"It is a terrible crime, it never should have happened," Winckler said in a Twitter message.
State officials are seeking "international and national" help in identifying the remains, he said.
An activist group in Veracruz consisting of relatives of the "disappeared" began digging last year at the site, in the Colinas de Santa Fe area, and now says it has recovered thousands of remains belonging to about 250 people.
The group has been calling on relatives of the missing — or desaparecidos, as they are known — to come forward and give DNA samples for possible matching with remains discovered at the site. Many of the remains unearthed are bone fragments, along with scraps of clothing.
The bodies were probably dumped in the area over the course of years, according to the activist group, the Solecito Collective, which says the site may be the largest clandestine grave in Mexico. The site consists of dozens of common graves spread out in an area sprawling over several acres on the edge of town.
Activists say the bodies were probably the remains of victims slain by drug cartels and other criminal elements, often working in conjunction with Mexican law enforcement authorities.
Thousands of likely victims of violence remain missing, activists say. Some victims had no known ties to criminal gangs and apparently were caught in the wrong place at the wrong time — robbed or kidnapped for ransom.
Veracruz has become a battleground among various criminal factions, including the ultra-violent Zetas cartel.
The Solecito Collective has been calling for an official response from Mexican President Enrique Peña Nieto, who has yet to comment publicly on the grisly discovery.
Only two victims whose remains were found at the site have been identified, and that was because they carried identification on their bodies, according to a report in Animal Politico, a Mexican news site.
ALSO
More and more people are being murdered in Mexico — and once more drug cartels are to blame
Colombia has a peace deal, but can it be implemented?
Number of immigrants caught at Mexican border plunges 40% under Trump
---
UPDATES:
1 p.m.: This article has been updated throughout with additional information and background.
This article was originally published at 8:55 a.m.
---
The Latinx experience chronicled
Get the Latinx Files newsletter for stories that capture the multitudes within our communities.
You may occasionally receive promotional content from the Los Angeles Times.