Mexico halts second migrant caravan and offers temporary residency while main group continues north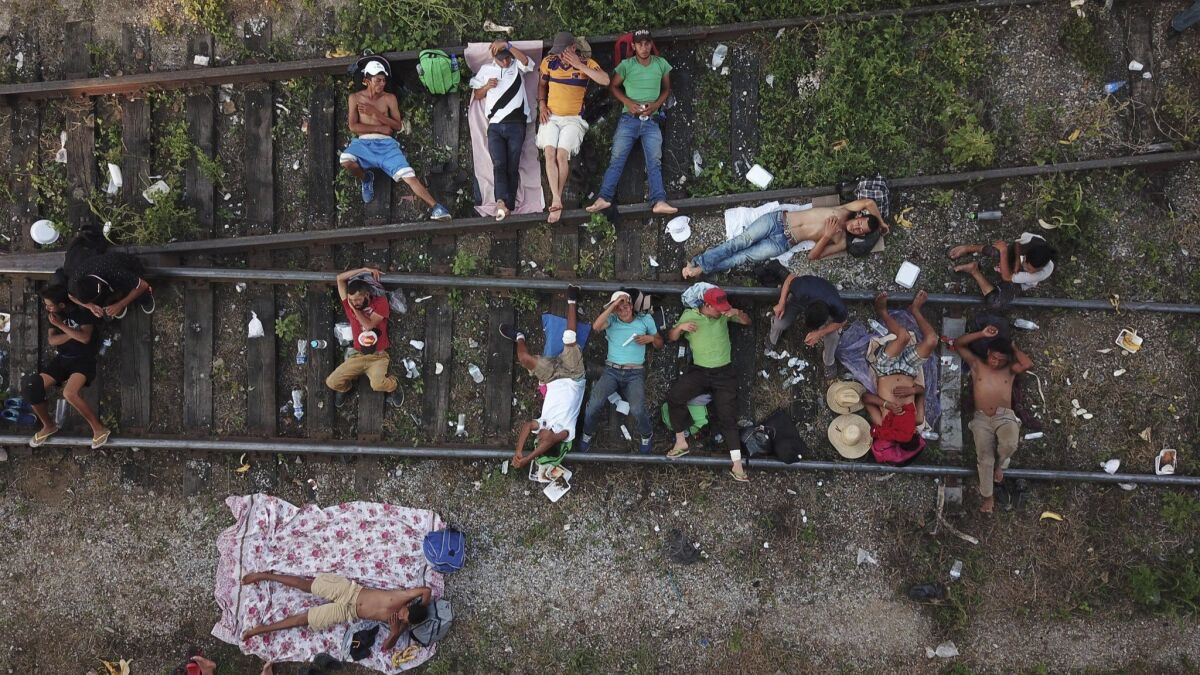 Reporting from Mexico City —
Mexican authorities have broken up a second attempted migrant caravan near the country's southern border, as Mexico — under pressure from U.S. authorities to halt the northward flow — offered temporary residency to Central Americans who would agree to remain in the country.
The second caravan, numbering 200 to 300, was much smaller than the major U.S.-bound caravan and was stopped shortly after setting off on a highway just north of the Mexico-Guatemala border on Friday. More than 100 people were arrested and face deportation, a police official said.
In a recorded national address, Mexican President Enrique Peña Nieto said Central Americans who applied for refugee status and vowed to remain in the southern states of Chiapas and Oaxaca would be offered provisional residency permits, work papers and access to healthcare and schools.
"Mexico wants to protect and help you," Peña Nieto said, addressing the migrants and outlining the new plan, named Estas en Tu Casa, or, Make Yourself at Home.
The proposal seemed designed at least in part to demonstrate to Washington that Mexico City was doing something to halt the northbound caravan, which President Trump has labeled a "national emergency" and repeatedly used as a campaign issue ahead of congressional elections Nov. 6. Trump has announced plans to deploy troops along the southwestern border to thwart the group's advance.
Mexican authorities have eschewed police action against the caravan, which began marching north from southern Mexico last weekend. Most caravan members are Honduran nationals who entered Mexico illegally via Guatemala.
Mexico, the largest source of immigrants in the United States, faces a dilemma between its pronounced commitment to human rights and pressure from Washington to stop the caravan.
The number of current participants has been estimated at 3,500 to 4,000, though there is no precise count of the rag-tag group that has often stretched several miles along the highway. Many others have dropped out and returned home because of the grueling conditions, including intense heat and tropical downpours.
The caravan began two weeks ago in Honduras and has since captured international headlines while drawing the ire of the Trump administration.
The Mexican government's offer on Friday of temporary residence and other benefits had limited impact on caravan participants.
The Mexican media reported that many in the caravan rejected Mexico's plan during an assembly held in the town of Arriaga, in southern Mexico, where the Central Americans camped out in the central square and elsewhere, as is their custom. Caravan members objected to the idea of being confined to Mexico's southern states, among the country's poorest, and were skeptical of avoiding deportation.
Caravan participants say they plan to continue their northward trek, advancing into Oaxaca state after having traversed much of Chiapas. The caravan is still some 1,000 miles from the nearest point along the U.S.-Mexico border.
Reports indicate that the group plans to proceed on a route taking them through Mexico City. There, caravan representatives may seek a meeting with officials from the Mexican government and from the incoming administration of President-elect Andres Manuel Lopez Obrador, who takes office on Dec. 1.
Times staff writer Kate Linthicum and special correspondent Cecilia Sanchez in Mexico City contributed to this report.
Twitter: @PmcdonnellLAT
---
Must-read stories from the L.A. Times
Get the day's top news with our Today's Headlines newsletter, sent every weekday morning.
You may occasionally receive promotional content from the Los Angeles Times.