In Mexico's own Motor City, billion-dollar investments but also fear of Trump's trade moves
Reporting from Guanajuato, Mexico —
In a swath of Mexico locals call the "New Detroit," General Motors is hiring hundreds of workers and expanding operations at a truck factory. BMW is on track to finish building an assembly plant next year.
Just last month, Canadian parts manufacturer Linamar announced it would pour $50 million into expanding operations at two of its Mexican plants.
Still, President Trump's tough talk on trade has rattled El Bajio, as this industrial region in central Mexico is known, to its core.
Ford last year scuttled plans to build a new manufacturing plant in El Bajio — even though the steel framing was already up. Toyota, after it was criticized by Trump on Twitter, downsized plans for a plant in the region, and Trump hailed the retreats as a sign that auto manufacturing was returning to the U.S.
In this new age of uncertainty in El Bajio, carmakers are trying to figure out how to respond to Trump's promise to "bring it all back."
Japanese companies are reluctant to make decisions here anytime soon, said Alejandro Hernandez, director of investment promotion for Guanajuato, the predominant state in El Bajio. American companies are moving forward but being "extremely cautious," he said in an email. Meanwhile, German companies are taking a longer view, weighing the possibility that Trump could be out of office in a few years.
Hernandez said far fewer international companies than usual are visiting Guanajuato to explore business opportunities. This year, only one auto company, a German firm, has announced investment in Guanajuato, he said. In 2017, the state could trumpet investments by 40 companies, most of them automotive, totaling $1.7 billion and expected to create 14,426 jobs.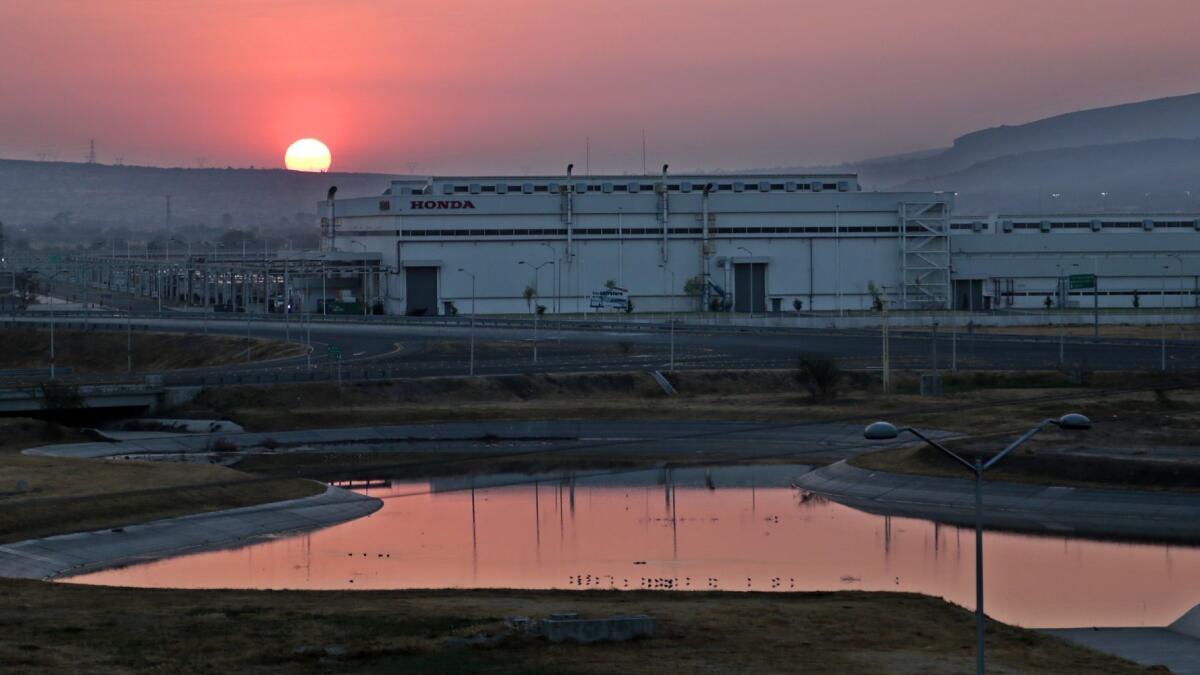 Economists say undoing the North American Free Trade Agreement alone wouldn't be enough to trigger an automotive exodus from El Bajio. "It's not going to have enough bite," said Wharton Business School professor Ann Harrison, adding that companies have invested billions in El Bajio.
But the possibility of protectionist policies — imposed by the U.S. or Mexico, or both — has regional governments and automakers on edge. Some officials fear that other countries, perhaps China, will exploit U.S.-Mexican tensions and lure carmakers overseas.
As Felipe Meza, economics professor at the Autonomous Technological Institute of Mexico, put it, "Scrapping NAFTA — that's the rosy scenario."
It's hard to overstate the metamorphosis unleashed by auto manufacturing in El Bajio, Spanish for "the lowlands."
In Guanajuato, clusters of factories, some larger than New York City's Central Park, spread across an agrarian landscape. On a recent day, aging farmers crossed alfalfa fields in horse-drawn wagons while massive Honda assembly and transmission plants stood in the background.
The free trade agreement helped trigger the region's transformation — an expressway serving as a straight-shot shipping route to the U.S. border 1,000 miles away has been dubbed "NAFTA Highway."
The automotive industry has generated more than 300,000 jobs in El Bajio, and Guanajuato's public debt is now among the lowest in the country, according to state financial records. Public services are far better than in other states, residents say.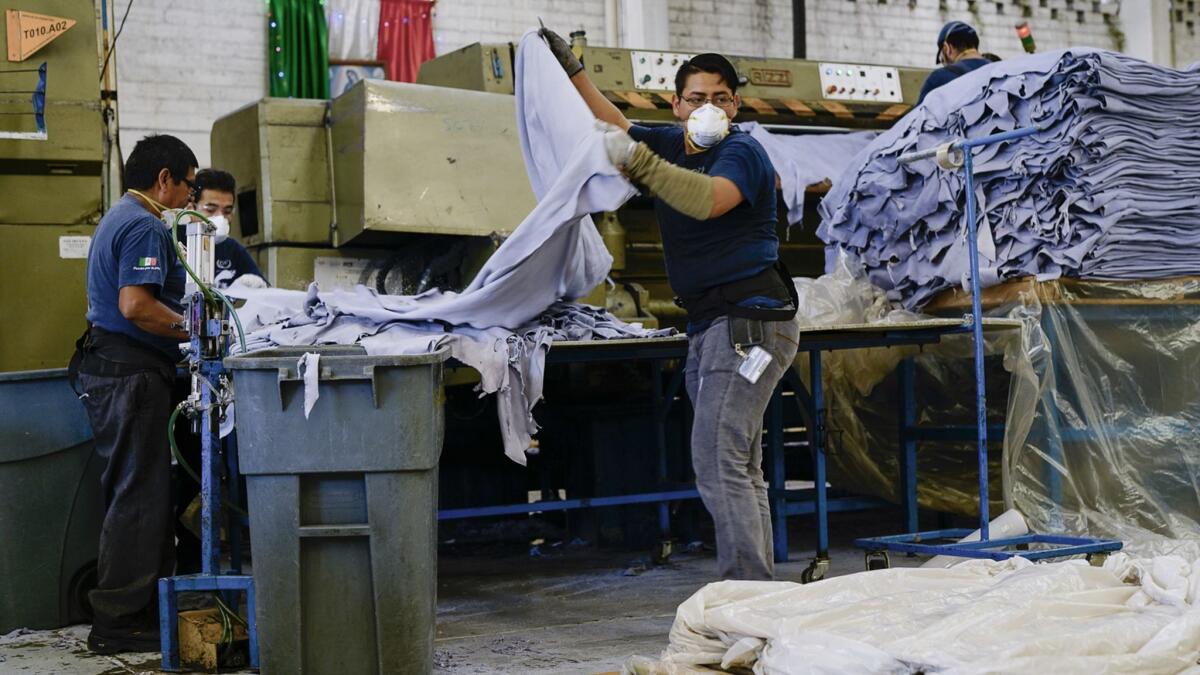 Centuries-old industries have been remade too. Surging demand for car upholstery has revived a once-faltering leather industry. Multinational leather tanneries have moved in.
With the recent arrival of Japanese automakers have come sushi restaurants and Japanese magazines and newspapers. Hotel construction to accommodate visiting corporate officials is vigorous.
General Motors, the largest automaker in the U.S. by sales, was the first to set up shop in the region after NAFTA took effect in 1994. The automaker plopped a 26.5-million-square-foot factory on the outskirts of Silao, a town in Guanajuato previously known for producing milk and cheese.
Now, the town rakes in millions of tax dollars each year from dozens of auto companies. The GM plant alone accounts for the largest share of the company's worldwide production, said Juan Maciel, Silao's mayor. "With satisfaction, we say it was produced here," Maciel said, noting that he drives a Chevy Suburban.
El Bajio is rife with nods to the original Motown: Detroit Tigers baseball caps are common in Leon, one of the region's largest cities. A conference room down the hall from Maciel's office has a placard that reads "The Detroit Room." Guillermo Romero, Guanajuato's secretary of economic development, hangs in his office a copy of a Diego Rivera mural depicting the Ford River Rouge Complex near Detroit.
The region has enticed manufacturers with financial incentives, worker training programs and a large, cheap labor pool. Major rail routes lead here, and seaports on the Pacific and Gulf coasts are not far.
Perhaps the most significant effect of the auto boom has been a downward trend for migration out of El Bajio. The region, particularly Guanajuato, had long been one of Mexico's largest sources of migrants to the U.S.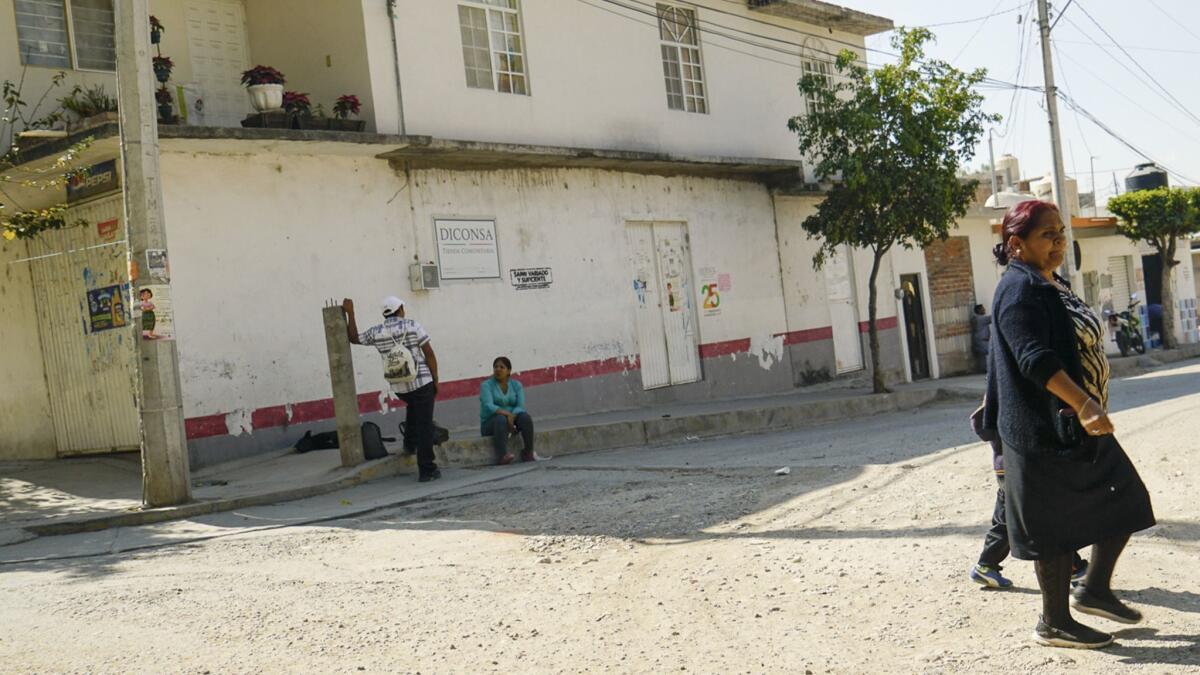 Tomas Gonzalez, who lives in Lo de Juarez, a tiny peasant community with dirt roads and roaming roosters, remembers how small groups gathered in the dusty town center almost daily to journey northward.
"They would say, 'Let's go! Let's go!' " the 30-year-old Gonzalez said.
Gonzalez eventually joined them in 2007, but after a few years of working from sunup to sundown at a Kansas dairy farm, he returned to Lo de Juarez.
Cars with blaring megaphones strapped to their roofs drove through the village announcing the need for workers. As it has in many villages and cities in El Bajio, the state began running buses through its narrow streets to collect workers and deliver them to the auto factories.
Gonzalez works in a factory, where he melts rubber that's used to seal car windows and doors. He said he makes barely enough to support his wife, young daughter and aging father.
In Guanajuato and across Mexico, immigration has slowed since the turn of the century and even reversed in recent years, with more people returning to Mexico than leaving for the U.S., according to the Pew Research Center. But some fear that trend could change if NAFTA is scrapped or a trade war breaks out.
"If Mexico's economy craters, all of a sudden we're going to have more immigration pressure," Ohio State University economist Ned Hill said.
Of particular concern is a 25% U.S. import tax on trucks that would kick in should NAFTA be dissolved. Romero, the economic secretary, estimates this would cost companies in Guanajuato alone nearly $4.8 billion.
Already, Fiat Chrysler Automobiles announced in January it would move production of its Ram pickup truck from a Mexico plant to a facility in Michigan.
Still, some companies remain undeterred. Sakthi, an Indian parts builder, will begin construction of a plant in May in Durango state, which will create 600 jobs, according to the state government. Volkswagen is doubling production at its engine plant in Guanajuato.
Maciel maintains that the region exports vehicles to a wide enough array of countries that it no longer needs the U.S. market. Romero calls this idea "utopic" and says souring trade relations with the U.S. could absolutely bring tangible change to El Bajio.
"The companies are working on a Plan B," said Romero, who regularly meets with company executives.
NAFTA talks are underway in Washington with representatives from the U.S., Canada and Mexico.
In recent weeks, U.S. trade officials have reportedly eased demands to raise the requirement dictating what percentage of parts must originate in North America, including dropping demands that half of that North American content be sourced from the U.S. At the same time, proposals have been floated to mandate that some automotive production occur in areas paying higher salaries.
Mexico would rather have NAFTA disappear than accept U.S. proposals that erode too much of its appeal as a production site, said Hector Marquez, an official in Mexico's Ministry of Economy and the country's lead negotiator on auto issues in NAFTA in the 1990s.
Mexico's July presidential election also is injecting tumult into the talks, Marquez said. Front-runner Andres Manuel Lopez Obrador is a NAFTA skeptic whose ambitions include halting efforts to liberalize the country's energy sector.
"So we don't know what the end will be," Marquez said.
On a recent afternoon, Ana Freyer, a sociologist at the University of Guanajuato, drove down one of El Bajio's industrial corridors. The highway is kept in pristine condition to serve the hundreds of companies set up along it.
Freyer calls the explosive growth of the auto sector here a "sociological experiment." The industry has changed migration patterns, reshaped the physical countryside and even brought sushi to a previously monocultural region.
Still, there's an ephemeral nature to it, she said.
"I don't think people realize," Freyer said, "as easy as [the companies] came in, they could leave."
To read this article in Spanish, click here
Vartabedian is a special correspondent. Yesica Prado contributed to this report.
Sign up for Essential California for the L.A. Times biggest news, features and recommendations in your inbox six days a week.
You may occasionally receive promotional content from the Los Angeles Times.