In Mexico, relief and caution as new trade accord with U.S. is announced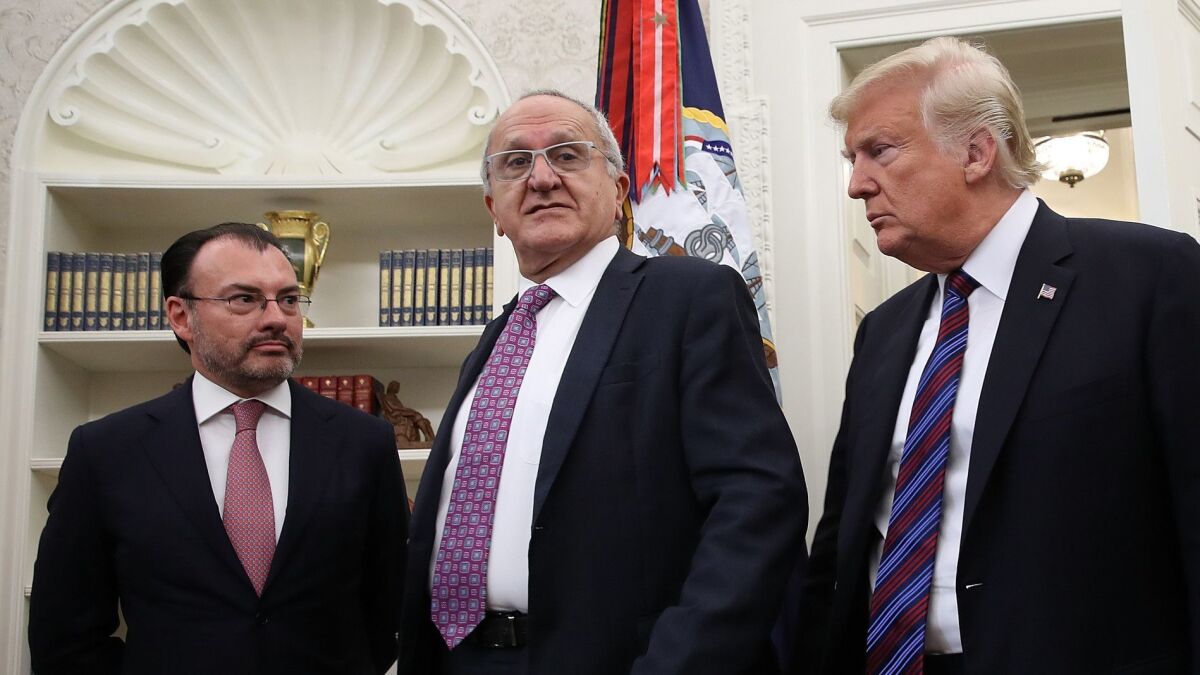 Reporting from Mexico City —
This time around, there were no insults, no abruptly canceled meetings, no threats — and no mention of the wall.
President Trump's upbeat announcement in Washington on Monday of a new U.S.-Mexico trade accord was the latest twist in almost two years of economic uncertainty and one of the most problematic periods in U.S.-Mexico relations.
Trump, who began stoking anti-Mexican sentiment well before he was elected, characterizing Mexicans as criminals and "rapists" while threatening to upend binational trade, took an opposite tack Monday.
He lauded Mexico's "brilliant representatives" and called Mexican President Enrique Peña Nieto — who twice canceled planned trips to Washington amid disagreements about Trump's planned border wall — his "friend." Trump also extolled Mexico's "terrific" president-elect, while applauding the "fantastic" and "incredible" new trade agreement between the two nations.
In Trump's revised narrative, it was Canada, not Mexico, that had been transformed into the continental antagonist. Mexico — denounced by Trump as recently as June as a country that did "nothing" while drugs and immigrants poured across the U.S. border — was now the good guy.
"I like to call this deal the United States-Mexico Trade Agreement," Trump said in a televised telephone call with his counterpart, Peña Nieto. "I think it's an elegant name."
Trump even seemed to grimace when Peña Nieto voiced Mexico's desire that Canada be included and that the agreement remain a trilateral accord governing more than $1 trillion in annual commerce.
Representatives of Mexico's private industry praised the pact. "This accord contains the provisions for just commerce and signals a guarantee of greater investments for our country," said Francisco Cervantes Diaz, president of the Confederation of Industrial Chambers of Mexico.
Despite the talk of cooperation and good feelings, Trump remains hugely unpopular here. Peña Nieto's suggestion that the two leaders share a tequila toast to celebrate the new accord — notwithstanding Trump's teetotaler status — drew broad condemnations on social media.
In a Twitter message, journalist Leon Krauze wrote: "With all due respect, Donald Trump has inundated millions of Mexicans with anxiety and anguish. He has offended them for years. Let's put aside the shots of tequila when it comes to this man."
For almost a quarter century, since the North American Free Trade Agreement went into effect in 1994, Mexico had based much of its economic planning on its partnership with the United States, which represents almost 80% of the nation's export market.
Many here feared an outright collapse of Mexico's already underperforming economy should Trump walk away from NAFTA, as he had repeatedly threatened to do. On Monday the Mexican peso strengthened against the U.S. dollar as news of the new trade deal broke.
But there was also a sense that Mexico's leadership was overwhelmed at the sudden infusion of Trump love — and somewhat uncomfortable with it.
Trump continues to insist that Mexico will pay for the border wall, a suggestion widely viewed here as insulting and humiliating.
Mexican officials went out of their way to stress that Mexico was not a collaborator in sidelining Canada.
Nonetheless, Foreign Secretary Luis Videgaray conceded that Mexico could live with a bilateral deal if Ottawa and Washington could not work out their differences.
Many questions still surround the new deal, chief among them Canada's prospective inclusion or exclusion. Lawmakers in both the United States and Mexico will have to approve the accord. Details about some crucial issues, such as labor rights, remain largely unknown and are likely to stir heated debate.
Mexico's relatively low wages compared with the United States and its pliant unions have long been major draws for U.S. automotive giants and other global manufacturers.
For Peña Nieto, whose six-year term ends Nov. 30, achieving a new accord was a matter of burnishing a checkered legacy.
But for President-elect Andres Manuel Lopez Obrador, the goal was to resolve a contentious international negotiation before he takes office Dec. 1 with a wide-ranging, "transformational" domestic agenda.
"This is an important development, it gives economic and financial stability," said Lopez Obrador, who last week thanked Trump for holding off on "imprudent" comments about Mexico in recent weeks, as the difficult trade talks proceeded in Washington.
Lopez Obrador confirmed reports that, at his insistence, the revamped accord removed language that he feared could weaken Mexican sovereignty over petroleum and other natural resources.
"Only we Mexicans can decide what we have to do for the management and administration of our natural resources," said Lopez Obrador, who also thanked Trump for agreeing to revised language on energy matters. "We recognize the attitude of respect from President Trump."
Cecilia Sanchez in The Times' Mexico City bureau contributed to this report.
Twitter: @PmcdonnellLAT
---
Must-read stories from the L.A. Times
Get the day's top news with our Today's Headlines newsletter, sent every weekday morning.
You may occasionally receive promotional content from the Los Angeles Times.