Spanish doctor acquitted in Franco-era 'stolen babies' case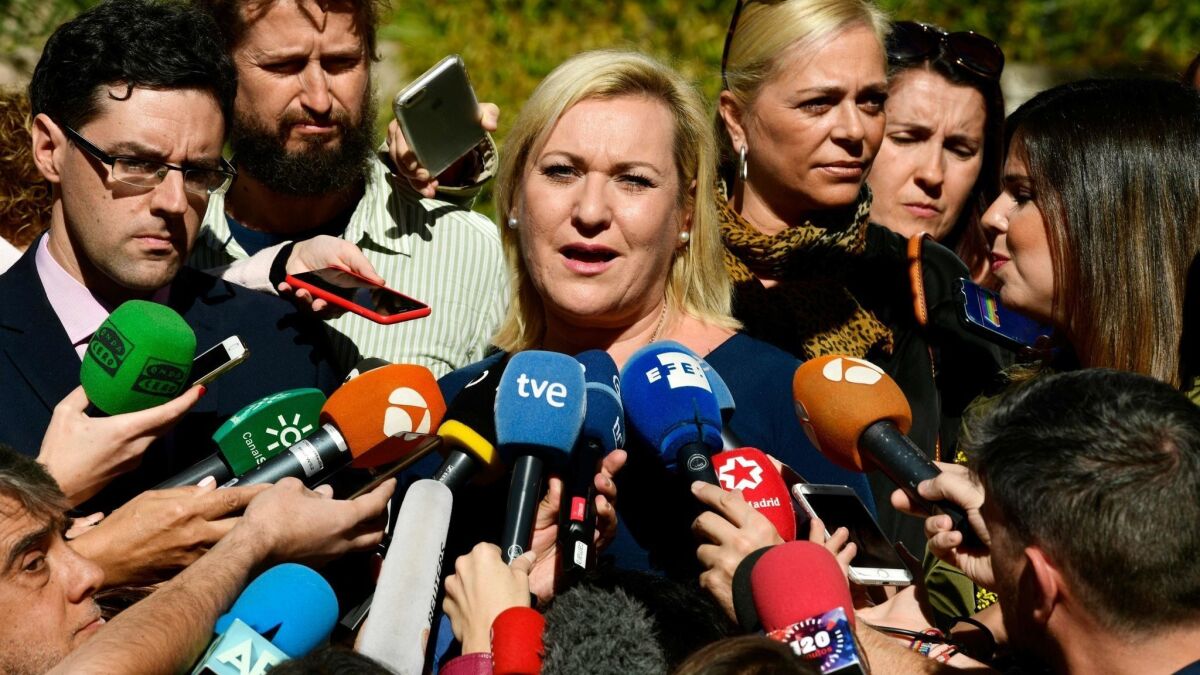 Reporting from Madrid —
An 85-year-old former obstetrician, who was the first person to go on trial for involvement in Spain's infamous baby-stealing scandal, has been found guilty but then acquitted because the crimes took place nearly half a century ago.
Three judges from Madrid's provincial court ruled on Monday that Dr. Eduardo Vela was guilty of abducting Ines Madrigal as a newborn baby in 1969, and then fraudulently signing her over to another woman as if she had been her birth mother. But crucially, the judicial panel argued that the statute of limitations for the crimes had long ago expired.
Had he been convicted for the offenses, Vela could have been sentenced to more than 10 years in prison.
The case involved one of the tens of thousands of babies believed taken from their biological parents during the long dictatorship of Francisco Franco and into the 1980s and 90s.
The scope of the scandal began to take shape in 2008 when a crusading judge, who had been looking into human rights violations during the Franco era, estimated that in the first 15 years of the fascist dictatorship, more than 30,000 children were taken from their leftist parents in an official campaign by the government to minimize the societal impact of "Marxist genes."
Vela was the first person to face trial in the case.
On Monday, Madrigal welcomed the verdict that Vela had stolen her from a mother she has never been able to trace, but the acquittal means it will be even more difficult to move forward with any of the other 2,000 or more cases that had been reported to authorities over the years.
"This is a breakthrough because it is the first case in Spain and even on a European level where it has been proved that a baby was stolen. But I am no nearer to finding my biological mother than when I started out," Madrigal told The Times.
"We got this far to help all the victims. The opportunity fell to me because I had my wonderful [adoptive] mother, Ines Perez. Today is her day, her triumph, because the court has ruled that she told the truth."
Madrigal's lawyer, Guillermo Pena, said they will appeal and ask Spain's Supreme Court to back the prosecution argument in the trial that the crime of abduction cannot expire until a person is actually aware that they had been kidnapped. It wasn't until 2010 that Madrigal, after reading an article about the Franco-era baby thefts, became suspicious that she had been taken without her biological mother's consent.
The court, though, ruled that Madrigal's abduction effectively ended when she became an adult, and that she would have had to report the crime within 10 years of that moment to prevent the statute of limitations from expiring. The judges also said that, when she turned 18 and her mother told her she'd been adopted, she could have investigated her own origins, though there was very little public information on the stolen baby scandal at the time.
When the story of the country's "lost children" began to come into public view, Madrigal and her mother — by now a widow — reached out to the judge who was probing the stolen baby scandal. He told them their adoption paperwork had been falsified.
In 2012, Madrigal persuaded her adoptive mother to tell the judge how Vela had shown her how to fake pregnancy with a pillow under her clothes, and then eventually presented her with a baby girl he described as "a gift" and filled in her name on the birth certificate as the biological mother. A priest, who was one of Perez's friends, had acted as an intermediary, saying the birth mother did not want the baby because she was not married to the child's father.
Perez's testimony helped lead to charges being filed against Vela, who was accused of abduction, illegal adoption and document fraud, as well as altering the identity of a child. Ines Perez died before the case went to trial.
Campaigners say that tens of thousands of infants and young children were snatched from their families between the end of the Spanish Civil War in 1939 that brought Franco to power through the late 1970s, when the country transitioned to democracy. Many of the cases allegedly involved the San Ramon maternity clinic, where Madrigal was born and which was run by Vela from the early 1960s until 1981. Women and men have said they were told that their babies had died. No record of births at the clinic has ever been found.
Fuencisla Gomez and her husband, Fernando Alvarez, are among those who now believe their child was stolen by Vela at the clinic in 1971. Gomez said their baby girl had spent 24 hours next to her bed after she gave birth in 1971. She said a nurse then took the child away for an examination and that Vela later told her the little girl had died of a heart defect. Gomez said she never saw the baby's body.
A judge in Madrid is now investigating the matter.
"What this ruling says to us is that babies have been stolen in Spain. The problem is that Spanish authorities are not doing anything to help us find our children. There is even more proof now that the government must act," Alvarez said.
Last month, draft legislation aimed at helping stolen baby victims investigate their cases was presented to Spain's Congress. It included plans for a special prosecutor and police team dedicated to investigating illegal adoptions.
Badcock is a special correspondent.
---
Must-read stories from the L.A. Times
Get the day's top news with our Today's Headlines newsletter, sent every weekday morning.
You may occasionally receive promotional content from the Los Angeles Times.