Unrest grips Nicaragua: Protesters demand president's ouster as he denounces 'armed conspiracy'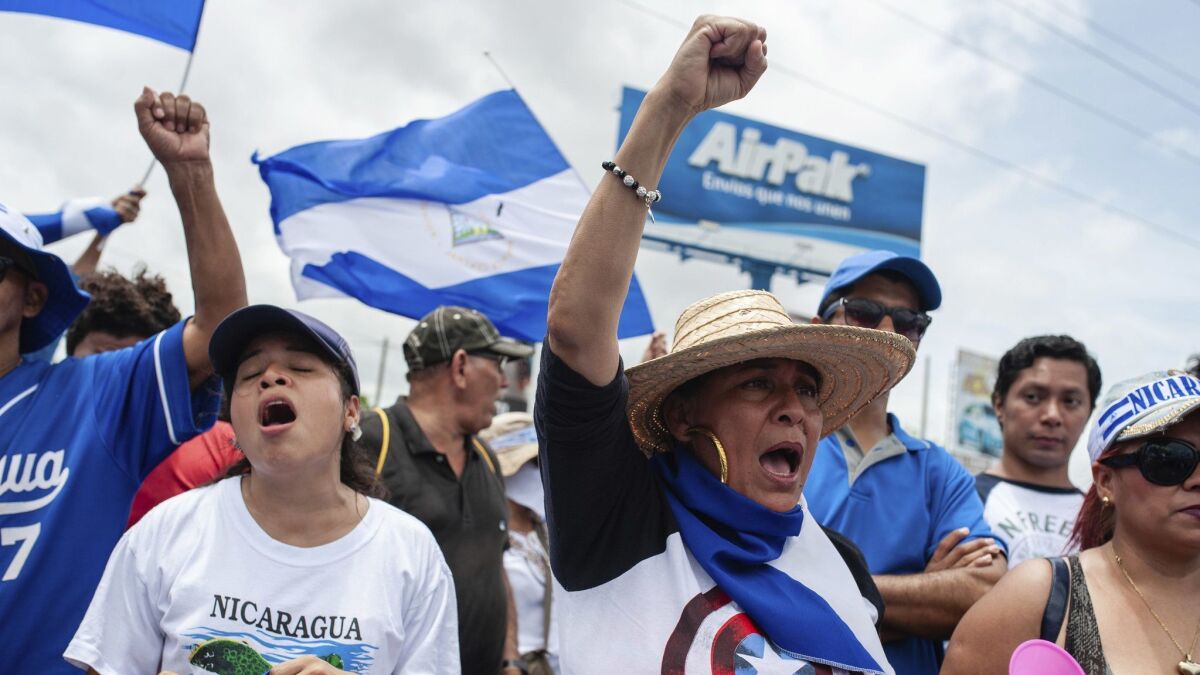 Reporting from MANAGUA, NICARAGUA —
Last week, after security forces moved against demonstrators following months of anti-government protests, President Daniel Ortega publicly declared victory against an opposition determined to end his more than decade-long tenure as leader of this Central American nation.
"They thought we were defeated, simply because we had patience," Ortega told a crowd on July 19, the 39th anniversary of the Sandinista revolution that overthrew the U.S.-backed Somoza family dictatorship. "But a moment arrived when we said …. 'This is enough! We have to reestablish order in our country!'"
About 300 people, mostly civilians, have been killed in Nicaragua since large-scale protests erupted in April, according to human rights groups and opposition leaders. Ortega, in turn, accused the opposition of killing dozens of police officers and government supporters.
Ortega blamed an "armed conspiracy" financed by "outside forces" — a reference to Washington — as being behind the demonstrations. Activists and the State Department have rejected the accusation and condemned government violence against protesters.
And, while police this month evicted opponents who occupied the national university here and other sites, protesters were again on the march in Managua on Saturday — demanding Ortega's resignation and denouncing what they called brutal tactics by security personnel.
The imposing presence of heavily armed, plainclothes security men — known as "paramilitaries" and often donning ski masks — has not stopped the opposition from taking to the streets, though Saturday's protest was small compared with past mass mobilizations.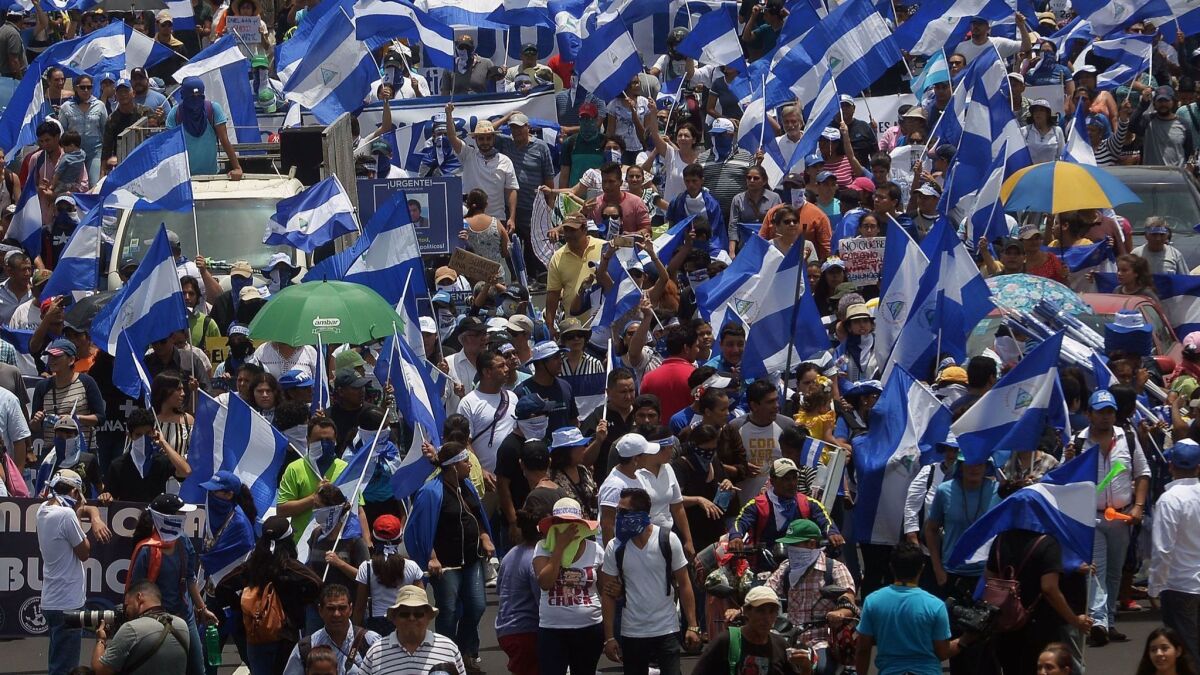 "Ortega said the opposition is defeated — that is a lie," said Suyen Barahona Cuan, who was among several hundred marching and is leader of the opposition Sandinista Renovation Movement. "His government's brutality, its repression, has only made us stronger."
As the demonstrators proceeded up a broad boulevard, there was no sign of police or paramilitaries. The marchers hoisted signs demanding "justice" and the end of Ortega's rule.
Reconciliation efforts have so far failed to end the crisis gripping Nicaragua. After Roman Catholic leaders sought to mediate the dispute, Ortega denounced them as "coup" backers.
Some anti-government marchers this weekend wore masks or handkerchiefs on their faces, asserting that they were on the run from security forces — who, the opposition says, have been systemically hunting down protest leaders. A few carried homemade mortars.
Participants vowed that they will continue to demand the exit of Ortega, who is serving his third consecutive term as president.
Opponents accuse the president and his Sandinista allies of sidelining the opposition and promulgating an autocratic, dynastic government in conjunction with his wife, Rosario Murillo, who serves as vice president. Various Ortega family members control businesses and pro-government news outlets.
"This government is worse than that of Somoza," said Carlos Maturana, 52, a notary public who was among the anti-government marchers, referring to the right-wing family dictatorship overthrown in the 1979 Sandinista triumph. "We need a new government, a plebiscite, whatever it takes to effect a real change."
The march proceeded despite a new anti-terrorism law, passed by the National Assembly this month, that critics say could be used to jail anti-government activists.
"We are all terrorists now, according to this government," said Diego Delgadillo, 58, a businessman who was among the marchers.
The protesters say they represent a majority of opinion, but the nation appears deeply divided.
Despite the widespread recent protests, the president and his Sandinista party retain considerable support among many Nicaraguans. Ortega was reelected in 2016 in a landslide victory amid a boycott by the opposition, which termed the election a "farce."
Under Ortega's rule, Nicaragua has maintained steady economic growth, and, though the country remains one of the poorest nations in the Americas, government-backed programs have helped reduce poverty. Nicaragua also is notably less crime-ridden than neighboring nations of Honduras and El Salvador, which have among the world's highest homicide rates.
Ortega, a one-time Marxist guerrilla and a commander during the Sandinista uprising, forged alliances with business groups as president and has generally moderated his criticism of the United States.
Ortega supporters have taken to the streets as well, and the latest in a series of pro-government rallies also unfolded here Saturday. Marchers hoisted photographs of police officers and others who they said were killed by the opposition during recent protests.
Meanwhile, on the grounds of the Roman Catholic Metropolitan Cathedral, dozens of women awaited word on the fate of husbands, sons and other loved ones arrested in recent government roundups.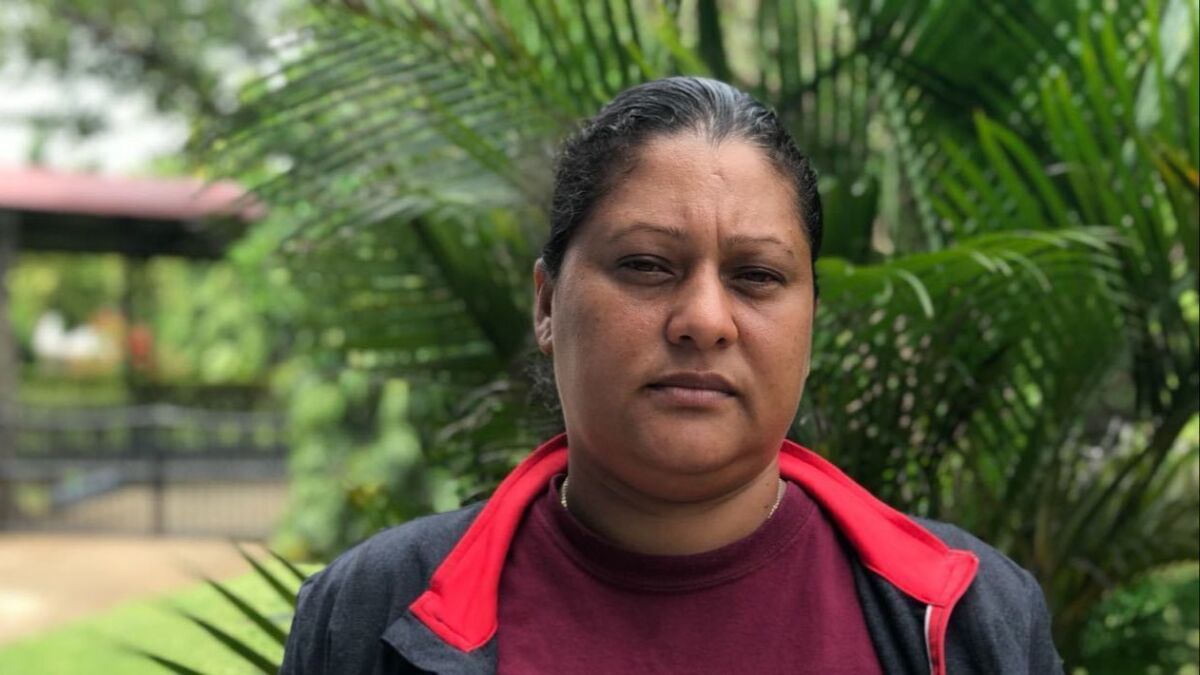 Among the women was Betsayda Guzman, 39, a mother of three who said her husband, Oscar Danilo Mendoza, 31, was arrested on June 30 in the city of Sebaco.
Mendoza, a former soldier, refused a government demand that he return to duty as a "paramilitary," his wife said. He was wounded in a police assault on a refuge where he and others were hiding out from government forces, she said, and is now being held in Managua with others deemed "political prisoners" by the opposition.
"My husband vowed that he would not shed a drop of blood of fellow Nicaraguans," Guzman said outside the cathedral. "That was an honorable stance. He should be back home, safe."
Twitter: @PmcdonnellLAT
---
Must-read stories from the L.A. Times
Get the day's top news with our Today's Headlines newsletter, sent every weekday morning.
You may occasionally receive promotional content from the Los Angeles Times.