As demand for Nigerian art booms abroad, a homegrown movement looks to inspire domestic collectors too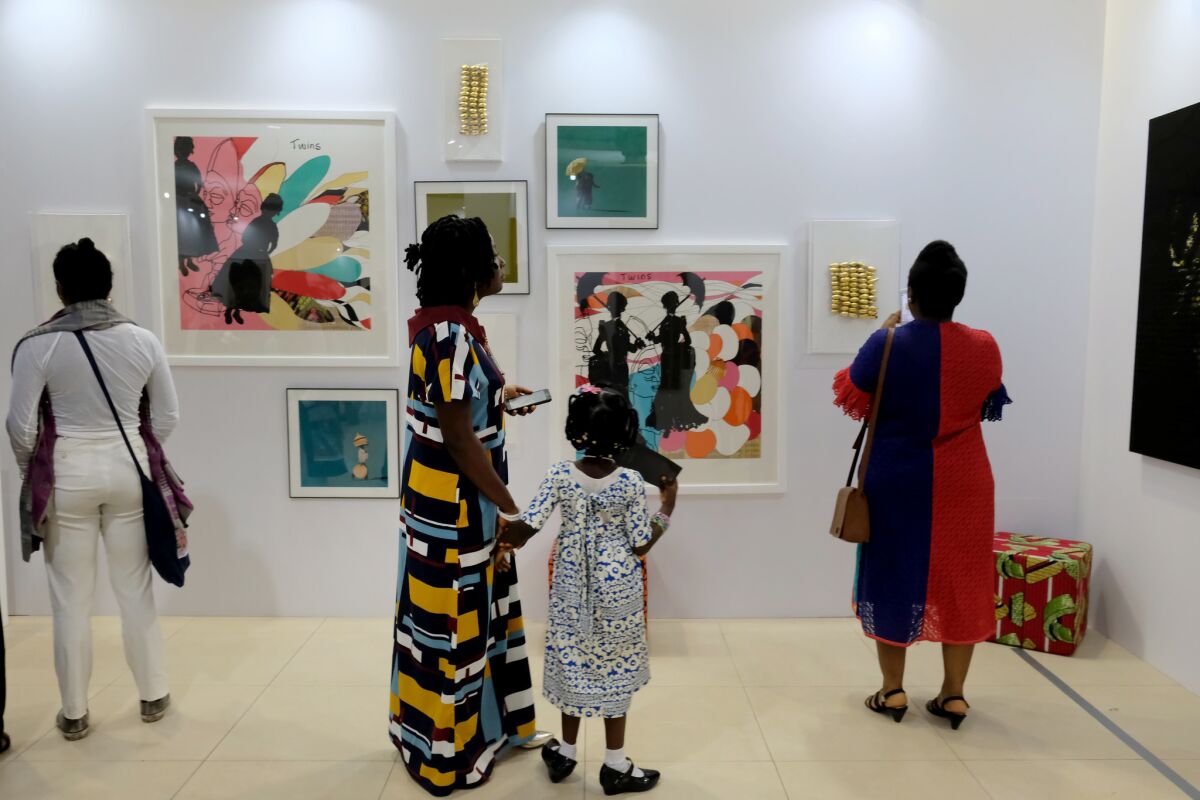 Reporting from Lagos, Nigeria —
Late last year, a family in north London contacted the Bonhams auction house and asked one of its experts on African art to come see a painting that might solve a decades-old mystery.
In 1973 and 1974, the Nigerian modernist Ben Enwonwu painted three portraits of Princess Adetutu Ademiluyi. The artist was Igbo and the princess was Yoruba — ethnic groups that had been pitted against each other in a brutal civil war — and the portraits were widely seen as a turning point in reconciliation between the two groups.
But all three versions of "Tutu" had been missing since before the artist's death in 1994.
One of them, it turned out, was the painting that hung inconspicuously in the London family's home. Initial estimates suggested it could sell for up to $417,000.
In a February auction that was livestreamed to a room of about 100 participants in Lagos, Nigeria, an anonymous telephone bidder paid $1.68 million.
The sale was the latest sign that Nigeria has arrived in the world of contemporary art. Demand is booming in the U.S. and Europe — but most significantly in Nigeria.
The newfound interest there is part of a larger cultural and economic revival. It wasn't long ago that moving abroad or catering to outsiders' perceptions of their country was the only way for artists here to survive. But as the economy has surged — diversifying from oil into manufacturing, telecommunications and a thriving film industry to give Nigeria the biggest gross domestic product in Africa — so has interest in fashion, music and art.
That has fueled a rise in the number of galleries and auction houses. It has also allowed many artists to make a living at home, reclaiming their Nigerian identities with creations that take on themes that resonate with a Nigerian audience, such as corruption, national politics and gender relations.
Nigeria remains a poor country, with a per-capita GDP of about $6,000 and more than half of its 186 million people living in poverty. But some artists raised there and educated at local art schools say that even their parents are starting to embrace art as a career choice and abandon old beliefs that only doctors, lawyers and businessmen can earn money.
The demand for art has grown so much in recent years that auctions are popping up in some unusual places.
As a British auctioneer called out bids one night in November, men in white gloves carried pieces of art to the front of a Kia car dealership showroom. The works ranged from paintings large enough to take up an entire wall to sculptures so small they could be held in the palm of a hand — one of which sold for about $10,000.
The event, which garnered interest from international and Nigerian collectors, was the 19th auction in nine years that Arthouse Contemporary held in Lagos, where it is based. The first ones took place at the Wheatbaker hotel in the upscale Ikoyi neighborhood. But expanding interest presented the organizers with a problem familiar to artists and gallery owners across this mega-city of 22 million people: a lack of spaces to display art.
"This is almost as white cube as it can get," said Joseph Gergel, a consultant for Arthouse, describing the Kia showroom as a stark modern gallery. "It happened out of necessity."
Though Arthouse has traditionally targeted the wealthy, it recently launched a more affordable series of auctions. "The idea is to engage a new group of collectors who may be scared away by prices in the main auction," Gergel said.
Late last year, the second annual Art X Lagos, West Africa's first international art fair, drew more than 9,000 people — bank executives, government officials, the emir of the northern city of Kano and other potential customers, as well as ordinary citizens who came to witness the Lagos Civic Center's transformation into a gallery for a weekend. There were installations, paintings, photographs, record sleeves and sculptures — including seven large wooden pieces that were crafted by Enwonwu for the Daily Mirror newspaper in 1960.
In one of the more political exhibits, photographs by Rahima Gambo depicted ordinary life in Nigeria's northeast and the toll of government negligence and attacks by the extremist group Boko Haram on schools and children.
Tokini Peterside, the 31-year-old founder of the fair, said one of her goals was "to encourage the increasing number of wealthy West Africans to see themselves as collectors and to see art as an investment."
Another was to offer the region's artists a rare opportunity in an art world dominated by the West: the chance to display and sell their work at home.
"There's a generation of young, vibrant artists of Nigerian or African origin who have felt that the gallery infrastructure in West Africa is not sufficiently developed for them to connect with the international art market from their home base," Peterside said. "For generations, when it comes to exporting its cultural capital and so many other things, Africa has had to go overseas."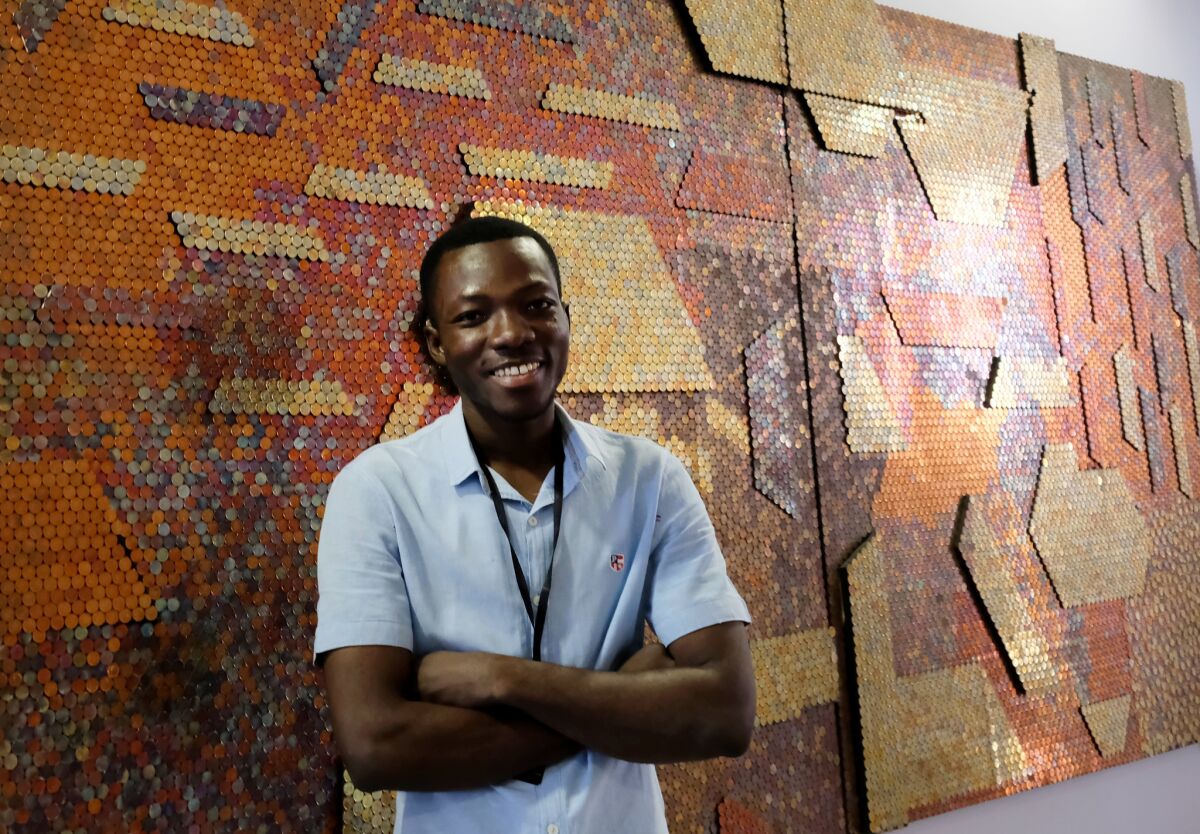 Yaw Owusu, a 25-year-old Ghanaian artist, said Art X and similar events help him feel grounded at home in West Africa. "I do not need to move to New York or Europe to get my works acquired," he said.
Still, the Nigerian government has work to do if it wants its artists to stay in the country. The National Museum in Lagos is housed in a colonial-style building indistinguishable from other run-down government offices around the city. Built in 1957, its collection is largely ethnographic. Inside the dimly lighted main exhibition hall, ancient artifacts sit covered in layers of dust.
There were plans years ago to build a new national museum next door, said Chika Okeke-Agulu, a professor of art history at Princeton University who specializes in African contemporary art. But after construction began, the museum plans fell apart, and the government sold the property.
"That tells you something about why it's even difficult to talk about museums in Nigeria," Okeke-Agulu said. "Who is going to build a museum?"
Today the property is an unremarkable shopping mall, where families gather at KFC or buy groceries at a small supermarket.
Tucked away down a nearby street is Rele Gallery, a space that offers a lens into some of what is most exciting about the contemporary art scene in Nigeria.
Hanging on the whitewashed walls are works by artists including Marcellina Akpojotor, whose realistic portraits of Nigerian women are made in part out of small cutouts of local ankara textiles. In her "Power Series," Akpojotor explores womanhood and education. The series, which features images of women reading books and newspapers, was inspired by her grandmother, who was denied an education but pursued knowledge as a means of empowerment.
One of Akpojotor's portraits was recently selected as the cover for a new edition of "Jagua Nana," a 1961 novel by the late Nigerian writer Cyprian Ekwensi that tells the story of an aging sex worker soul-searching in 1960s Lagos.
Much of the work at Rele is created by younger artists and appeals to younger collectors. Most pieces usually go for less than $3,000.
Olakiitan Ade, a former curator at Rele, said some shoppers are looking to invest in their first pieces of artwork, or have been to outdoor markets in Lagos and are looking for higher quality work but "not too abstract, not too experimental."
Last year, Lagos state Gov. Akinwunmi Ambode announced plans to open a number of new museums in Lagos as part of a government bid to boost tourism. But Ade is skeptical.
"The government does not see the relevance or economic gain or social capital in art or culture," she said.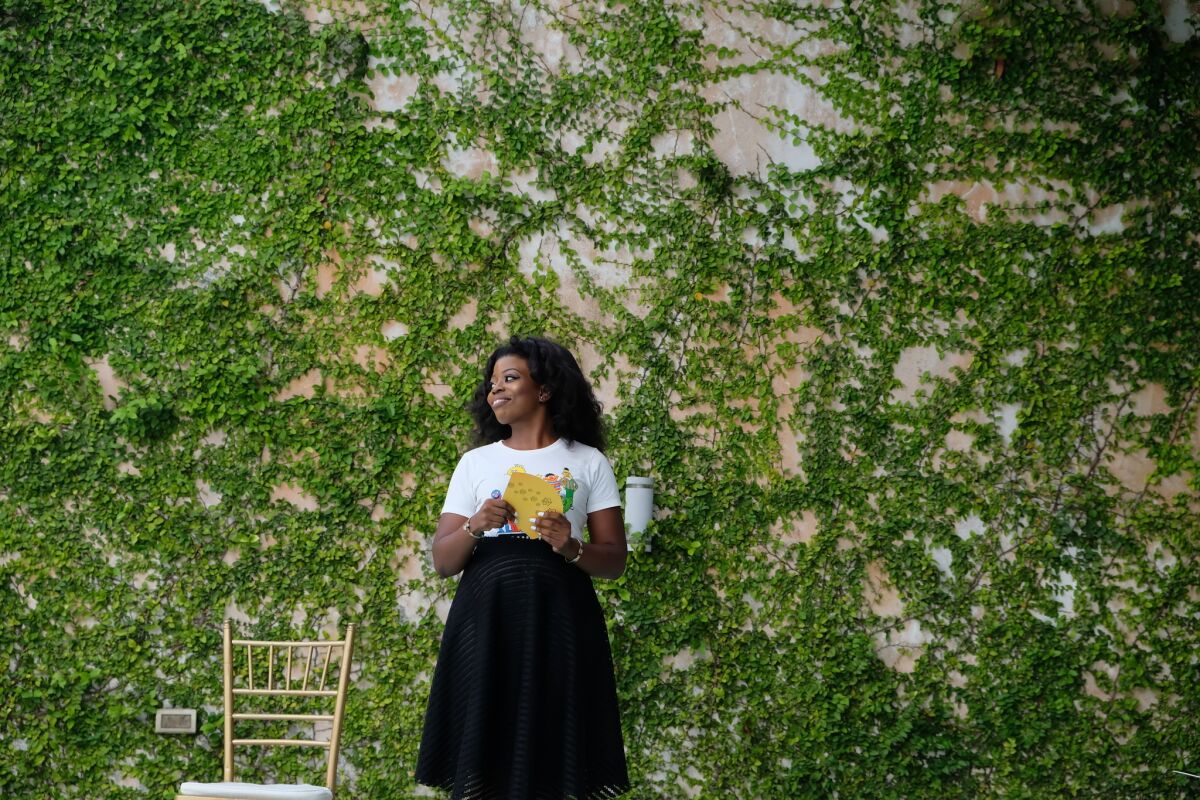 Indeed, for decades Nigerian art seemed to be valued more outside Nigeria than inside.
Enwonwu, who was born in 1917, made his name in Britain, where he studied art and anthropology in the 1940s. He went on to become one of Africa's best-known artists and the father of Nigerian Modernism.
His work was so revered in Britain that Queen Elizabeth II sat for him to sculpt her.
In other ways, he was ahead of his time. He never abandoned his Nigerian roots and eventually returned home, where his work — especially his portrait of the princess — made him a national hero and the rare example of an African artist who made his living in two worlds.
He often criticized the lack of access Nigerians had to their own art. African artists, he wrote in a 1956 essay, faced "the humiliation of having to listen to lectures on African art in foreign art galleries and museums."
Those days finally appear to be coming to an end.
O'Grady is a special correspondent.
Must-read stories from the L.A. Times
Get the day's top news with our Today's Headlines newsletter, sent every weekday morning.
You may occasionally receive promotional content from the Los Angeles Times.