8 Images
Nigeria elections
An underage Nigerian voter brandishes his voter registration card while waiting to cast his ballot in the presidential elections at a rural polling station in northern Nigeria on April 21, 2007. Despite looking not more than 10 years old, his voter registration card gives his age as 18. Electoral malpractice appeared widespread with cases of rampant vote rigging, incompetence and violence reported across the country.
(Tugela Ridley / EPA)
Muhammadu Buhari, a presidential candidate with the All Nigeria People's Party, casts his vote in Daura, Nigeria. Voters seeking a new leader overcame a failed truck bombing at Nigeria's electoral commission headquarters and polling station disarray to cast ballots.
(AP)
A Nigerian policeman wearing a gas mask walks on a road after police fired tear gas to ward off groups of disgruntled opposition supporters. Bands of young men and boys - supporters of the opposition All Nigeria Peoples' Party - took to the streets in northern Nigeria armed with machetes, clubs and rocks to protest alleged vote rigging by the ruling People's Democratic Party
(Tugela Ridley / EPA)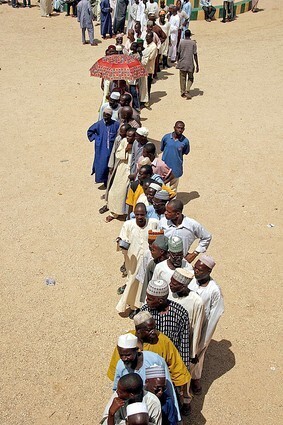 Nigerian men queue to vote in presidential elections at a polling station in northern Nigeria. More than 60 million registered Nigerian voters in Africa's most populous country headed to the polls Saturday to vote for a new president, marking the first post-colonial transfer of power between two civilian presidents.
(Tugela Ridley / EPA)
A Nigerian soldier provides security at an Election Commission office in the city of Lagos, Nigeria.
(Sunday Alamba / AP)
A man listens to a transistor radio as he waits to cast his vote during presidential elections in Lagos, Nigeria. A truck bomb aimed at electoral commission headquarters ran into barriers and failed to explode hours before the start of a Nigerian presidential vote already shadowed by violence, charges of fraud and a last-minute ballot hitch.
(Sunday Alamba / AP)
Elections officials walk to a ballot collection point in the city of Port Harcourt, Nigeria.
(Schalk van Zuydam / AP)
Election officials organize ballots in Lagos, Nigeria. Ballot box chaos, killings and a truck-bomb aimed at Nigeria's electoral commission marred the country's first electoral bid for a civilian-to-civilian transfer of power since its independence almost five decades ago.
(Issouf Sanogo / AFP/GETTY)