Police deploy in massive numbers across France to contain and subdue violent protesters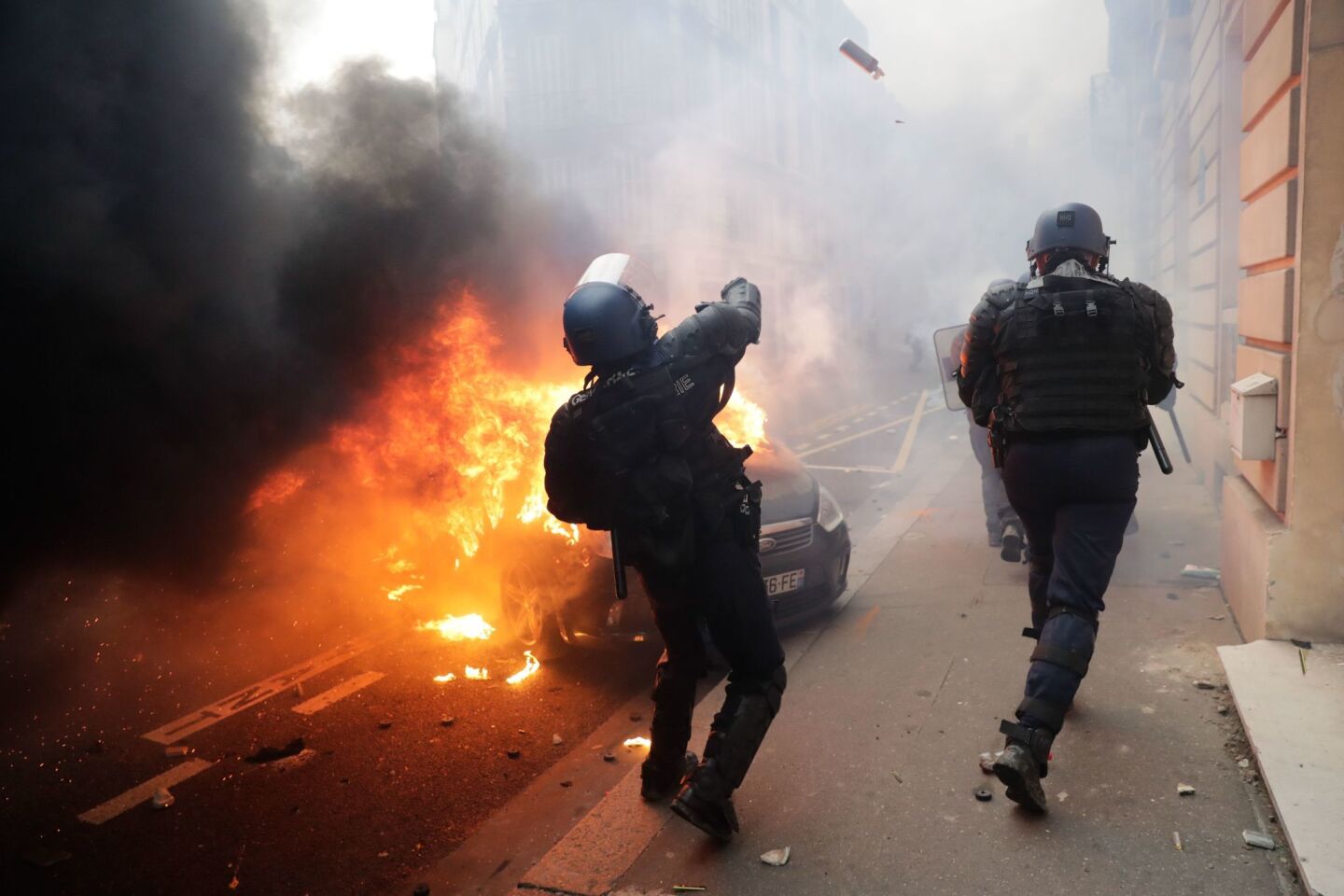 A riot police throws tear gas during a protest of "yellow vests" against rising costs of living on December 8, 2018 in Paris
(Thomas Samson/ AFP / Getty Images)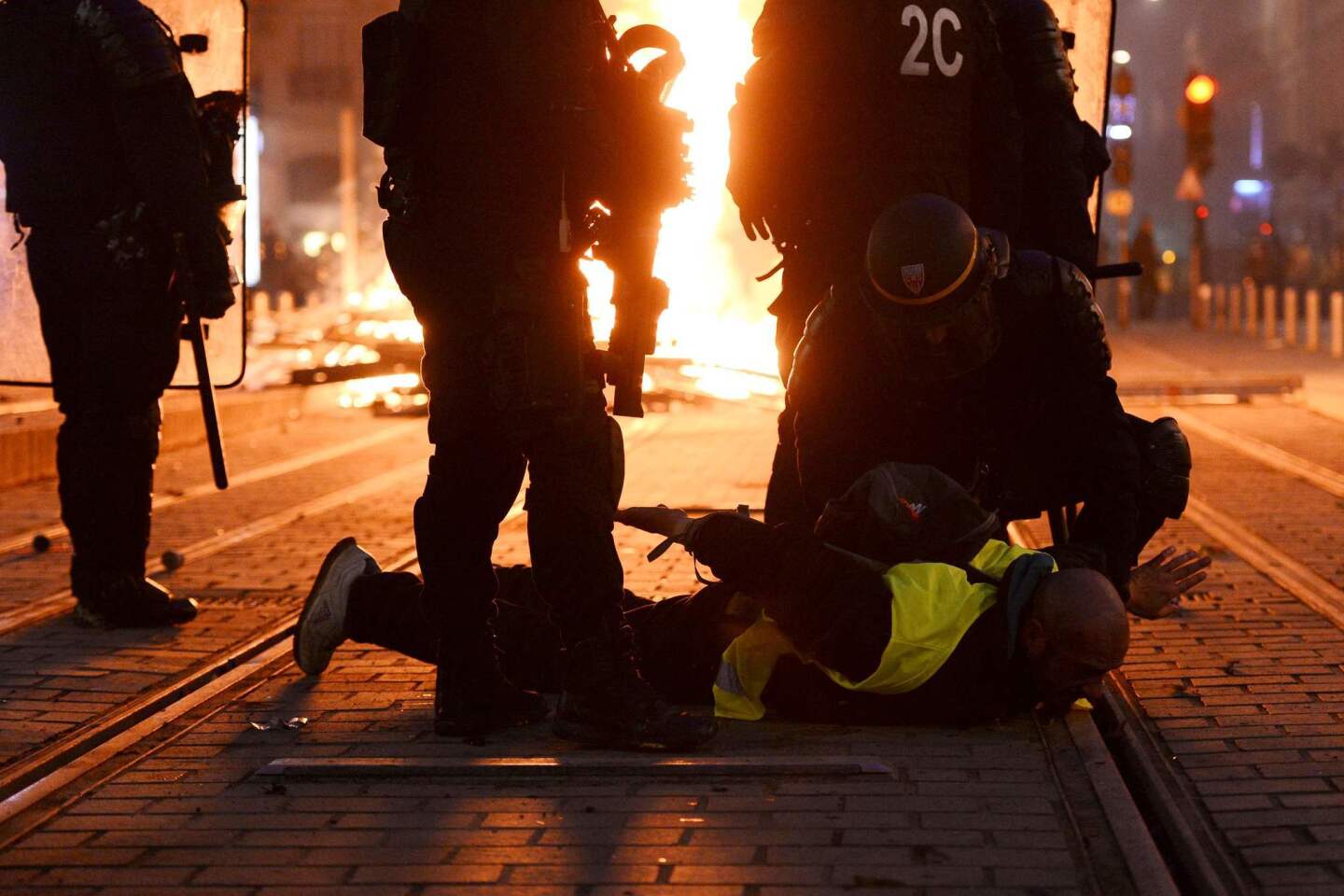 Riot police officers detain a protestor on December 8, 2018 in Bordeaux, southwestern France, on the sideline of a demonstration against rising costs of living.
(Nicolas Tucat / AFP / Getty Images)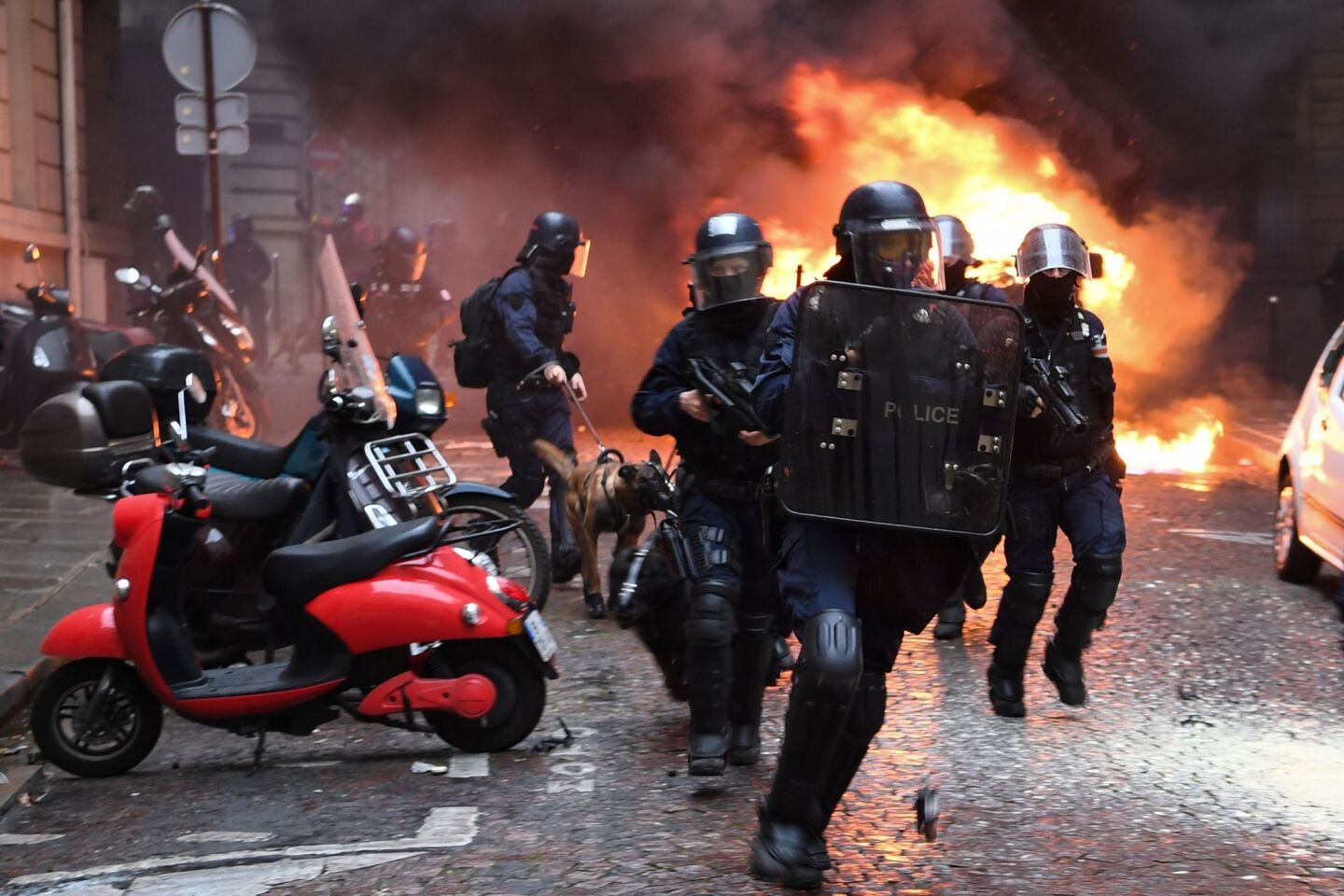 Riot police advance toward protesters on the Champs-Elysees in Paris on Saturday.
(Eric Feferbert / AFP/Getty Images)
People run away from tear gas and a burning car during clashes with police in Marseille in southern France.
(Claude Paris / Associated Press)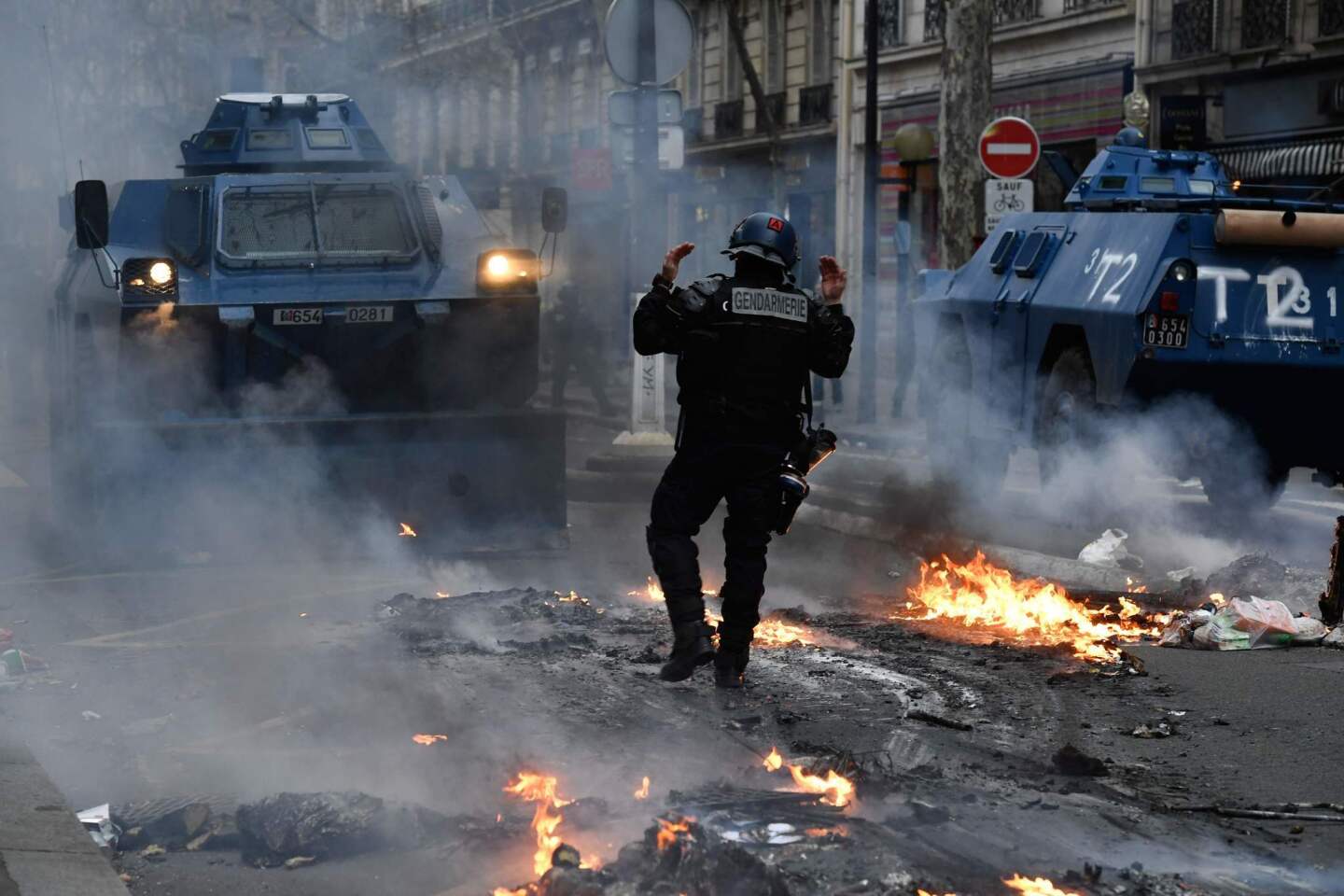 A riot police officer directs armored vehicles through burning debris on the streets of Paris.
(Bertrand Guay / AFP/Getty Images)
Protesters clash with French riot police during a demonstration in Mondeville in northwestern France.
(Charly Triballeauch / AFP/Getty Images)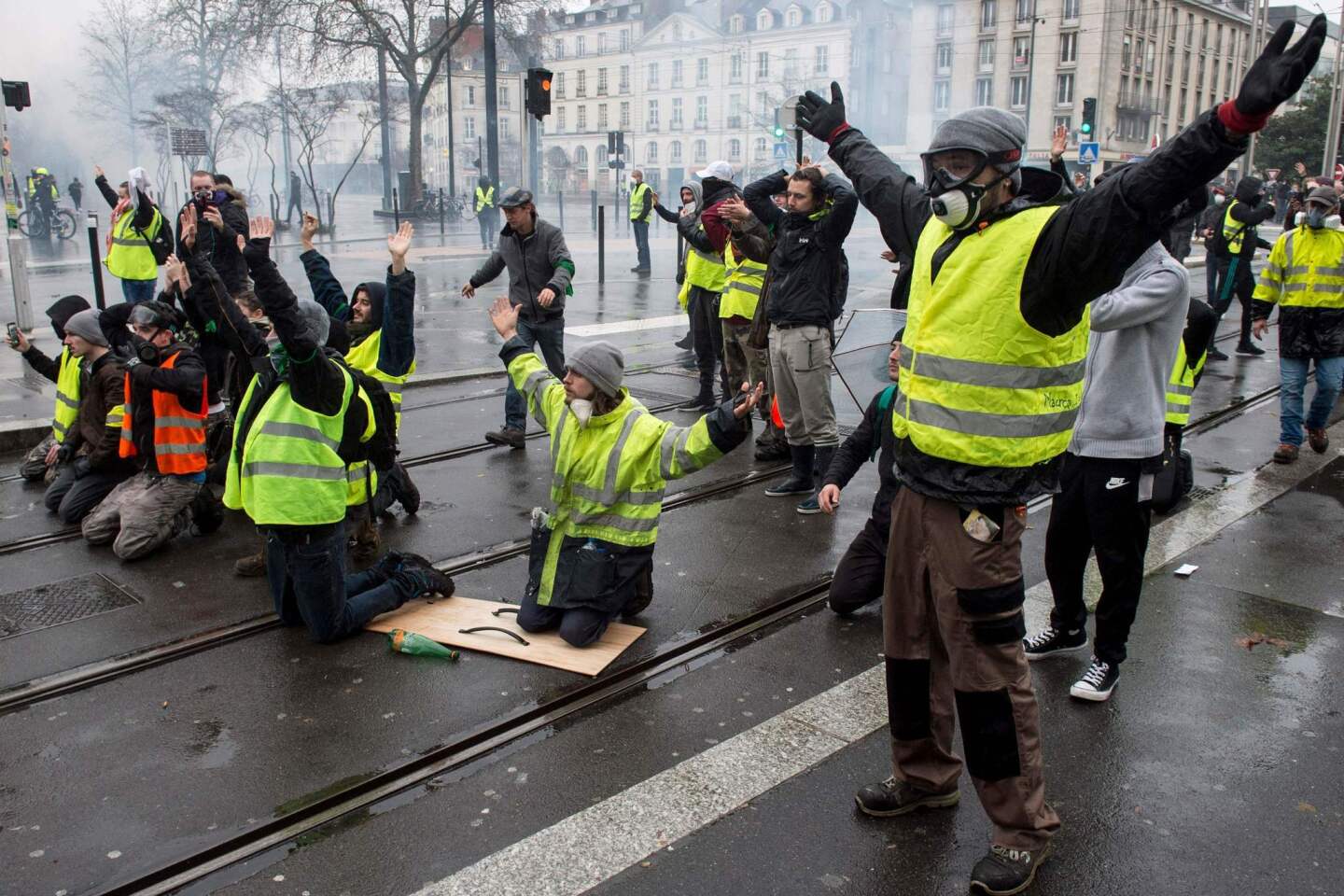 "Yellow vest" protesters kneel and gesture in front of French riot police in Nantes in eastern France.
(Sebastien Salom-Gomia / AFP/Getty Images)
A protester injured in a street clash in Paris is helped to safety on Saturday.
(Thibault Camus / Associated Press)
PARIS, FRANCE - DECEMBER 08: Protesters throw things as teargas surrounds them during the 'yellow vests' demonstration near the Arc de Triomphe on December 8, 2018 in Paris France. ''Yellow Vests' ('Gilet Jaunes' or 'Vestes Jaunes') is a protest movement without political affiliation which was inspired by opposition to a new fuel tax. After a month of protests, which have wrecked parts of Paris and other French cities, there are fears the movement has been infiltrated by 'ultra-violent' protesters. Today's protest has involved at least 5,000 demonstrators gathering in the Parisian city centre with police having made over 200 arrests so far. (Photo by Jeff J Mitchell/Getty Images) ** OUTS - ELSENT, FPG, CM - OUTS * NM, PH, VA if sourced by CT, LA or MoD **
(Jeff J Mitchell / Getty Images)
A protester raises his hands as riot police use water cannons to control crowds near Avenue Marceau in Paris.
(Ian Langdson / EPA/REX)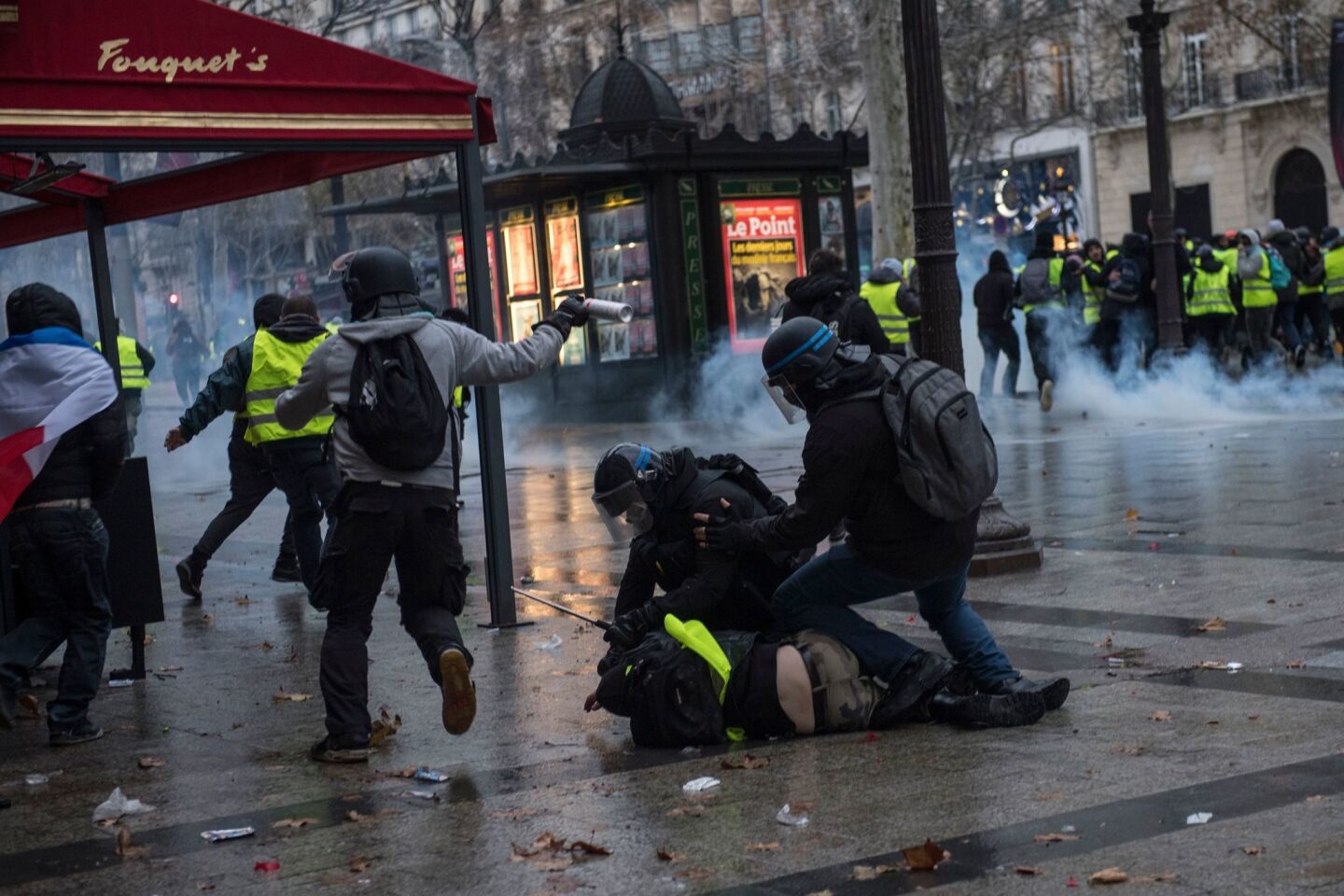 French police arrest a man in Paris on Saturday.
(Julien De Rosa / EPA/REX )
Projectiles rain down near a protester during a clash with riot police on Saturday in Bordeaux, France.
(Nicolas Tucat / AFP/Getty Images)
Reporting from Paris —
The French government contained a fourth weekend of civil unrest on Saturday by employing a massive show of strength against demonstrators.
A force of 89,000 police and gendarmes were deployed across the country, 8,000 of them in the French capital, to try to prevent a repeat of the violence that turned the city into a battlefield last week.
Politicians and police had been criticized for letting the so-called gilets jaunes (or yellow vests) rampage through the city, torching cars and buildings and looting stores on the Champs-Elysees, a week ago.
Last week, as the yellow vests promised Act 4 of their campaign of protests, senior government ministers had asked the majority of peaceful protesters to avoid the city and to protest locally. Several thousand ignored the request and turned up in the city to skirmish with police on Saturday.
In a change of tactics, police put entire districts of the capital on lockdown. Officers stopped and searched protesters heading to sensitive sites like the Arc de Triomphe — where sometimes violent confrontations with police erupted last weekend — for weapons and projectiles, confiscating masks and helmets used against tear gas. They also made hundreds of "preventative arrests."
The Eiffel Tower, Arc de Triomphe and at least a dozen museums including the Louvre were shut down. Major department stores, including the famous department stores Galeries Lafayette and Printemps, that would normally have been enjoying one of the busiest weekends of the year as Christmas shoppers flocked to the city, were boarded up and closed. Six Ligue 1 soccer matches were canceled.
According to Interior Minister Christophe Castaner, 135 people were injured in the protests Saturday, including 17 police officers. He said "exceptional" security measures allowed police to arrest almost 1,000 individuals. He estimated there were 10,000 protesters in Paris on Saturday, and a total of 125,000 protesters nationwide.
Some of those held were detained for "participation in a gathering intending to prepare violent acts against people or the destruction of property."
The yellow vests, so named because they wear the high-visibility vests that French drivers must carry in their vehicles, began demonstrating three weeks ago over the government introduction of a gas tax.
After last weekend's violence on the Champs-Elysees, one of the world's most famous streets, Macron backed down and announced the tax, which was due to be introduced next month, would be dropped.
The yellow vests said that was too little, too late and vowed to continue protests, demanding various reforms, including lower income taxes, higher minimum wages, a full reintroduction of France's wealth tax and Macron's resignation.
In Paris, while violent protesters played cat and mouse with security forces and breakaway groups built makeshift barricades and set fire to cars, police were quickly on the scene to push them back. Many others insisted they were not in the capital to clash with police.
Angelique Berthaux, 31, traveled from Picardy in northern France to join the protest.
"We're not here for violence. Macron has to stop taking us for idiots. Salaries must rise," she said.
The French authorities are struggling to deal with the grass-roots movement that has spread on social media, mainly Facebook, and has no official leaders or representatives. Hours before Saturday's protests, Prime Minister Edouard Philippe met with a delegation of yellow vests who called themselves "moderate." One of them, Christophe Chalencon, said the prime minister had "listened to us and promised to take our demands to the president." Other members of the movement who have volunteered to negotiate with the government say they have received death threats.
After the Friday meeting, Chalencon said the ball was in the president's court. "Now we await Mr. Macron. I hope he will speak to the people of France as a father, with love and respect, and that he will take strong decisions," Chalencon said.
The yellow vests movement has pitted those living in the countryside against those who reside in towns, seen as a metropolitan elite. Protesters accuse Macron of arrogance and failing to hear their problems. The movement also appears to have been infiltrated by violent ultra-right and left fringe elements and anarchists.
Macron has made no public statement on the civil unrest for fear of inflaming the situation. He is expected to give a televised public address next week.
Willsher is a Times special correspondent.
Must-read stories from the L.A. Times
Get the day's top news with our Today's Headlines newsletter, sent every weekday morning.
You may occasionally receive promotional content from the Los Angeles Times.