New York Philharmonic to play in North Korea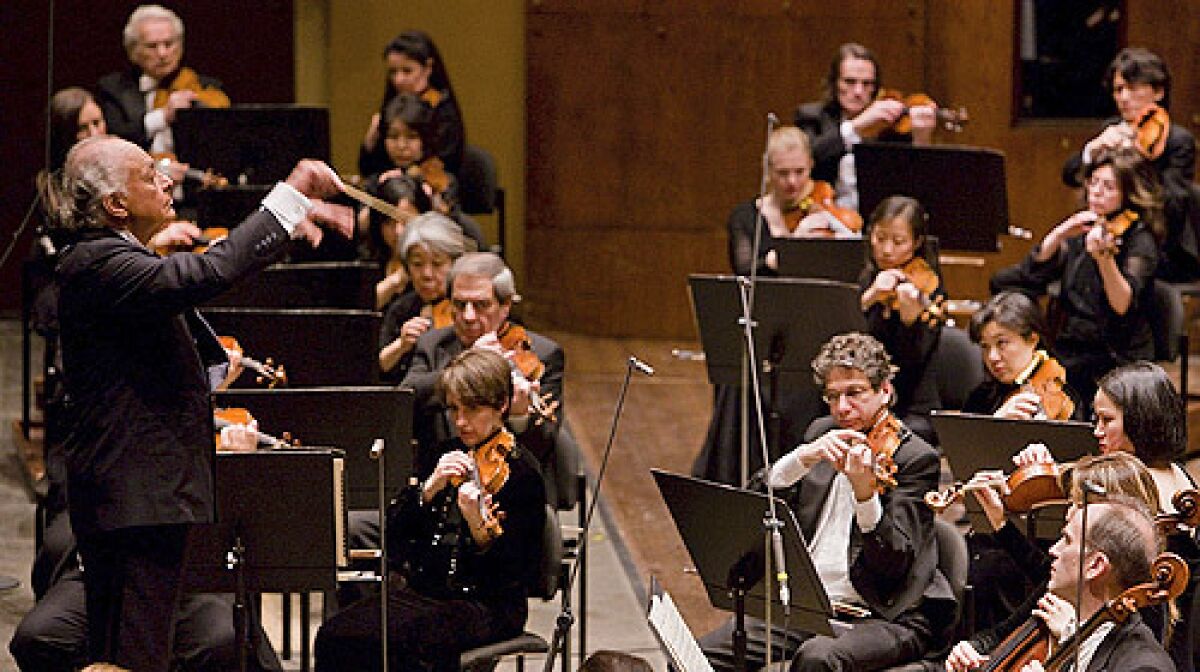 Los Angeles Times Staff Writer
BEIJING —
Not since 1950 when the U.S. Army briefly captured Pyongyang during the Korean War have so many Americans descended on the world's most reclusive, anti-U.S. capital. This time, though, the invasion is not military, but musical.
A 747 jumbo jet from Beijing is scheduled to arrive Monday in Pyongyang carrying a full symphony orchestra -- 130 members of the New York Philharmonic and their instruments, minus only the piano. A couple of hundred people are accompanying the musicians, an entourage that includes journalists, diplomats, assorted Korea experts, technicians and well-wishers.
The orchestra is to perform Tuesday at East Pyongyang's Grand Theater for an elite North Korean crowd that some believe might include the nation's authoritarian leader, Kim Jong Il.
Under the arrangement with the Philharmonic, the North Koreans are supposed to broadcast the concert on state television, which routinely refers to Americans as "imperialist warmongers."
"There has been a lot of anger, suspicion and demonization over the years. Now thousands of North Koreans will get for the first time to see Americans in a different context," said Evans Revere, president of the New York-based Korea Society, which has helped with the logistics.
The trip, arranged through private channels, has received the support of the State Department because it will offer a positive image of the United States at a time of negotiations over dismantling North Korea's nuclear program.
"They are alleging that we have a hostile policy and that's why they need nuclear weapons. The presence of the New York Philharmonic argues against that," said Assistant Secretary of State Christopher Hill, speaking Thursday to the Los Angeles Times editorial board.
When the Philharmonic received an invitation from North Korea last summer, it contacted the State Department for advice. Nuclear negotiator Hill recalled that a high-level discussion took place over the question of "Can it do any harm?"
It was decided that it would not. Hill traveled to New York to brief Philharmonic members on the nature of the trip.
"I don't see any downside to this. I really don't," Hill said.
Many others do. Conservative critics are taking the New York Philharmonic to task, saying it will be serenading a dictator who keeps as many as 200,000 people in forced labor camps.
Philharmonic music director Lorin Maazel caused more controversy with remarks suggesting that the United States shouldn't criticize North Korea's human rights record because of its own treatment of prisoners at the U.S. military prison in Guantanamo Bay, Cuba.
"People who live in glass houses shouldn't throw bricks, should they? Is our standing as a country -- the United States -- is our reputation all that clean when it comes to prisoners and the way they are treated?" the 77-year-old conductor said in an interview with the Associated Press the night before the orchestra's departure for Asia.
Chuck Downs, a former Pentagon official and board member of the Washington-based U.S. Committee for Human Rights in North Korea, said the orchestra's visit is a propaganda coup that gives Kim the appearance of legitimacy.
"It is really not helpful to have the New York Philharmonic as an institution making light of the North Korean regime's abuses of human rights," Downs said.
Kim Chul-woong, a North Korean classical pianist who defected and now lives in Seoul, said, "I am sure the North Korean government is telling everyone this concert is a victory for Kim Jong Il and a sign that the United States is lowering itself and bowing to him. But I think what's more important is that North Korean people will see with their own eyes that Americans are different from what they were taught."
No aspect of the trip has been entirely free of controversy. Some have suggested that the music selected is too apolitical, failing to send a strong signal about the need for change in North Korea.
The program consists of Antonin Dvorak's "New World Symphony," George Gershwin's "An American in Paris," and the Prelude to Act III of Richard Wagner's "Lohengrin."
At the opening, the orchestra is also to play "The Star-Spangled Banner" and the North Korean national anthem.
Orchestra members are expected to conduct master classes in Pyongyang for North Korean musicians. The orchestra has performed in Taiwan, Hong Kong and Shanghai and has two concerts in Beijing before heading to North Korea. It will spend about 48 hours in North Korea before flying on to Seoul, the last stop on its Asia tour.
Every aspect of the trip has been painstakingly negotiated. Fearful of the perception that it was performing exclusively for Kim's cadres, the Philharmonic insisted on the largest hall available and on the television broadcast. In addition, the concert will be shown the same day on public television in New York and distributed two days later by PBS.
Logistics have been daunting. Television equipment, cables, generators and a specially designed climate-controlled truck for transporting musical instruments are being brought in.
The North Koreans gave special permission for international dignitaries attending the inauguration Monday in Seoul of President Lee Myung-bak to cross the demilitarized zone to attend the concert. These include former U.S. Secretary of Defense William J. Perry and the former U.S. ambassador to Seoul, Donald Gregg.
"The North Koreans want this concert to happen and they want it to happen well," said the Korea Society's Revere.
The trip is being subsidized in part by Yoko Nagae Ceschina, a Japanese philanthropist who lives in Italy, and by South Korea's Asiana Airlines, which is flying the musicians to Pyongyang.
Every few years, a high-profile U.S. entourage has traveled to Pyongyang in an attempt to repair half a century of rancor. The highest-ranking American to visit North Korea, Secretary of State Madeleine Albright, came in 2000 with an entourage of about 100 people. Former President Carter visited in 1994 in a private capacity, meeting with North Korean founder Kim Il Sung and introducing American culture in the form of hundreds of Hollywood films.
But Americans are a rarity in Pyongyang, a city where most of the public monuments celebrate defiance against the United States.
During the1950-53 war, Pyongyang was occupied briefly by the 8th U.S. Army, fighting under a United Nations flag, before it was expelled by Chinese troops.
Since the fighting was ended by an armistice in 1953, U.S. troops have remained south of the DMZ, the well-fortified border that still separates the two Koreas.
The city's leading tourist attraction today, the Victorious Fatherland Liberation War Museum, is filled with propaganda about alleged American atrocities during the Korean War.
Special correspondent Jinna Park in Seoul contributed to this report.
Must-read stories from the L.A. Times
Get the day's top news with our Today's Headlines newsletter, sent every weekday morning.
You may occasionally receive promotional content from the Los Angeles Times.