Puerto Rico power utility restores service after rare island-wide blackout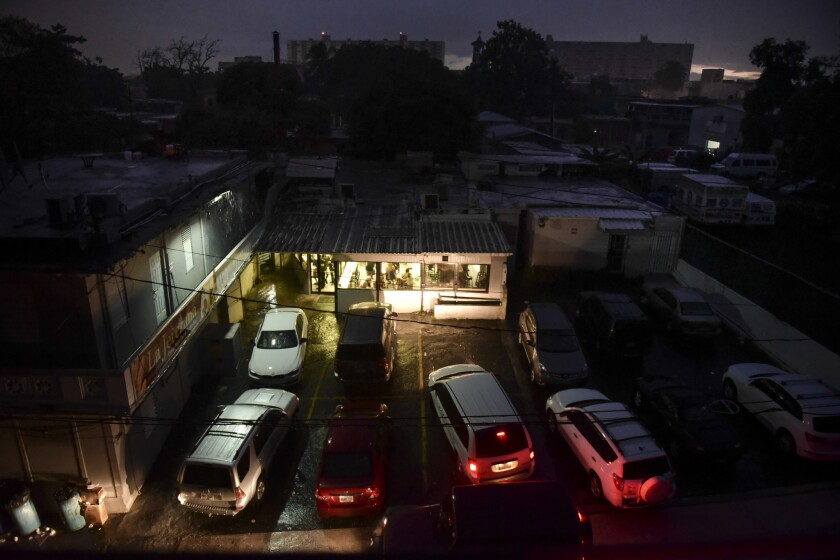 Reporting from SAN JUAN, Puerto Rico —
Electricity was restored to most of Puerto Rico by Saturday following a rare, island-wide blackout caused by a power plant fire, the territory's power utility said Saturday. Fewer than 20,000 clients remained without power in some parts of San Juan and other urban areas.
"We have been operating under normal conditions since 2:30 a.m.," said Puerto Rico Electric Power Authority Executive Director Javier Quintana, noting that 60 hours had passed since power was knocked out for most of the island's 1.5 million homes and businesses, affecting the majority of the island's 3.5 million residents.
Gov. Alejandro Garcia Padilla lauded the efforts of utility workers, firefighters, police and emergency management officials during the emergency.
Officials said about 50,000 clients, mostly in the island's northeast area, remained without water service, which was interrupted for some people because many filtration plants and pumping stations need electricity to run and don't have generators for emergencies. Authorities hoped to dramatically lower the number of people without water on Saturday.
The blackout occurred as Puerto Rico's troubled power company seeks to restructure $9 billion in debt and find the money needed to update the island's aging electrical grid.
In the wake of the outage, Puerto Rico's Energy Commission said late Friday it was rejecting a 20-year development plan proposed by the utility and impose its own version, one it said would better deal with the grid's infrastructure problems. Utility officials did not immediately respond to requests for comment on the commission's decision.
Such development plans are typically used by electricity companies to describe the steps they will take to operate and adhere to government regulations. In the Puerto Rico utility's case, the plan must be approved to complete a critical debt restructuring agreement.
Authorities said the outage was caused by a fire at the Aguirre power plant in the southern town of Salinas. Preliminary reports show that a switch at that plant exploded for unknown reasons, causing a fire that downed two transmission lines, which in turn automatically prompted the entire system to shut down as a preventive measure, Quintana said.
Residents across the U.S. territory have been frustrated by the delayed efforts to fully restore electricity after the outage began Wednesday.
Cheers were intermixed with groans as power came and went, angering some who had already stocked up at the supermarket and others who complained that the surges were damaging their home appliances.
Those without power became increasingly disgruntled by late Friday afternoon, when the heat index reached 106 degrees and meteorologists announced that a record high temperature had been set. Those who did not have generators and could not find or afford a hotel room braced for a third night in stifling heat, interrupted only by occasional cold showers to cool off.
The blackout affected the entire island and prompted Garcia to activate the National Guard and declare a state of emergency. It was a hard hit for an island already struggling through a decade-long economic crisis, with economists estimating that the outage caused millions of dollars in losses.
Tara Rodriguez Besosa, who runs an organic food restaurant, said she had to throw away produce including 60 pounds of arugula after businesses ran out of ice to sell.
"I was about to cry," she said. "We lost a lot of produce."
She rushed to a friend's place with the surviving produce to make sauces and salvage what was left.
At least one person died the first night from exposure to carbon monoxide after setting up a personal generator. Meanwhile, four police officers were struck by vehicles while directing traffic but were expected to recover.
ALSO
'A massacre is inevitable': Punishing siege drags on for two Shiite villages in Syria
'We need to be clear-eyed and vigilant': A look inside China's national spy museum
Haitians gathered in Tijuana awaiting entry to U.S. now face likely deportation
---
Must-read stories from the L.A. Times
Get all the day's most vital news with our Today's Headlines newsletter, sent every weekday morning.
You may occasionally receive promotional content from the Los Angeles Times.