Some debt collectors in Russia will call borrowers at all hours, and then it can get violent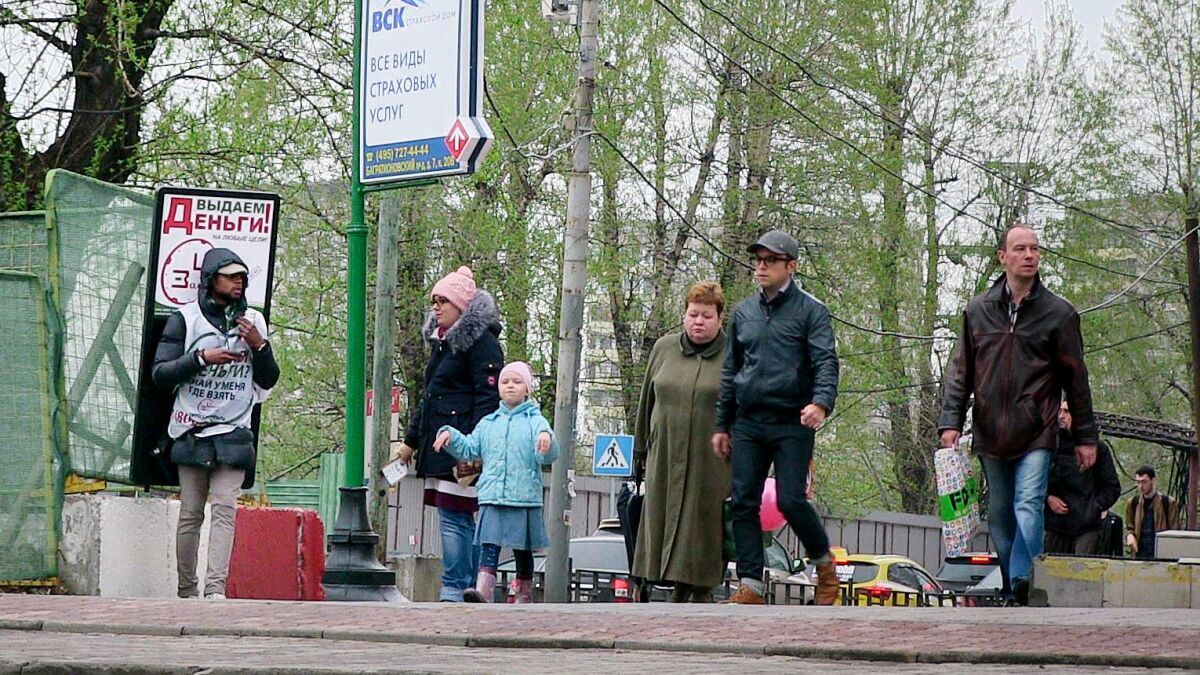 Reporting from Moscow —
The burly 31-year-old said that as a debt collector in the Russian city of Kaluga he encouraged payment in a number of ways without resorting to violence.
He spray-painted threats on walls near people's homes, called their neighbors and employers, scratched their cars, injected glue in their door locks and posted their phone numbers on prostitutes' websites.
Some of the other collectors, however, crossed a line, he said, by assaulting debtors, dousing them with paint or stealing their pets.
"It's a bonus-based job, and some of my ex-colleagues went a bit too far," said Dmitri, who worked as a debt collector from 2012 to 2015 and spoke on condition that his full name not be published.
Dmitri, law enforcement authorities and analysts said that as the Russian economy has declined in recent years for reasons including a drop in oil prices and Western sanctions tied to aggression in Ukraine, many people have turned to borrowing money at super high rates they cannot afford.
Some collection agencies, in turn, have employed former security officers or ex-convicts who use early-morning phone calls, threats, beatings and other inventive and cruel ways to force debtors to pay.
More than 11 million Russians hold overdue debts and at least 3 million have to deal with debt collection agencies, according to the United Credit Bureau, a Moscow-based financial monitor. In 2016, consumer debt exceeded $15 billion, more than doubling since 2008, the government says.
As banks raise interest rates or refuse loans, many Russians seeking short-term loans resort to microfinance companies that often do not check their client's credit history, but charge what amounts to three-digit annualized interest rates. A loan at 1% interest per day can reach 365% interest in a year.
Officials say that although the majority of debt collectors are not suspected of wrongdoing, examples of the violence tied to some include a suspect throwing a Molotov cocktail into an apartment in January and badly burning a 2-year-old boy and his grandfather.
In other cases, a 12-year-old boy was confined in his family's apartment over his parents' debt of less than $500, a threat was made to blow up a kindergarten where a debt-ridden teacher worked, and an obituary was published for a debtor's 1-year-old daughter, who was alive and well.
A businessman in the southern Siberian city of Krasnoyarsk killed his wife, two children and then himself in January after months of threats from debt collectors, authorities said.
When Natalya Gorbunova's debt grew from about $133 to more than $3,500, four masked men showed up at her family's shabby house in the town of Iskitim.
The men tied up and sexually assaulted Gorbunova, authorities said, beat up her husband and teenage son, and promised to come back to collect the money, or worse.
The attack in late March came 19 months after Gorbunova, who earns several hundred dollars a month as a house painter, secured the small loan from a microfinance company and then found she could not pay it back as quickly as she had expected. She began receiving threatening phone calls, she has said in televised remarks.
The company that lent her the money said it had nothing to do with the attack.
Analysts said some debt collectors get arrested and their companies scrutinized, but gaps in Russia's personal data protection and banking laws allow many more to operate unhindered.
Some pro-Kremlin and nationalist lawmakers and others have called for strict regulations or a ban on the operations.
"Collectors got lawless. They need to be restrained," Yury Napso, a lawmaker with the nationalist Liberal Democratic Party, told Russian media in March. "These stories with collectors have reached a boiling point."
President Vladimir Putin promised to "push for" the swift adoption of a law regulating debt collection, while also pressing personal responsibility.
"The criminal operations of quasi-collectors need to be stopped," Putin said at a news conference in April, and "people, of course, should not act irresponsibly about getting money and not thinking about how they pay back."
In mid-April, the State Duma, Russia's lower house of parliament, approved a bill that would ban collection agencies from hiring former convicts. The agencies would have to be registered and regularly audited, and debtors would be able to send their attorneys to collection agencies and avoid personal encounters with the collectors, the bill said.
The legislation is expected to come up for a vote in parliament by mid-July.
But some Russians doubt that new laws will change the ways some collection agencies work. Also, new regulations may make business more difficult for debt collection agencies that don't resort to violence, without making much of a difference for those that don't mind using force, analysts said.
Alexander Naryshkin, moderator of "Stop Collector," an online forum for the victims of collectors that has several thousand subscribers, was among those who said he did not expect much change.
"The operation will remain the same, and for all collectors there's only one operation: force," he said.
Dmitri, who quit the collecting job and now "sleeps well at night," said people who cannot pay their loans might expect to be contacted by a collector at first with a month of reminder phone calls.
Later, more calls may come in the middle of the night. Then a collector may visit the debtor and the people he or she listed on their application and try to intimidate them into paying.
"You have to lower your voice," he said, "and say things like, 'You don't want to know about the consequences.'"
See more of our top stories on Facebook >>
MORE WORLD COVERAGE
Venezuelans are fed up. Here's why
Even in fast-changing India, kushti wrestling is a wellspring of power, pride and identity
A 'global terrorist' comes in from the cold: Afghan warlord was ally of CIA, then Osama bin Laden
Mirovalev is a special correspondent.
Must-read stories from the L.A. Times
Get the day's top news with our Today's Headlines newsletter, sent every weekday morning.
You may occasionally receive promotional content from the Los Angeles Times.