Cold War-style chill as Russia expels 60 American diplomats, scores of European ones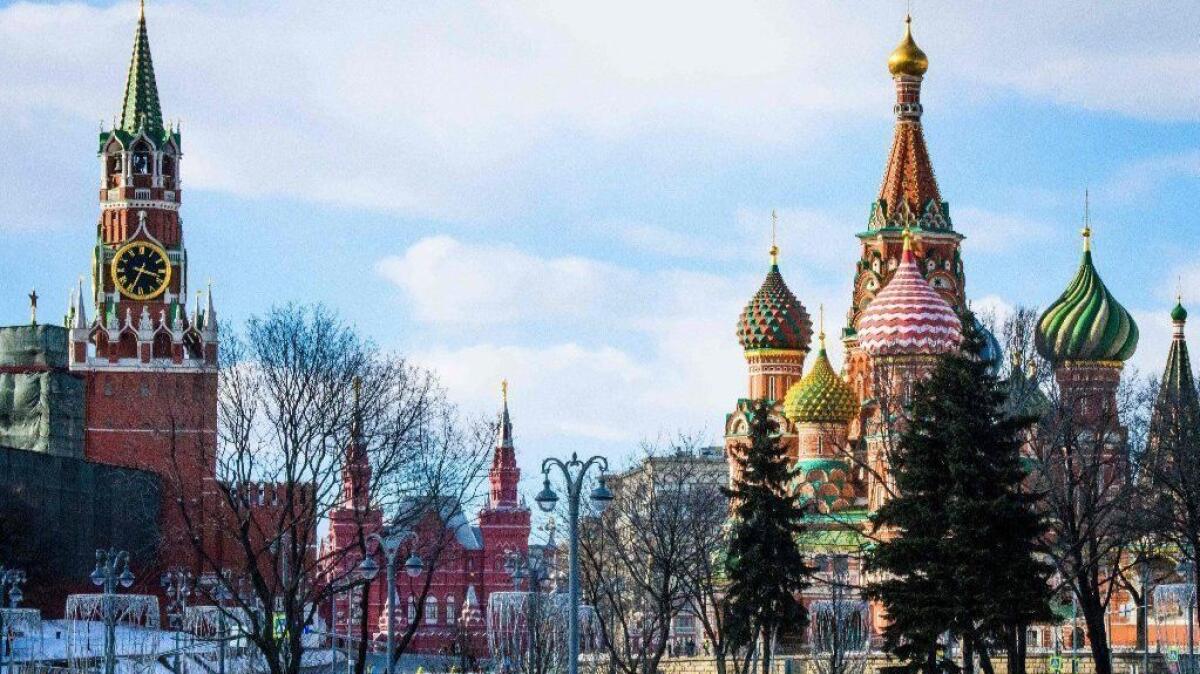 Reporting from MOSCOW —
Russia has landed a heavy diplomatic counterpunch in the case of the poisoned spy, declaring Thursday that it would toss out 60 American diplomats and scores of other Western envoys in response to a massive coordinated expulsion of Russians announced this week by Britain and its allies, including the United States.
The Russian retaliation, which also included the closing of the U.S. Consulate in St. Petersburg, sent Moscow's relations with the West into a deep chill that was almost reminiscent of Cold War days.
But it also left unanswered the question hanging over the entire spy-poisoning affair: This time, had the self-confident Vladimir V. Putin overreached?
Nearly a month after a turncoat former Russian intelligence operative and his daughter were poisoned in the British city of Salisbury with a military-grade nerve agent bearing Moscow's Soviet-era signature, the ultimate cost to Russia remains unclear.
That's partly because the episode is still playing out. Recriminations continue to fly daily between Moscow and Western capitals, and a complex inquiry involving hundreds of British anti-terrorism investigators is pressing ahead.
British health officials said Thursday that whereas Sergei Skripal — the 66-year-old Russian ex-spy who was poisoned — remained in critical condition, his 33-year-old daughter Yulia was improving. Previously, a family member in Russia had told the BBC that doctors had all but ruled out a full recovery for either father or daughter.
Skripal has been living in Britain since being handed over in a large-scale 2010 spy swap. He confessed to his Russian masters that he had spied on Britain's behalf.
The latest act in the ongoing diplomatic drama came when the U.S. ambassador to Moscow, Jon Huntsman Jr., was summoned to the Moscow's imposing Foreign Ministry on Thursday to be informed of the "reciprocal" expulsions, Foreign Minister Sergei Lavrov said in a briefing carried by official Russian media.
Lavrov said that more than 90 expulsions of Russians by other Western countries would be met in kind, on a country-by-country basis.
The U.S. State Department, calling the action "regrettable" and "unwarranted," said additional U.S. actions had not been ruled out.
"It is clear that Russia is not interested in dialogue about issues that matter to our two countries," spokeswoman Heather Nauert told reporters. "Russia is further isolating itself following the brazen chemical attack in the United Kingdom."
Nauert said the 60 U.S. diplomats were declared persona non grata and ordered to leave within seven days. The St. Petersburg consulate was given 48 hours to close, she said.
Russian official media said the Americans in question consisted of 58 from the Moscow embassy and two from the consulate in Yekaterinburg. A U.S. Consulate in Vladivostok, in Russia's Far East, was apparently unaffected.
Analysts noted that with Thursday's precisely equivalent expulsions, Russia was making a point of not upping the ante — at least for now. The earlier moves by Western governments also allowed them some room to maneuver, said Rosa Balfour, a Brussels-based analyst with the German Marshall Fund.
"It's a spectrum," she said. "There is room for an increased level of condemnation, but with de-escalation also an option."
Tension could quickly intensify if the West takes economic aim at Putin's oligarch-heavy inner circle. London is a nexus of foreign capital holdings by many wealthy Russians. Britain has indicated it is looking carefully at those holdings.
Huntsman said Wednesday that the United States and its allies had not ruled out that Russia's assets abroad could be seized.
That warning apparently struck a raw nerve. On Thursday, Russian Deputy Foreign Minister Sergei Ryabkov told Huntsman that any bid to seize Russian assets would bring "further serious degradation in relations" and was "fraught with grave consequences for global stability."
In Russia, the poisoning episode has not only failed to dent Putin's domestic popularity, but also probably has bolstered it. Many ordinary Russians profess faith in the official narrative that Moscow was the victim, or back one of the many dark conspiracy theories Russia's Foreign Ministry has spun to explain how and why the ex-spy and his daughter were felled.
A March phone poll by the Russian Public Opinion Research Center, which is closely connected to the government, found that 81% of respondents believed Britain's leadership deliberately exacerbated the crisis in relations with Russia. Only 5% believed Britain had any grounds for blaming Russia for anything related to the Skripal case.
"Most Russians really see obvious Russo-phobic motives in the actions of British politicians," said Stepan Lvov, the polling agency's head of research.
But some saw miscalculation on the part of Putin, who this month overwhelmingly won reelection in a vote widely criticized in the West as unfair because it excluded his main opponent.
"Is Russia guilty? You know, we're used to seeing how 'poor and innocent' Russia is never at fault," said Pyotr Maslov, 55, a Moscow artist. Using a sardonic nickname for Putin and an expletive to describe his actions, Maslov said the Russian leader might have taken matters a step too far with the poison attack.
"Uncle Vova [messed] up this time," he said. "That's obvious."
Russia shrugged off an initial burst of anger on London's part, but Putin and his circle may have been caught by surprise by the show of solidarity that Britain was able to elicit from its allies, analysts said.
In the days after the poisoning incident, Russia issued a series of statements that amounted to trolling Britain over its perceived isolation amid the stress and strain of the "Brexit" negotiations. Nonetheless, those same European Union negotiating partners, led by Germany and France, counted themselves in Britain's corner when it came to an attack carried out on European soil, the first known offensive use of a nerve agent since World War II.
Ten days after the attack, London ordered the expulsions of 23 Russian diplomats, after Moscow ignored a demand to explain why Novichok, a nerve agent developed during the Soviet era, was found at the scene.
Those expulsions were a relatively light blow to Moscow, and some analysts suggested Putin thought the retaliation would go no further. Mark Galeotti, a senior researcher and Prague-based head of the Center for European Security at the Institute of International Relations, said his sense was that Russian diplomats did not think Britain's allies would offer much beyond "thoughts and prayers" — meaning anodyne condemnation of the attack, without significant action.
But the subsequent coordinated response from the United States and European allies — with nearly 30 nations and the North Atlantic Treaty Organization joining in — was an unexpectedly emphatic echo of Britain's position.
That might leave Moscow looking for ways to respond outside the arena of diplomatic tit-for-tat, Galeotti said.
"Where the scope is, is for the Russians to determine whether they escalate or tone it down," he said. "In, shall we say, alternative fields of activity … for example, in Syria, Libya or the Balkans, they could suddenly get much more aggressive. Or they could actually become more emollient."
Even if Putin was taken aback by the Western response, there are rifts within Europe, and within the NATO alliance, for him to exploit.
NATO ally Turkey pointedly refused to join in any move to punish Russia. And in Europe, the move to expel Russian diplomats set off internal debate in Italy and other countries. Austria also declined to join in the expulsions.
President Trump, under a cloud as special counsel Robert S. Mueller III continues his wide-ranging investigation of whether the Trump campaign cooperated with Russia during the 2016 presidential campaign, has left it to surrogates to condemn Moscow's actions.
But the White House readout of conversations the president had this week with British Prime Minister Theresa May, German Chancellor Angela Merkel and French President Emmanuel Macron voiced common outrage over the Skripal attack.
Russia's Foreign Ministry, meanwhile, warned that fresh measures were possible "in the case of continuing hostile actions against Russian diplomatic and consular institutions" in the United States.
"The U.S. authorities, encouraging and fanning the campaign of slander against our country, are invited to think again and stop reckless actions to destroy bilateral relations," the ministry said.
Special correspondent Ayres reported from Moscow and Times staff writer King from Washington. Staff writer Tracy Wilkinson in Washington contributed to this report.
---
UPDATES:
3:50 p.m.: This article has been updated throughout with details of the expulsion, political analysis and background.
11:50 a.m.: This article has been updated with a statement from the Russian foreign ministry.
11:35 a.m.: This article was updated throughout with Times staff reporting.
This article was originally published at 10:15 a.m.
Sign up for Essential California for the L.A. Times biggest news, features and recommendations in your inbox six days a week.
You may occasionally receive promotional content from the Los Angeles Times.