What you need to know about Michael McFaul, the ex-U.S. envoy drawn into the center of another Trump-Russia flap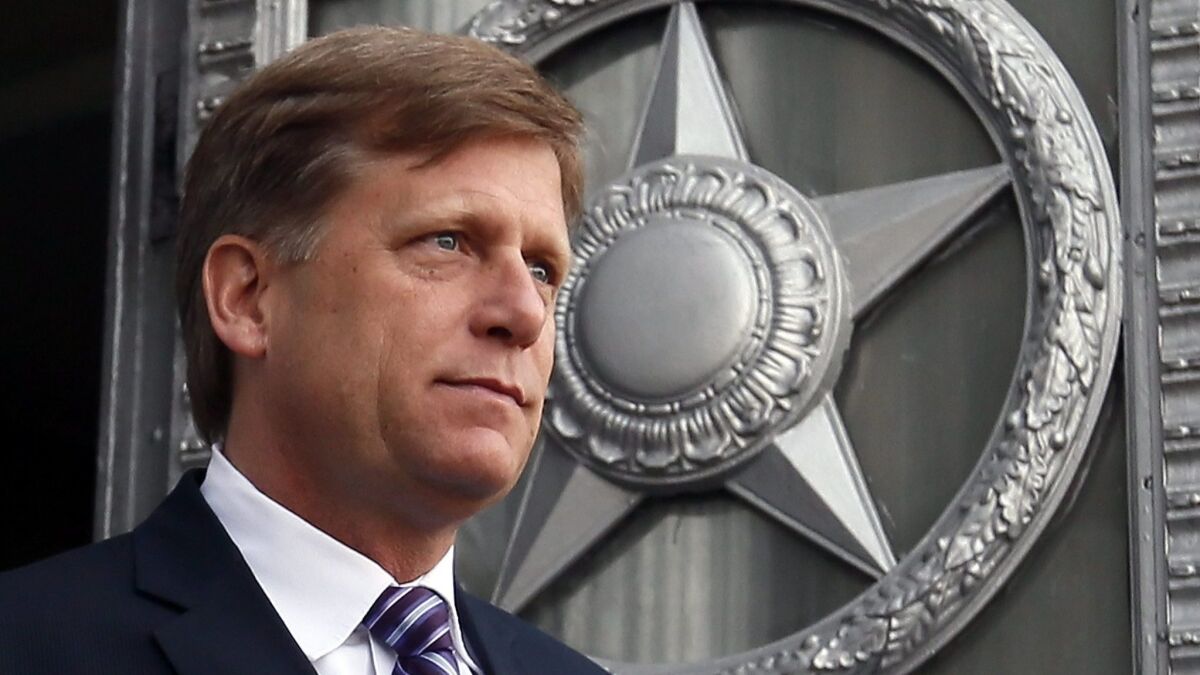 Reporting from Washington —
When Michael McFaul served as U.S. ambassador to Moscow under the Obama administration, he unexpectedly found himself the subject of a concerted Russian propaganda campaign, accused of plotting to overthrow leader Vladimir Putin as well as pedophilia.
It was in many ways a sign of the geopolitical times: A U.S. attempt to "reset" ties with Russia was collapsing, and as the face and voice of America in the Russian capital, McFaul was a ready target.
McFaul's two-year tenure as ambassador ended in 2014. But the 54-year-old ex-envoy, now an academic at Stanford University, got a jolting reminder this week that the Russian president hasn't forgotten him — far from it.
At a summit in Helsinki, Finland, with President Trump, Putin floated the idea of inviting U.S. special counsel investigators to Russia for the questioning of a dozen Russian intelligence officials indicted last week as part of the special counsel's inquiry into Kremlin interference in the 2016 election.
In return, Putin wanted Russian authorities to be allowed to interrogate a roughly equal number of Americans, including McFaul, for supposed illicit activities. At Monday's post-summit news conference with Putin at his side, Trump — sounding intrigued rather than indignant — called that an "incredible" offer.
The proposal — and Trump seeming to entertain the idea — drew a formal rebuke Thursday from the Senate, which approved a nonbinding resolution, 98 to 0, against allowing Russia to question McFaul or other current and former U.S. officials.
The White House had backtracked shortly before the vote, with White House Press Secretary Sarah Huckabee Sanders telling reporters that Trump "disagrees" with the idea of such an investigatory exchange, but believed Putin had extended the proposal in "sincerity."
"I don't consider it 'sincerity' to falsely accuse U.S. government officials of being criminals," McFaul tweeted in response.
Secretary of State Michael R. Pompeo had been blunter about the prospects of any such handover, telling reporters earlier Thursday: "That's not going to happen."
But to a wide array of lawmakers, former diplomats, fellow academics and much of the U.S. foreign policy establishment, Trump's initial response to Putin's proposal — "incredible" — was the right word, for all the wrong reasons.
As details of the Helsinki tete-a-tete emerged this week, social media lighted up with expressions of solidarity for McFaul — and consternation that an American president would not immediately shut down the idea of giving over a onetime ambassador for questioning.
McFaul, a Montana native educated at Stanford and Oxford, was known during his Russia days as an online pioneer among the diplomatic corps, writing an ambassadorial blog and engaging in exchanges with ordinary Russians. As the week's contretemps unfolded, he went on Twitter to express his shock and disbelief.
"When Trump says Russia is no longer targeting America, that's not how this American feels," McFaul wrote. "Putin is most certainly targeting and intimidating me. And I'm an American."
He also decried what he called the "moral equivalency" being posited by Putin between the special counsel investigation and Russia's desire to summon him and figures like U.S.-born British financier William Browder for questioning.
Browder has been a thorn in Putin's side, leading a worldwide drive to expose corruption in Russia and impose sanctions to punish oligarchs and others. Interviewed on the BBC, Browder said Thursday's White House announcement was a relief, but questioned why it had taken so long.
"President Trump should have immediately rejected it," he said.
The outcry over McFaul and the others sought by Putin echoed a larger dispute over Trump's acceptance — later partially walked back — of the Russian leader's word over that of the U.S. intelligence community, which has reignited critics' suspicions that Putin has some hold over the U.S. president.
As in that controversy, the White House position on McFaul and the other Americans sought by Putin for questioning changed with the passing days.
On Wednesday, as Sanders said Trump's team was consulting over Putin's request, prominent supporters rallied to the support of the ex-ambassador.
"Beyond outrageous," tweeted former national security advisor Susan Rice. Hillary Clinton, who as secretary of State was McFaul's boss, called him "a patriot who has spent his career standing up for America."
Former Secretary of State Madeleine Albright objected as well. "Merely entertaining this idea betrays our diplomats," she tweeted.
From across the political aisle, Sen. Marco Rubio (R-Fla.) declared on Twitter that "under no circumstances" should such questioning be allowed.
With the hashtag #ProtectMcFaul trending on Twitter, Senate Minority Leader Charles E. Schumer (D-N.Y.) championed the nonbinding Senate resolution opposing making Americans — including former diplomats, civil servants, law enforcement officials, members of the armed forces or political appointees — available to Russian investigators.
"No President should have the power to gift-wrap American citizens, let alone former Ambassadors, to our known adversaries," Schumer tweeted before the unanimous vote.
Since returning to the United States, McFaul has remained a visible and vocal critic of Putin, singling out human rights abuses and authoritarian behavior. But he has lamented the failure of attempts to reengage Moscow, noting that he had helped write President Obama's 2009 speech declaring that a strong and prosperous Russia was in the U.S. interest.
In a new book, "From Cold War to Hot Peace," McFaul described the vitriol directed at him during his Moscow tenure as relations with Washington deteriorated, with propagandists photoshopping him into pictures, splicing his speeches to distort public remarks and even accusing him of pedophilia.
McFaul doesn't expect to be back in Russia any time soon; he has been denied a visa and been told he's banned. But he said he took heart from Thursday's Senate vote. "Bipartisanship is not dead yet," he tweeted.
A political science professor and senior fellow at Stanford's Hoover Institution, McFaul said that in coming days, he planned to head to his native state as part of a book tour.
"In case you are in Montana this weekend, come hear me speak about my new book," he tweeted, also citing "maybe a few other items in the news lately!"
Staff writer King reported from Washington and special correspondent Ayres from Moscow.
Twitter: @laurakingLAT
---
Must-read stories from the L.A. Times
Get the day's top news with our Today's Headlines newsletter, sent every weekday morning.
You may occasionally receive promotional content from the Los Angeles Times.