Protesters across Russia rally against Kremlin plan to raise retirement age
Reporting from Moscow —
Angered by a government plan to raise the age limit for retirement benefits, thousands of Russians protested in cities across the country Sunday in a rare show of unity against a Kremlin-backed reform.
The first protests began in Russia's Pacific regions and then quickly spread west across the country. Police detained and arrested hundreds of protesters for participating in unsanctioned demonstrations, including teenagers and journalists.
At least 800 people were detained in cities outside of Moscow and St. Petersburg, according to OVD-Info, a group that monitors political repression. Several minors were also detained. In St. Petersburg, Russia's unofficial second capital city, the police crackdown appeared to be particularly aggressive; images of beaten protestors went viral on social media.
The protests were held on the same day as national elections for governors, mayors and regional legislatures. Moscow Mayor Sergei Sobyanin, a close Kremlin ally, was expected to easily win another five-year term in a race with no significant competition.
The public outcry over the proposed change to retirement ages has morphed into one of the most visible signs of discontent with President Vladimir Putin's administration in the 18 years since he came to power. His public approval ratings have plummeted 15 points since the pension reform bill was quietly introduced into parliament on June 14, the opening day of the Russian-hosted World Cup.
Many of the protestors said they were not voting in the regional elections Sunday because their anger about the pension changes overshadowed the vote.
The government plans to increase pension eligibility age from 55 to 60 for women and from 60 to 65 for men. Opponents accuse the Kremlin of trying to steal their shares of the pension fund and worry they won't live long enough to collect much of their benefits. Russian life expectancy is 67 for men and 72 for women, according to the World Bank.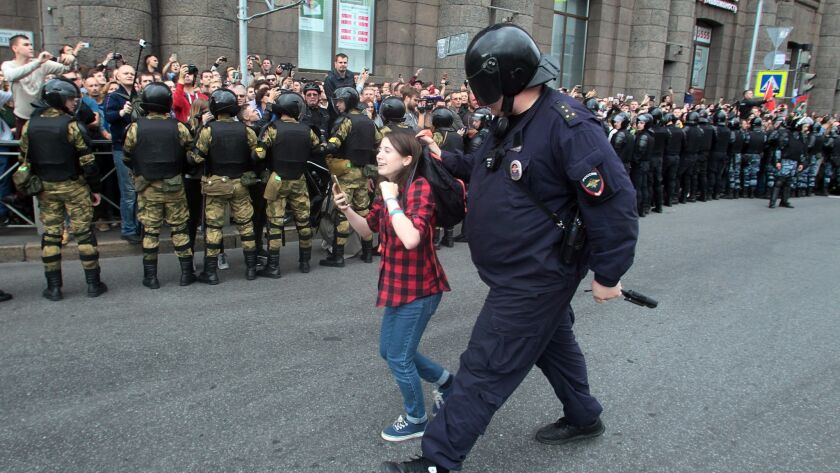 The jailed anti-corruption activist Alexei Navalny, a political foe of Putin, had called for the protests weeks ago. Navalny is serving a 30-day jail sentence in Moscow for organizing an unauthorized demonstration in January. That protest against what Navalny describes as Kremlin-orchestrated corruption was one of several Navalny has called for that have resulted in thousands taking to the streets and hundreds being arrested.
Pushkin Square, the heart of the demonstrations in Moscow, had a heavy police presence hours before the protests. By the time the demonstration began at 2 p.m., riot police had encircled the square, where the Ministry of Interior said at least 2,000 people had assembled. Many held signs with slogans such as "Putin, where's my money?" and "Corruption has stolen my pension."
As police pushed people from the historic square, protestors began marching along the capital city's fashionable shopping and dining district and toward the Kremlin. Police and protesters clashed during the march and some demonstrators were dragged onto police buses. Several journalists were also detained.
Standing in front of a police van blaring warnings from a loudspeaker to clear the area or risk arrest, Theresa, 62, said she and her friends came to the demonstration as part of their "civic duty."
"We came because we are against this whole system of rule, not just the pension reform," said the retired English teacher from Moscow, who did not give her last name out of fear of government retaliation. "Of course it's frightening and scary to come out here and protest against our government. But what else can we do?"
Under Putin's rule, Russia has turned its focus away from Western Europe, and now "we are more like North Korea," the retired teacher said.
Protesters such as Theresa disagree with some economists who say Russia's pension system should adopt some kind of reform to remain sustainable. Russia is not like a Western country, with reliable healthcare and social services for the elderly, they argue.
"In Moscow or St. Petersburg, you see hospitals and things that are working properly. But outside these cities in our regions, things are very hard. Some places don't have hospitals. We do not have European standards of living, so changing our benefits and raising our pension age will hurt us more than it would hurt a European country," the retired schoolteacher said.
Ayres is a special correspondent
Twitter: @sabraayres
Ayres is a special correspondent.
---
Must-read stories from the L.A. Times
Get the day's top news with our Today's Headlines newsletter, sent every weekday morning.
You may occasionally receive promotional content from the Los Angeles Times.