Russian authorities arrest opposition leader Alexei Navalny, but protests go forward without him
Reporting from MOSCOW —
Russia's second wave of nationwide anti-corruption demonstrations ended again in mass detentions by police Monday, including the arrest of the movement's organizer, opposition leader Alexei Navalny.
Navalny, a fierce Kremlin critic who says he will challenge President Vladimir Putin in next year's presidential elections, was detained at home by police as he was heading out to join Moscow's rally against what demonstrators call government-linked mass corruption.
Navalny's wife, Yulia, tweeted that her husband had been detained half an hour before the start of the scheduled rally. Within hours, he had been convicted of organizing an unauthorized rally, and shortly after midnight, he was sentenced to 30 days in jail.
Police detained as many as 750 people in Moscow and 900 in St. Petersburg, according to OVD-Info, an independent monitoring agency. Moscow authorities reported that 300 had been detained. Dozens more were detained across Russia in cities such as Vladivostok in the far east and Novosibirsk in Siberia.
Video posted on social media showed police in Moscow kicking protesters and striking them with batons. There were no immediate reports of injuries.
The Moscow city government had previously approved the protest to be held in a square just outside the center. But on the eve of the demonstration, Navalny issued a video message calling for protesters to instead come to the city's main avenue, Tverskaya, a broad, four-lane thoroughfare. In his video address, Navalny accused the Kremlin of pressuring companies that supply sound and video equipment to not work with the opposition leader's group in preparation for Monday's protest.
Protesters shout out and gesture during a demonstration in downtown Moscow. Russian opposition leader Alexei Navalny, aiming to repeat the nationwide protests that rattled the Kremlin three months ago, has called for a last-minute location change for a Moscow demonstration that could provoke confrontations with police.
(Alexander Zemlianichenko / Associated Press)
A young demonstrator is apprehended by riot police during a demonstration in downtown Moscow.
(Alexander Zemlianichenko / Associated Press)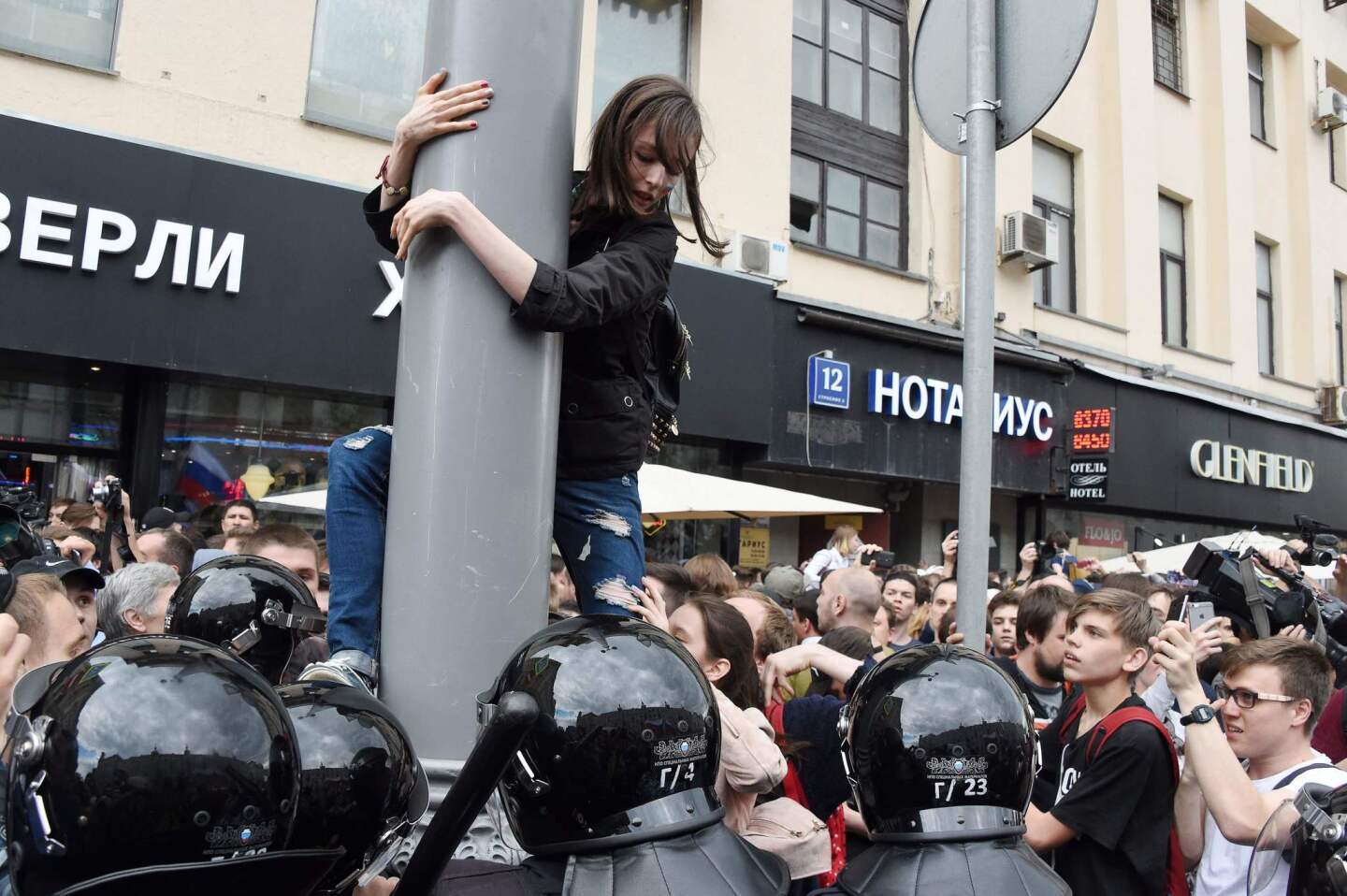 Participants of an unauthorized opposition rally gather in Tverskaya street in central Moscow. Authorities detained Russian opposition politician Alexei Navalny and hundreds of his supporters on Monday, as they mounted demonstrations across the nation against government corruption.
(Vasily Maximov / AFP/Getty Images)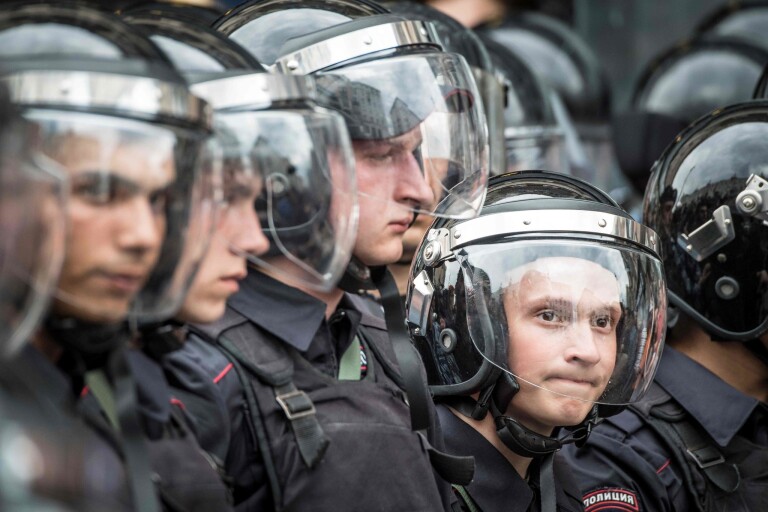 A line of riot policemen block the entrance to Tverskaya street as an unauthorized opposition rally takes place in central Moscow.
(Mladen Antonov / AFP/Getty Images)
People attend a demonstration in downtown Moscow.
(Pavel Golovkin / Associated Press)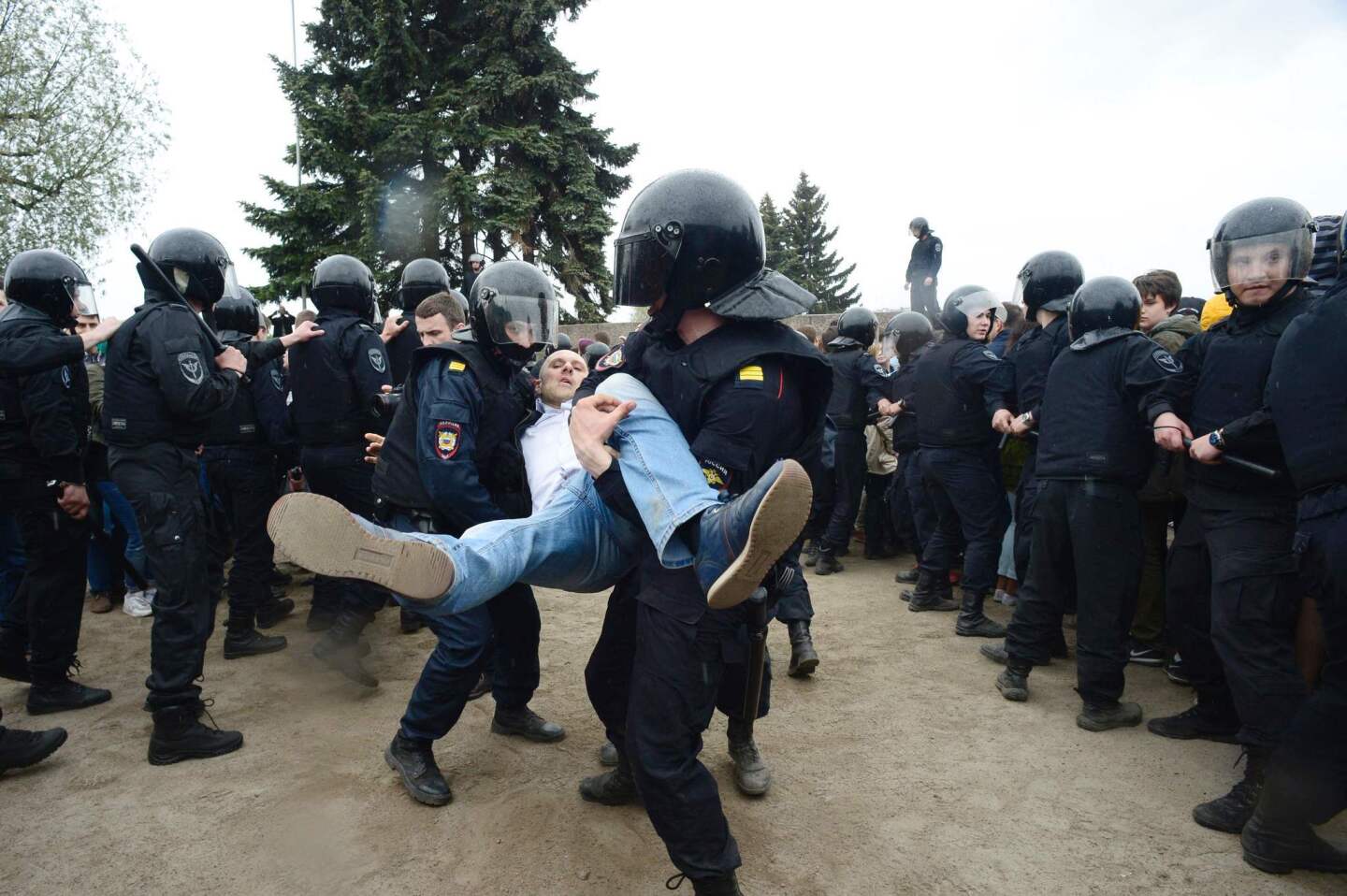 Russian police officers detain a participant of an unauthorized opposition rally in the center of St. Petersburg.
(Olga Maltseva / AFP/Getty Images)
Police detain a protester during a demonstration in downtown Moscow.
(Pavel Golovkin / Associated Press)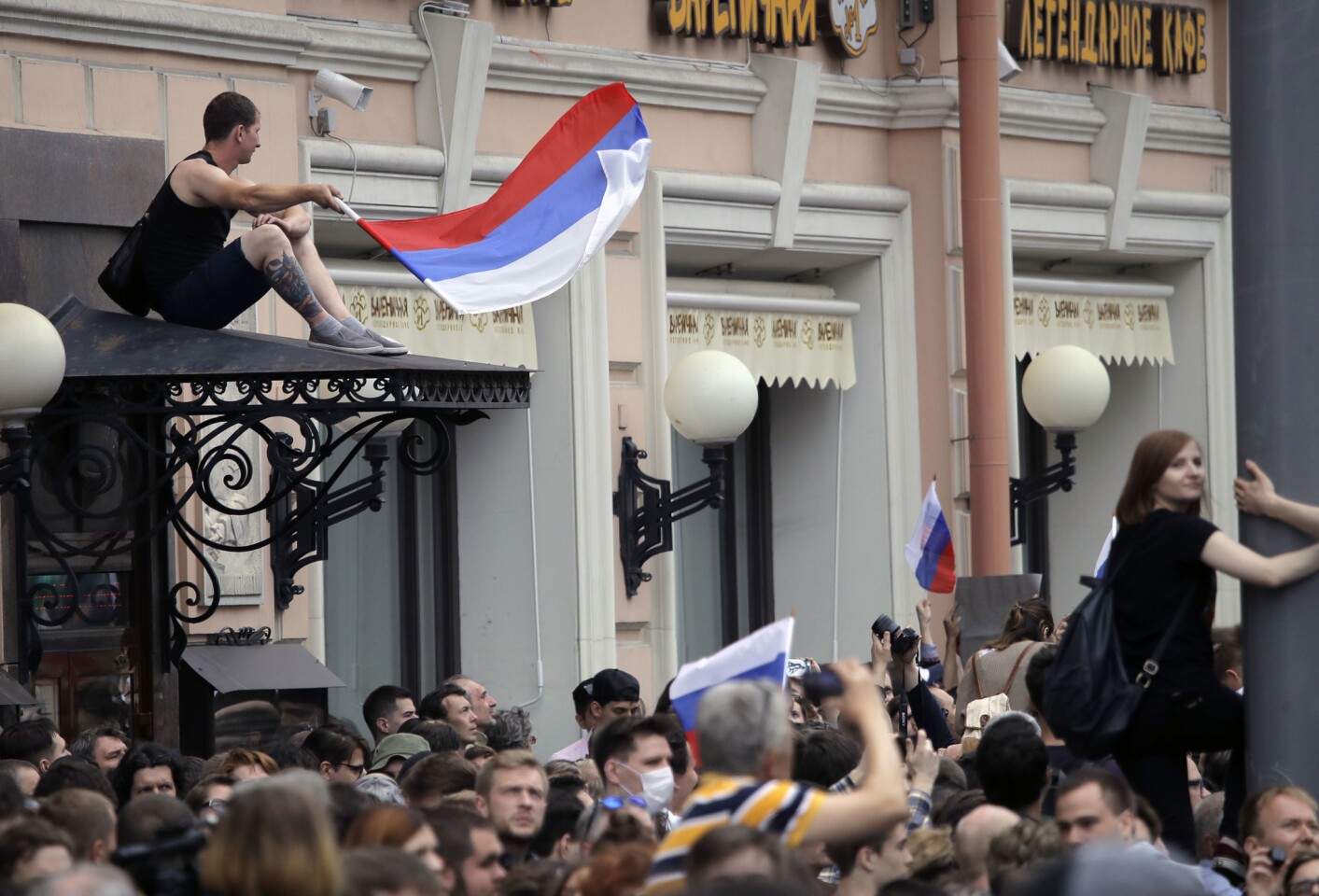 A protester waves a Russian flag during a demonstration in downtown Moscow.
(Pavel Golovkin / Associated Press)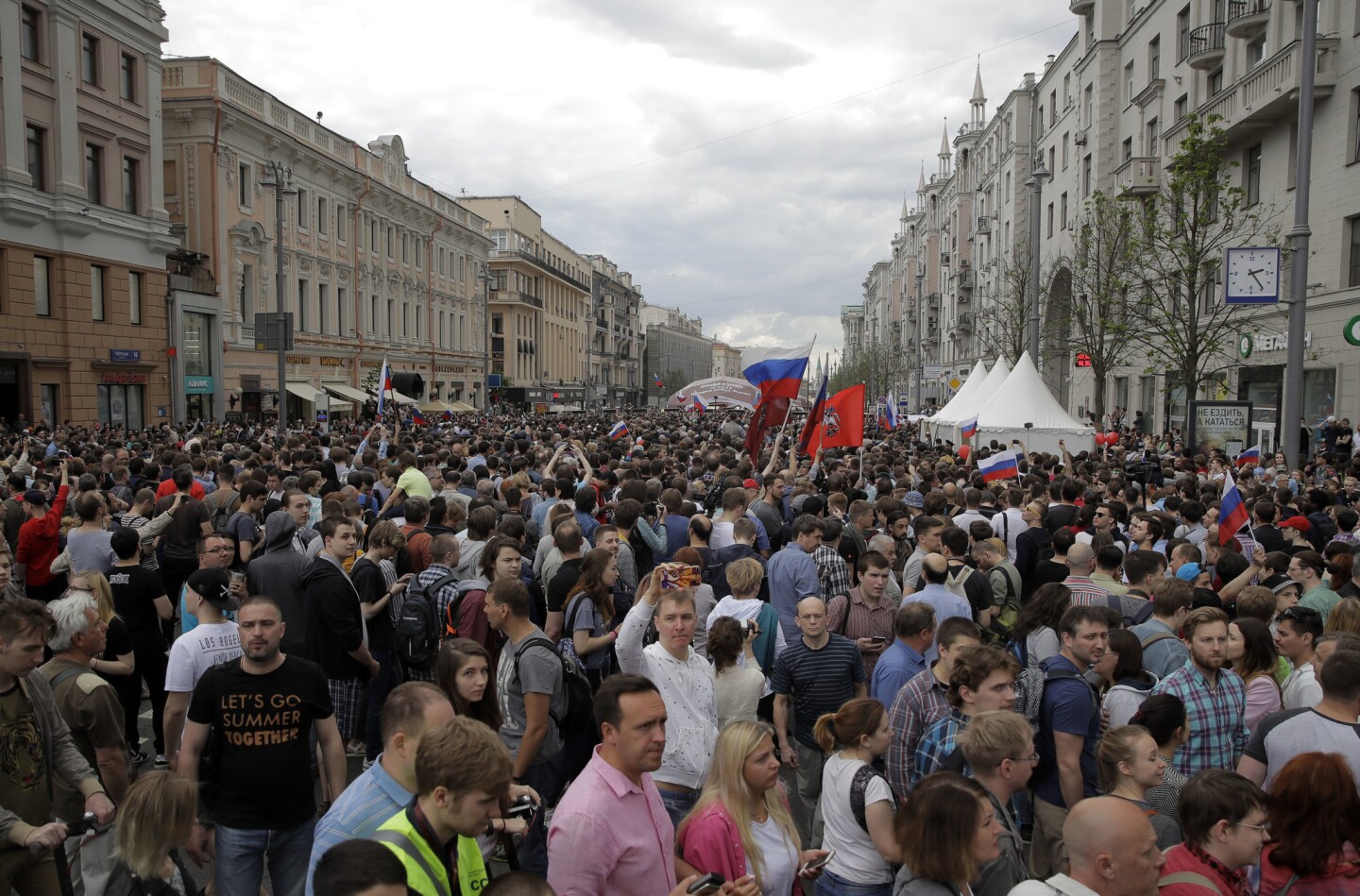 Protesters attend a demonstration in downtown Moscow.
(Pavel Golovkin / Associated Press)
Protesters attend a demonstration in downtown Moscow.
(Pavel Golovkin / Associated Press)
Police detain a protester during a demonstration in downtown Moscow.
(Pavel Golovkin / Associated Press)
Monday's protest coincided with Russia Day, an annual holiday that is meant to celebrate Russia's "independence" after the breakup of the former Soviet Union. The day's events included several military reenactments planned on Tverskaya to commemorate Russia's history.
The Moscow city government called the venue change a "provocation." Moscow Mayor Sergei Sobyanin's office said that protesters would be allowed to participate in the demonstration if they did not carry signs with political slogans.
In Moscow, the detentions began even as demonstrators exited the metro station at Pushkin Square, a central square in the capital, and made their way toward Tverskaya. Police, some in full riot gear, surrounded the center of Moscow. Police vans and buses waited on the sidelines to haul off those detained.
After Navalny's arrest was broadcast on social media networks, many protesters arrived in the city center not knowing what the next move would be without the main organizer there to lead the rally. Police began randomly detaining people gathered near McDonald's at the top of Tverskaya Street, where hundreds waited to follow the crowds.
Just after 2 p.m., the scheduled time for the protest, large crowds began making their way toward the Russia Day events, which were located in stations spread along the closed-off avenue. Many carried Russian flags rather than politically charged slogans, but chants of "Putin is a thief" and "Change!" echoed across the city center. Police began closing in on the crowds, which were largely peaceful.
When Interior Ministry helicopters flew over the crowds, demonstrators cheered and clapped, some even waving up to the sky as if to greet the pilots.
Monday's protests were a follow up to the March 26 rallies in which tens of thousands of demonstrators took to the streets in cities and towns across Russia. Thousands were detained, including Navalny and at least 1,000 others in Moscow alone. It was the largest street protest in Russia since 2012, when thousands demonstrated against election fraud after Putin's reelection.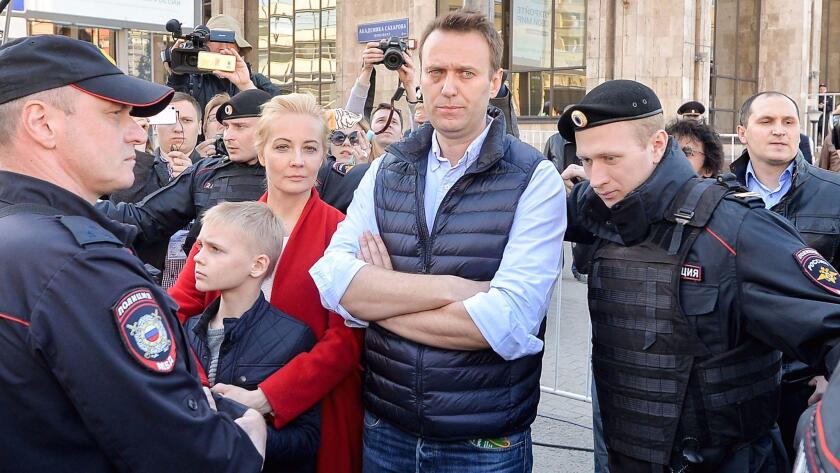 Russia's energized youth population again made up a bulk of the protesters Monday, just as they had in March demonstrations. Russians between 18 and 22 have surprised the Kremlin with their fierce participation in the anti-corruption movement.
Some young protesters even seemed to arrive with their parents or other adult chaperones. Anna, 16, said she came to Tverskaya with her geography teacher, who is a friend of the family. She didn't want to give her last name out of fear it would cause problems for her parents. Anna's father had refused to take her but agreed to let her teacher escort her.
"People came out even though it was not sanctioned here," she said. "The government thinks sanctioning protest will sort of calm us down or something. But look, we still come out. I think this will lead to more protests, a third wave."
Dozens of those detained on Monday were young, including minors, according to media reports and photos of arrests published on social media.
Initial reports said as many as 5,000 protesters attended Moscow's demonstrations, although at least one monitoring agency said it was too difficult to get an accurate figure given the confluence with the Russia Day celebrations also happening across the country.
Many came to the protests saying they were fed up with endemic corruption that seemed to begin at the Kremlin.
"We aren't afraid because we have nothing to lose," said Roman Egorov, 21, a student from Moscow, who sat perched on a stack of metal crowd-control fences as he videotaped the protests on his iPhone. "People 30 or older, they have more to lose if they get arrested. But for us, we don't have anything yet. We have to stand up for our rights."
Many were motivated by an investigation by Navalny's Anti-corruption Foundation into what was described as a corruption scheme in which Prime Minister Dmitry Medvedev was said to have amassed lavish mansions and taken luxury shopping trips. The investigation was explained in a 50-minute video, posted to Navalny's popular YouTube channel, that has been viewed more than 22 million times.
State television largely ignores Navalny and rarely shows him in news reports. Because of this, Navalny's feed on You Tube has become a popular source for news for Russia's younger, web-savvy generation.
Navalny's livestream YouTube channel producers reported that electricity and Internet suddenly cut out at the same time that the opposition leader was arrested. The channel later went live again from a "secret location," according to the channel's team.
The protests could be seen as a measure of support for Navalny's presidential bid in 2018. Few, if any, believe he can beat the hugely popular Putin, whose approval ratings still soar above 80%. But Navalny has been opening campaign offices across Russia in anticipation of his run.
Navalny was previously convicted for a financial crime he says was politically motivated, and it remains unclear if the Kremlin will allow him to run. Opposition candidates in Russia frequently face insurmountable hurdles trying to register their campaigns with election authorities.
It is clear that Navalny's popularity is rising and his name is gaining more recognition even outside of Moscow and St. Petersburg's liberal circles, thanks to his association with the protests and his YouTube channel. A Kremlin-orchestrated campaign against him has backfired, especially among the younger generation that shuns state-controlled media and instead turns to social media and online news sources.
To be sure, the Kremlin sees the growing number of protesters willing to go out to the streets as a threat.
"If the government wasn't afraid of us, they wouldn't have told us to go to Sakharova," said David Eprikyan, 27, referring to the protest's original, authorized venue. Eprikyan said he came to Monday's protest to show his support for the anti-corruption movement and Navalny, who he thinks would be a good president.
"Navalny is teaching people to stand up for their rights," he said. "He's also a smart guy, because he knows that if he were to be president, we could again go out to the streets and stand up against him if we had to."
ALSO
A grim pattern in European attacks: Missed chances to pinpoint terrorism suspects beforehand
Putin says claims of Russian meddling in U.S. election are 'just some kind of hysteria'
Trump considers reversing historic Obama-era opening with Cuba
sabra.ayres@latimes.com
Twitter: @sabraayres
---
UPDATES:
2:35 p.m.: This article has been updated with Navalny convicted, sentenced.
12:45 p.m.: This article has been updated with additional description, quotes, details on Navalny's arrest.
9:25 a.m.: This article has been updated throughout with Times reporting.
This article was originally posted at 4:35 a.m.
---
Must-read stories from the L.A. Times
Get the day's top news with our Today's Headlines newsletter, sent every weekday morning.
You may occasionally receive promotional content from the Los Angeles Times.