Ukraine president suggests a Kremlin-orchestrated attack after former Russian lawmaker is shot dead in Kiev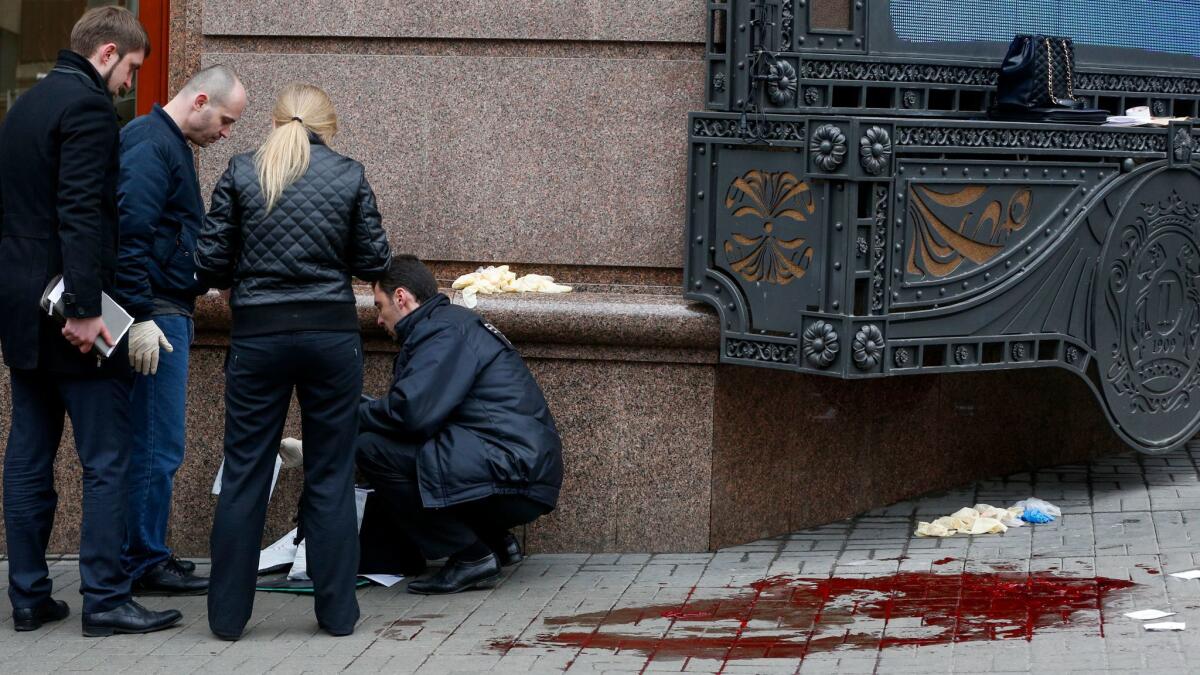 Reporting from KIEV, Ukraine —
A former Russian lawmaker and fierce critic of President Vladimir Putin who fled to Ukraine was shot dead outside a luxury hotel in Kiev on Thursday in what the Ukraine president described as a Kremlin-orchestrated act of state terrorism.
Denis Voronenkov, 45, and his bodyguard were attacked by a gunman as they were walking toward the Premier Palace, a five-star hotel in central Kiev on Thursday morning. Another Russian dissident, Ilya Ponomarev, said later Voronenkov was on his way to meet him when he was shot.
The killing quickly generated speculation that the Russian government could be behind yet another attack against a Kremlin critic. Ukraine President Petro Poroshenko, who called the killing an act of Russian "state terrorism," met with Ukrainian law enforcement agencies.
"Here is an obvious pattern of the Russian special services," Poroshenko said in the meeting, according to state news agencies.
Russian officials denied involvement in the slaying and accused Ukraine of being responsible for Voronenkov's death to "provoke" the Kremlin. Others blamed the reaction on Ukrainian "Russophobia."
"Any speculations about the alleged Russian involvement are absurd," Kremlin spokesman Dmitry Peskov told journalists in a conference call.
Russian authorities last year opened a fraud case against Voronenkov, a former Communist Party member in Russia's parliament, that he claimed was politically motivated. He fled to Ukraine in October and settled in Kiev with his wife, Maria Maksakova, an opera singer and a former lawmaker in the United Russia party, the same party as Putin.
Russia officially charged him last month.
Voronenkov had obtained Ukrainian citizenship in October and agreed to testify against ousted Ukrainian President Viktor Yanukovych, who is living in exile in Russia and being tried in absentia for treason and corruption in Ukraine. The pro-Russia Yanukovych left Ukraine in 2014 amidst a mass, anti-government protest movement.
After Yanukovych left Ukraine, Voronenkov repeatedly lambasted the country's new, pro-Western authorities.
"Even in the opposition circles, his flight to the Ukrainian side was seen as controversial, some opposition leaders called him a crook," Ponomarev told Russia's independent Dozhd television network. "I said he was not a crook, but a man who was very dangerous to corrupt Russian law enforcers, who really investigated things."
Since fleeing Russia, Voronenkov had complained to journalists and Ukrainian authorities about threats to his and his family's safety. A spokesman for the Ukrainian Ministry of Interior said the state had issued him a bodyguard for his protection.
Voronenkov and Ponomarev are among Russian dissidents who Ukrainian political analyst Volodymyr Fesenko said have fled Putin's authoritative regime since the annexation of Crimea. Ponomarev was the only Russian lawmaker to vote against the annexation of Crimea.
Fesenko, director at the Penta Centre for Political Studies in Kiev, said many business people, journalists and others live in Ukraine because they felt unsafe in Russia.
"So, to say that Ukraine is suffering from Russophobia is a joke," Fesenko said. "It's not Ukrainian media that is writing and complaining about Voronenkov now living in Ukraine. It's the Russian press. Who does such a killing benefit? Not Ukraine."
Russia critics point to various cases which they say raise suspicion about the Kremlin. Those include the 2015 slaying of Boris Nemtsov, a former deputy prime minister and Putin critic who was gunned down near the Kremlin, and the 2006 death in London of Putin opponent Alexander Litvinenko of radioactive polonium poisoning — a British judge ruled last year the poisoning "probably" occurred under orders from the Russian president.
On Thursday, investigators said the gunman approached Voronenkov as he was walking on the sidewalk near where his car was parked and appeared to ask him a question. The gunman fired off eight rounds, hitting Voronenkov twice in the head. He died on the scene.
The bodyguard shot the assailant as he attempted to flee, according to Artyom Shevchenko, the director of communications at Ukraine's Ministry of Interior. The assailant later died in a Kiev hospital from gunshot wounds, officials said. They did not identify the gunman.
Outside the Premier Palace, workers were busy scrubbing the sidewalk to clean the blood left behind. Earlier, investigators had identified the murder weapon as a Soviet-era pistol known as a TT.
"Ukraine is under attack by Russia, and Mr. Voronenkov was a key witness in the criminal case against Yanukovych," Shevchenko said. "The beneficiary of this killing is the Kremlin."
Ayres is a special correspondent. Special correspondent Mansur Mirovalev in Moscow contributed to this report.
ALSO
In Belarus, a rising fear: Will we be the next Ukraine?
David Horsey: Most Republicans are in denial about the probe into Trump-Russia ties
Under fire over Russia investigation, White House officials choose to change the subject
---
UPDATES:
4:33 p.m.: This article was updated with the death of the attacker, who had suffered gunshot wounds.
1:55 p.m.: This article was updated throughout with Times reporting.
This article was originally published at 5:15 a.m.
Sign up for Essential California for the L.A. Times biggest news, features and recommendations in your inbox six days a week.
You may occasionally receive promotional content from the Los Angeles Times.