Russians march to honor slain opposition leader and Putin critic Boris Nemtsov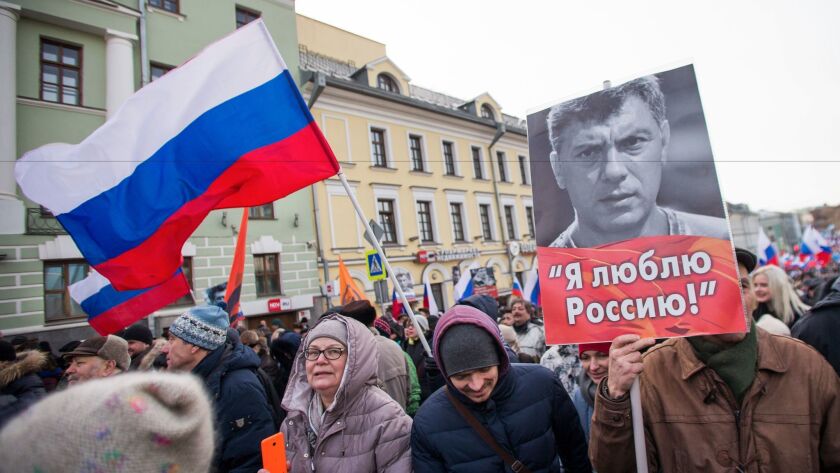 Reporting from MOSCOW —
Thousands of Russians marched in Moscow on Sunday to mark the death of Boris Nemtsov, an outspoken opposition leader who was gunned down two years ago.
The protesters chanted "Putin is a thief!" and "Give Crimea back!" and carried portraits of Nemtsov, who was one of the best known critics of Russian President Vladimir Putin and his policies.
Nemtsov — a charismatic former deputy prime minister who in the 1990s was widely seen as a successor to an ailing President Boris Yeltsin — enraged Putin's Kremlin with his investigations into government corruption and his criticism of the 2014 annexation of Crimea.
He was often lambasted on Kremlin-controlled television networks, which called him a "Western agent" and claimed he received U.S. funds to organize a coup in Russia.
Standing trial in his contract-style murder on Feb. 27, 2015, are five men with ties to Ramzan Kadyrov, the leader of Chechnya, who claims the men are innocent.
Nemtsov had accused Kadyrov of expropriating Kremlin funds allocated to rebuild the southern Russian province devastated by two separatist wars.
On Sunday, a group of protesters chanted demands for Kadyrov to be placed on trial. Human rights groups and Chechen refugees have accused him of torture, kidnappings and extrajudicial killings.
Another group, led by opposition leader and former lawmaker Dmitri Gudkov, carried Russian flags with five holes symbolizing the five bullets that killed Nemtsov, who was 55.
Police said 5,000 people showed up at the rally. But independent monitors said that at least 15,000 marched and that thousands more attended similar rallies in St. Petersburg and Nemtsov's hometown of Nizhny Novgorod.
In Moscow, an activist with a pro-Kremlin ultraconservative group threw green dye in the face of one of Nemtsov's political allies, former Prime Minister Mikhail Kasyanov.
"It only shows they are afraid of us, they can't play fair," Kasyanov told reporters after the incident.
Police confiscated some of the posters and rounded up several people, including a young man who donned a Putin mask. They tried to stop marchers from reaching the bridge where Nemtsov was killed just outside the Kremlin walls, but thousands got through and placed flowers next to his portraits displayed there.
Moscow authorities have refused to heed calls to name the bridge after Nemtsov and routinely send janitors there late at night to remove flowers, candles and portraits of Nemtsov.
"We are not afraid, no matter how much they are trying to intimidate us, frighten us," Alla Polonenko, a 32-year-old graphic designer, said after placing a bouquet of red carnations next to a black-and-white photograph.
Since his election in 2000, Putin has presided over a crackdown on opposition groups through a series of legislative measures, smear campaigns in pro-Kremlin media and arrests and trials that is widely seen as government-orchestrated.
The Moscow rally was peaceful compared with some other opposition marches. Hundreds of demonstrators were arrested and more than a dozen were sentenced to jail after a series of massive rallies held in late 2011 and early 2012 to protest of alleged vote rigging and Putin's return for a third term as president.
Mirovalev is a special correspondent.
MORE WORLD NEWS
Brazil goes a little less wild for this year's Carnival
A Muslim father and son engrave the headstones at one of India's oldest Jewish cemeteries
Sri Lankans who once embraced Chinese investment are now wary of Chinese domination
Amid U.S.-Mexico acrimony, energy might present common ground and opportunity, analysts say
---
UPDATES:
5:55 p.m.: This article was updated with staff reporting from the rally.
This article was originally published at 8:15 a.m.
---
Must-read stories from the L.A. Times
Get all the day's most vital news with our Today's Headlines newsletter, sent every weekday morning.
You may occasionally receive promotional content from the Los Angeles Times.