Spain offers to take in 629 migrants aboard rescue ship after Italy and Malta refuse
Reporting from Rome —
Spain stepped up Monday and offered to take in a rescue ship carrying more than 600 migrants after Italy and Malta refused. The diplomatic standoff left the migrants stranded in the Mediterranean Sea and laid bare the brass-knuckled negotiating tactics of Italy's new anti-immigrant government.
The United Nations refugee agency, the European Union, Germany and humanitarian groups had all demanded that Italy and Malta put their domestic politics aside and urgently consider the plight of the 629 migrants, among them more than 120 children, seven pregnant women and people suffering from hypothermia.
Italy quickly thanked Spain's new Socialist prime minister for the offer to receive aid group SOS Mediterranee's ship at the port of Valencia and announced that it had forced a turning point in Europe's migrant crisis.
But politics aside, it wasn't certain if the voyage to Spain was feasible given how far that was from the ship's current location and how long the rescue vessel had been at sea. The Aquarius on Monday was more than 750 nautical miles from Valencia and by late Monday said it hadn't received any instructions yet to head to Spain.
"It means that we need at least two more days of sailing, which is not possible today with 629 people on board," SOS Mediterranee Maritime Operations Manager Antoine Laurent said. "The situation is stable but it cannot run" forever.
Doctors Without Borders, which has staff aboard the Aquarius, said the rescued migrants were stable for now but that food and water on the ship would run out by Monday night. It said some passengers had seawater in their lungs as well as chemical burns caused when gasoline mixes with seawater.
Late Monday, Malta sent a motorboat with food and water to resupply the migrant ship.
"The duty of a democratic government is not to look away" in a humanitarian crisis, said Barcelona Mayor Ada Colau, who also offered her port as a potential solution to the standoff.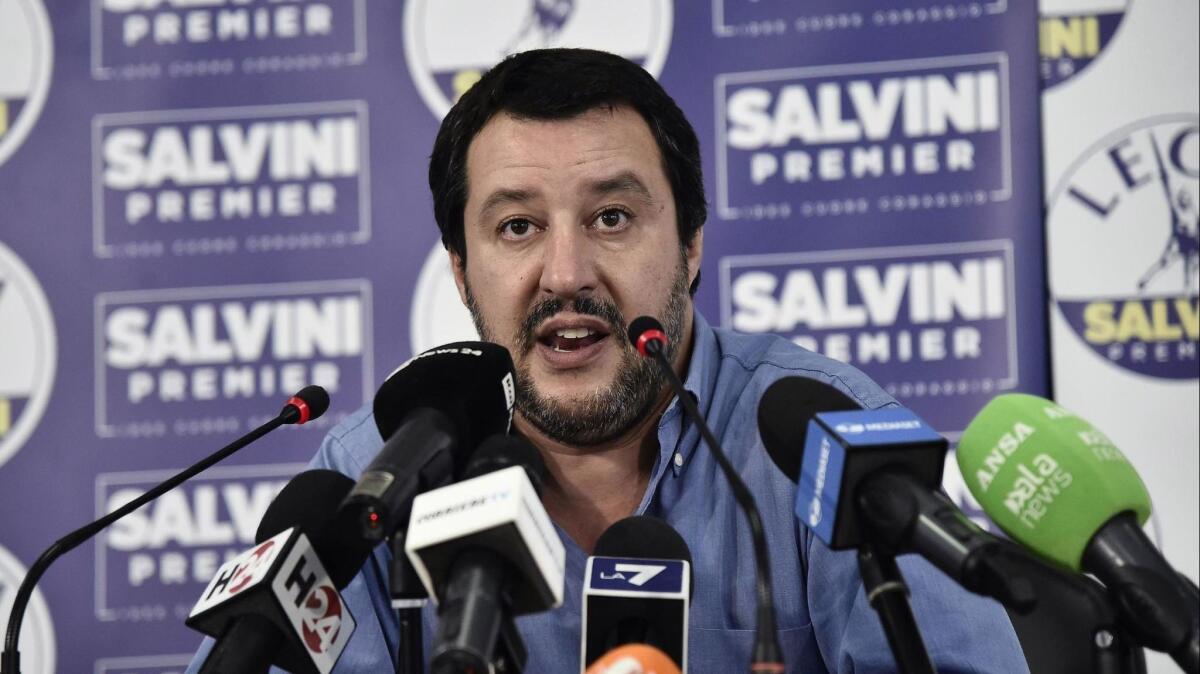 Despite the diplomatic pressure, Italy and Malta held firm, with Italian Interior Minister Matteo Salvini clearly using the high seas drama as a pretext to force the hand of Italy's European neighbors. Italy has long demanded that the EU change its migration policy and make good on promises to accept more refugees, saying that Italy has been left alone to coordinate rescues and accept tens of thousands of migrants a year for asylum processing.
"Enough!" Salvini said Monday. "Saving lives is a duty, but transforming Italy into an enormous refugee camp isn't."
He tweeted: #Chiudiamoiporti. "We're closing the ports."
His co-deputy premier, Luigi Di Maio, claimed that Monday was a turning point in Europe's divisive debate over immigration.
"From now on, Italy isn't alone, and we hope other European leaders follow" Spain's example, said Di Maio, who along with the League is seeking to renegotiate the EU regulations that determine which EU country is responsible for processing asylum claims.
The migrants had been rescued from flimsy smugglers' boats in the Mediterranean during a series of operations Saturday by Italian naval ships, cargo vessels and the Aquarius itself. All passengers were offloaded to the Aquarius to be taken to land.
Italy argued that Malta should accept the Aquarius because Malta was the safest, closest port to the ship. Malta said Italy coordinated the rescues and that the tiny island nation — which in the last few years has accepted only a few hundred migrants — has had nothing to do with it.
Maltese Premier Joseph Muscat accused Italy of violating international norms governing sea rescues and said its stance risked "creating a dangerous situation for all those involved."
Spain's new Socialist prime minister, Pedro Sanchez, ordered authorities in Valencia to open the port, saying, "It's our duty to avoid a humanitarian catastrophe and offer a secure port for these people."
Laurent, of SOS Mediterranee, acknowledged Spain's offer of solidarity but said it wasn't up to the Rome-based rescue coordination center run by the Italian coast guard. And he said the logistics and time counted against setting a course for Spain.
Still, both Muscat and new Italian Premier Giuseppe Conte readily thanked Spain for the offer, with Conte saying, "it goes in the direction of solidarity."
As the rhetoric intensified, the Aquarius remained on standby in the Mediterranean Sea with its 629 passengers. The ship said it had been ordered by Italy's coast guard late Sunday to remain 35 miles off Italy and 27 miles from Malta, and there it remained Monday.
A doctor on the ship, Dr. David Beversluis, said there were no medical emergencies onboard but one passenger had to be revived after he was rescued.
"All the survivors are exhausted and dehydrated because they spent many hours adrift in these boats," he said.
Almost a quarter of the migrant survivors hail from Sudan, the group said.
Doctors Without Borders tweeted a video of some of the women aboard the ship praying Monday morning, saying they were unaware of the diplomatic fight being waged over their fate.
"Thank you, Lord," the women sang.
The standoff marked the first inevitable clash over migrant policy with League leader Salvini, who is now running Italy's Interior Ministry. Salvini campaigned on an anti-immigrant platform that included a vow to expel hundreds of thousands of migrants already in Italy, even though experts doubt such mass deportations are feasible or financially viable.
Malta, for its part, has consistently refused to take in migrants, citing its small size and limited capacities. The island nation has reduced the number of migrants it has taken in over the past decade, from a high of 2,775 in 2008 to just 23 last year, according to U.N. statistics.
Salvini pointed to Malta's unwillingness to help in accusing Europe as a whole of leaving Italy on its own to deal with the refugee crisis. He noted that other European countries are very much involved in migrant rescue operations in the Mediterranean — including a German aid group currently off the coast Libya — but no country is stepping up to actually take in the migrants once they are plucked from boats or the sea.
"Italy has stopped bowing our heads and obeying," Salvini said in a Facebook post. "This time we say no."
Sign up for Essential California for news, features and recommendations from the L.A. Times and beyond in your inbox six days a week.
You may occasionally receive promotional content from the Los Angeles Times.