Putin weaves KGB tradecraft and attention to detail in a remarkable meeting with Trump
Reporting from Helsinki, Finland —
At a rally before cheering supporters this month in Montana, President Trump declared nonchalantly of his then-upcoming summit with Russia's leader: "I have been preparing for this stuff my whole life."
But on Monday, with a world audience looking on, the summit looked far more like a culminating moment in the political life of Vladimir Vladimirovich Putin.
The 65-year-old Russian president was by turns commanding and confident as he stood side-by-side with Trump at a news conference, artfully mixing in occasional expressions of boredom or bemusement as he spoke. Virtually unchallenged by Trump, he asserted that Moscow has "never interfered" in an American political contest, and would not do so in the future.
That, of course, flies in the face of U.S. intelligence assessments that Moscow mounted a comprehensive campaign against the U.S. electoral system in 2016, and is pressing ahead with that effort, with midterm elections just four months away.
For Putin, a former spymaster who once lamented the breakup of the Soviet Union as the greatest geopolitical catastrophe of the 20th century and has long sought at least symbolically equal footing with the world's only other nuclear superpower, Helsinki was a moment of triumph.
But while the joint news conference was perhaps the apex of Putin's nearly two decades on the global stage, it was also in some ways a return to his roots. The Russian leader made explicit reference to his long career as a KGB operative, alluding almost teasingly to his intimate knowledge of tradecraft even as he listened to the U.S. president cast doubt on the conclusions of his own intelligence agencies.
"I was an intelligence officer myself," he said dryly at one point. Asked directly by a U.S. reporter whether he had compromising material on Trump, Putin dodged the query by pointing out that hundreds of American business figures had visited Moscow, as the U.S. president did years before his candidacy.
"Do you think we try to collect compromising material on each and every single one of them?" the Russian leader asked scornfully.
Later, in an interview with Chris Wallace of Fox News, Putin categorically denied that Russia had anything compromising on Trump. "Unlike you, unlike the United States, we don't do this. We don't have enough resources," he said.
It was in 1999, in a chaotic and floundering post-Soviet Russia, that Putin was plucked from relative obscurity as a KGB functionary to assume first the post of prime minister and then the presidency. He has never since been out of power.
To survive in the cutthroat world of Russian politics, Putin drew upon the ruthless persona he cultivated during his intelligence career. Few serious challenges to his power have emerged, but when they have, critics and human rights groups say he has repeatedly shown himself willing to sideline foes by deadly means if necessary.
Over the years, Putin learned ways large and small to keep adversaries off balance, once bringing a dog to a meeting with German Chancellor Angela Merkel, who was known to fear them. In Helsinki, he employed a longtime strategem, keeping Trump waiting for nearly an hour as he arrived late for the summit's start.
And he carried over a long-held habit from his intelligence days: strict attention to detail, with the ability to regurgitate arcane information at will.
Putin crisply demonstrated his comprehensive grasp of policy questions, including provisions contained in decades-old arms treaties; Trump, by contrast, seemed confused during a pre-summit meeting with Finland's president as to whether the host country is a member of NATO. (It is not.)
At the news conference, Putin was studiedly bland in characterizing the closed-door talks with the U.S. side, discussions that included more than two hours spent one-on-one with Trump. "Businesslike" was his description of the summit talks.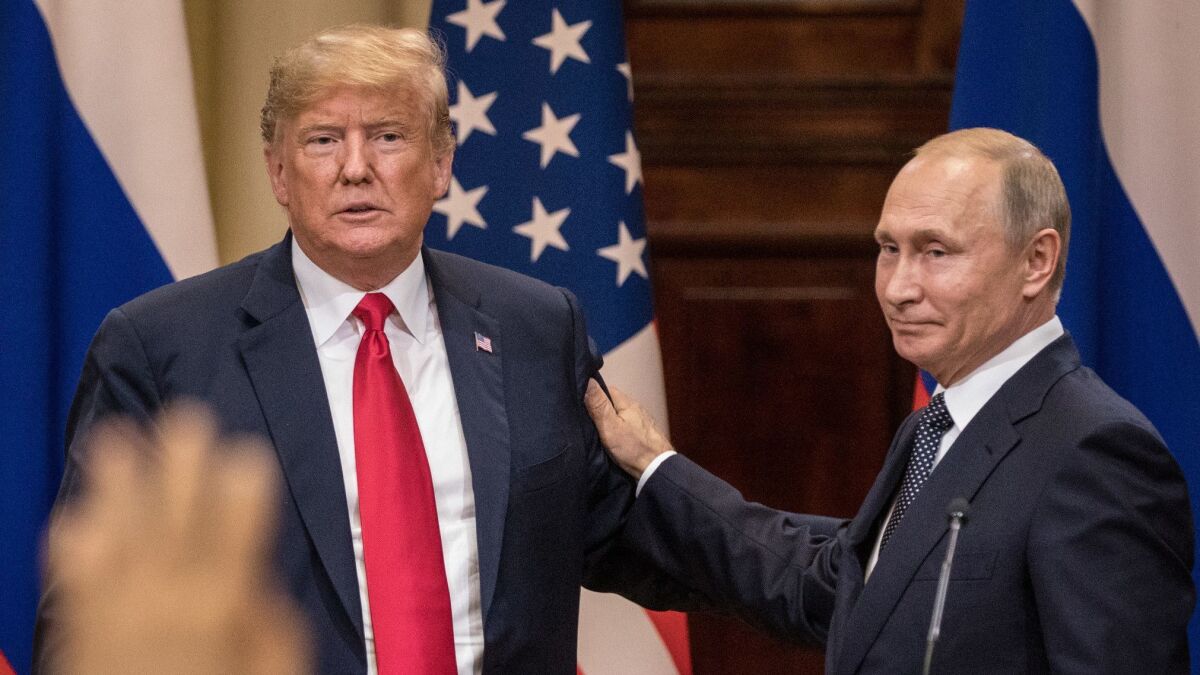 But his veteran foreign minister, Sergei Lavrov, was freer to telegraph the Kremlin's sentiments, wearing a broad smile as he entered the room where the news conference was held. Russian media afterward quoted him as summing up the summit as "fabulous … better than super."
In Helsinki, Putin reverted to a classic Kremlin playbook when U.S. reporters asked him about election interference, protesting that he had not been provided with the details of accusations against his government, and offering Russian investigative assistance to get to the bottom of the affair.
That echoed Moscow's response to the poisoning with a military-grade nerve agent this year of Russian turncoat spy Sergei Skripal and his daughter on British soil. A British woman died and her companion was seriously sickened after apparently coming in accidental contact with a remnant.
Like any good KGB case officer, Putin managed Monday to weave subtle and not-so-subtle threats into seemingly conciliatory statements.One was directed at the American-born British financier Bill Browder, who made billions in Russia before running afoul of the Kremlin.
Browder has lobbied governments around the world to adopt a sanctions-imposing mechanism named for his lawyer, Sergei Magnitsky, who died under suspicious circumstances in Russian custody. In offering to "assist" in the U.S. probe of Russians accused of meddling in the U.S. presidential election, Putin suggested that Russian authorities should be allowed to question U.S. intelligence officers who, he suggested, were complicit in supposed tax violations by Browder.
At the news conference, Putin did not even have to offer up defenses for Russia's 2014 annexation of the Crimean peninsula or the downing that year of a Malaysia Airlines passenger jet over eastern Ukraine that killed some 300 people. Trump in essence did that for him, saying he held "both countries responsible" for the fraught state of U.S.-Russia relations.
In Putin's early years in power, his heavy hand with the country's oligarchs and mafia impressed the West, and domestically, Russians embraced his policies even as he stifled independent media and muzzled critics.
There was no indication that Trump brought up Putin's pitiless style in confronting perceived enemies, but in the Fox interview, aired hours after the summit, Wallace pressed the Russian leader on opponents who "wound up dead." Putin retorted: "Haven't presidents been killed in the United States?"
Putin's course toward a more authoritarian government became most apparent four years into his presidency, when two former Soviet republics, Georgia and Ukraine, sought to turn toward the West. The Kremlin perceived this as a threat, and Putin tightened his grip on dissent at home.
Then came massive street protests in Ukraine over the decision by Ukraine's then-president, a Putin ally, to not sign an association agreement with the European Union. Putin sent in troops to Ukrainian Crimea, organized what was derided as a sham referendum and annexed the peninsula.
The United States and the European Union placed harsh economic sanctions on Russia for the Crimean annexation, and Putin's position on the world stage deteriorated. Meanwhile, he was praised at home for defying the West, but economic malaise and dissatisfaction over corruption have dragged down his approval ratings.
Heading into the summit, Trump insisted that personal chemistry with Putin would be key to resolving U.S.-Russia tensions. At the news conference, the U.S. leader suggested that the initial one-on-one meeting, with only interpreters present, had eased prior antagonisms.
"That changed as of about four hours ago," Trump said, referring to the time frame of the start of the private session. "I really believe that."
Putin, though, swiftly pivoted to a far more realpolitik-style description of the relationship between the two, declaring that both leaders pursued the interests of their own countries.
"Where did you get the idea that the president trusts me?" he asked. "Or I trust him?"
Special correspondent Ayres reported from Helsinki and Times staff writer King from Washington.
---
UPDATES:
5:05 p.m.: This article has been updated with reaction, background, Fox interview.
---
Must-read stories from the L.A. Times
Get the day's top news with our Today's Headlines newsletter, sent every weekday morning.
You may occasionally receive promotional content from the Los Angeles Times.