In Taiwan, another former president is sentenced to prison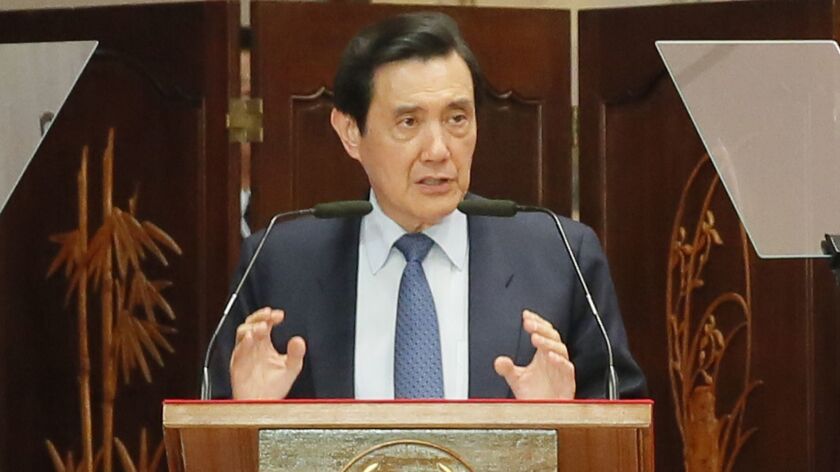 Reporting from Taipei, Taiwan —
Former Taiwan president Ma Ying-jeou was sentenced Tuesday to four months in prison on charges he leaked classified information, making him the island's second consecutive leader to face prison time and the third to be tried for a crime after leaving office.
The common fate of Taiwan's former presidents points to soft spots in the legal system of a relatively young democracy, political scholars say. Judges come under pressure from Taiwan's two major political camps, some analysts say, and Taiwanese increasingly demand that politicians be punished for graft that was once tolerated.
"Things are not yet institutionalized. We're a developed country, but a lot of matters are still up to human beings, and in the legal system that's all the more obvious," said Huang Kwei-bo, international affairs college vice dean at National Chengchi University in Taipei. "We've got a lot of distance to cover. Superficially we are a full-fledged democracy but inside it's not yet."
The Taiwan High Court overturned an August district court verdict that found Ma not guilty of helping to leak classified information. Prosecutors had charged him with giving information in 2013 from a wiretap to his cabinet premier at the time, Jiang Yi-huah. A former government prosecutor authorized the wiretap to probe the suspected influence-peddling of justice officials by the former president of parliament.
The court found "objective facts" to support overturning the original verdict Tuesday and did not consider anyone's political views, spokesperson Wu Wei-ya said. She said the judge gave Ma a sentence of four months, lower than the maximum of three years in prison, because he was guilty, but of a "light" crime.
"He should have a deep [legal] understanding and experience," Wu said. "What he leaked out was rather limited and done orally rather than a whole document in writing."
Ma served as president from 2008 to 2016, when he stepped down because of term limits. The 67-year-old law scholar and former justice minister — also an advocate of stronger ties with Taiwan's political rival China — had campaigned for president on pledges to turn Taiwan into a model for clean government.
Ma's predecessor Chen Shui-bian received a 19-year prison sentence in 2010 for crimes related to bribery and graft. The following year prosecutors charged former President Lee Teng-hui with embezzling state funds. Lee went to trial but was cleared. He was Taiwan's first directly elected president and served for 12 years ending in 2000.
Chen and current President Tsai Ing-wen are backed by the same party. Ma and Lee ran with Taiwan's chief opposition party.
Ma's spokesperson Hsu Chiao-hsin said in a statement Tuesday the ex-president planned to appeal "to the very end" and that the disclosure of information in 2013 was "something a responsible president should do."
Courts may feel a mandate from the Taiwanese people as they expect more honesty from their leaders now with the growth in democracy, said Jens Damm, associate professor in the Graduate Institute of Taiwan Studies at Chang Jung Christian University in Taiwan. Taiwan democratized in 1987 after four decades of authoritarian rule.
Corruption "was for a long time socially accepted, that everybody does it," Damm said. "Then things changed, and it has led to people being charged and going to prison. People have been educated that this is not right."
Political figures now may accuse courts in Taiwan of favoring their opponents when verdicts go against them, said Raymond Wu, managing director of Taipei-based political risk consultancy e-telligence. Chen, for example, had maintained he was innocent and called himself the target of a political plot.
Some supporters of Ma also questioned Tuesday whether the court had evidence.
"Judicial independence should be one of the last frontiers in terms of defending fairness and equality in any democracy," Raymond Wu said. "If parties accuse the judiciary as always being biased or prejudicial, that's not helping judicial independence."
Jennings is a special correspondent.
---
Must-read stories from the L.A. Times
Get the day's top news with our Today's Headlines newsletter, sent every weekday morning.
You may occasionally receive promotional content from the Los Angeles Times.