Britain's Theresa May seeks way forward on Brexit after surviving no-confidence vote by Parliament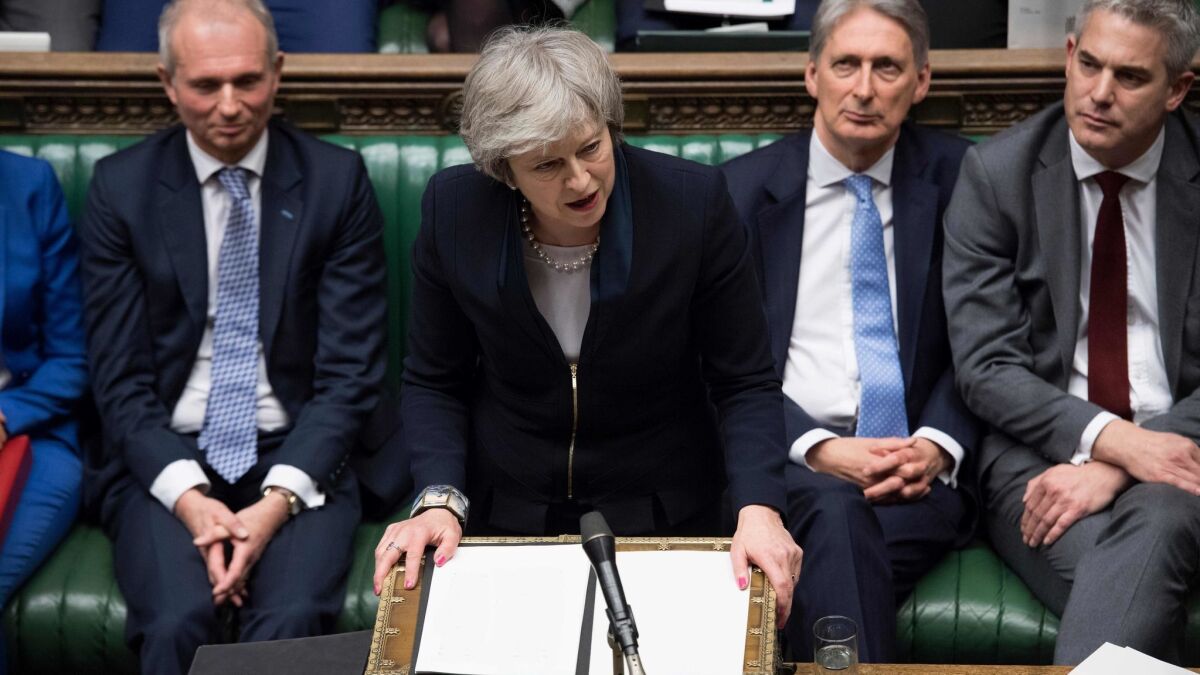 Reporting from LONDON —
British Prime Minister Theresa May late Wednesday remained determined to deliver Brexit amid political mayhem this week that brought overwhelming parliamentary defeat of her proposal for leaving the European Union but victory over a move to strip away her power.
May, speaking outside her Downing Street residence, said the average Briton had no doubt found the last 24 hours unsettling. It was time for lawmakers to put their self-interests aside and come to an agreement on how the country should exit from the EU, she said.
Members of Parliament "know they have a duty to act in the national interest, reach a consensus and get this done," she said. "It's time for us to come together."
Earlier Wednesday, May had survived a parliamentary vote of no confidence as lawmakers bitterly divided about Brexit rejected the move against her government by a vote of 325 to 306.
May has faced fierce, bare-knuckle criticism of her handling of the nation's planned exit from the 28-nation EU in March.
Moments after the result of the no-confidence vote was announced, May vowed to continue to fight to identify a way forward for Brexit. She also invited leaders of all political parties to meet with her.
"We must find solutions that are negotiable and commands sufficient support in this house," May said.
Opposition Labor Party leader Jeremy Corbyn, who called for the no-confidence vote, immediately put preconditions on those talks, calling on May to put the "catastrophe of a no-deal" Brexit off the table.
A day earlier, lawmakers resoundingly rejected May's proposed Brexit agreement with the EU by 432 to 202.
Before the vote Wednesday, Corbyn accused May of presiding over a "zombie government" that had handled Brexit with "sheer incompetence," and he called on her to resign.
"The prime minister is trying to blame everybody else," he said about Tuesday night's defeat of a deal that had taken months to negotiate but ultimately left pro- and anti-EU politicians deeply unhappy.
May said that resigning or calling a general election would only "deepen division when we need unity" and that she would not voluntarily step aside.
Even though the prime minister's Conservative Party does not have a majority in Parliament, Ireland's Democratic Unionist Party — which May depends on for support to govern — said it would back her in Wednesday's no-confidence vote, which made the chance of defeat appear unlikely.
Members of the DUP, however, were among scores of lawmakers from all corners of the political spectrum who rejected May's Brexit deal.
Their concerns centered on an element of the exit agreement aimed at avoiding a hard border between Ireland, an EU member, and Northern Ireland, which will leave the EU along with the rest of Britain, if no future trade deal can be agreed upon.
DUP lawmakers said the so-called backstop plan, which would see Northern Ireland more closely aligned with the EU, would threaten the integrity of the U.K., and therefore they could not endorse it. They said they still backed the party.
We "never wanted a change of government, we wanted a change of policy," DUP lawmaker Sammy Wilson said after Tuesday night's vote.
May still faces the task of coming up with a plan that Parliament will endorse.
The challenge is daunting. When it comes to Brexit, despite nearly two years of negotiations with EU leaders in Brussels, Britain's Parliament can agree only that it does not agree on anything. British voters favored leaving the EU 52% to 48% in a 2016 referendum, with those wanting the break pointing to issues including sovereignty and immigration.
After Tuesday's defeat, May vowed to speak to a cross section of parties with a "constructive spirit" in an effort to hear other solutions that could be taken to the EU.
European leaders were showing little willingness to negotiate further.
French President Emmanuel Macron said Wednesday the EU had "reached our limits with this deal."
And with just 10 weeks left until Britain is due to formally leave the bloc on March 29, time is running out.
"We are moving closer to the cliff edge," said politics professor Matthew Flinders at the University of Sheffield.
Many lawmakers were stepping up their calls for a second referendum as a way to hand the decision back to the people.
May has thus far ruled out that option, saying the country voted for Brexit, and that is what her government is morally and politically obliged to deliver.
"Parliament must finish the job," May said, and she has warned that any attempt to thwart or overturn Brexit would strike a devastating blow to voters' belief in democracy.
Flinders questioned whether going back to the people would be the way to break the deadlock.
"It might clear the problem for Parliament," he said, "but it wouldn't clear up deeper social tensions."
Boyle is a special correspondent.
---
Must-read stories from the L.A. Times
Get the day's top news with our Today's Headlines newsletter, sent every weekday morning.
You may occasionally receive promotional content from the Los Angeles Times.