In Tijuana, a city of migrants turns on Central American caravan that's reached the border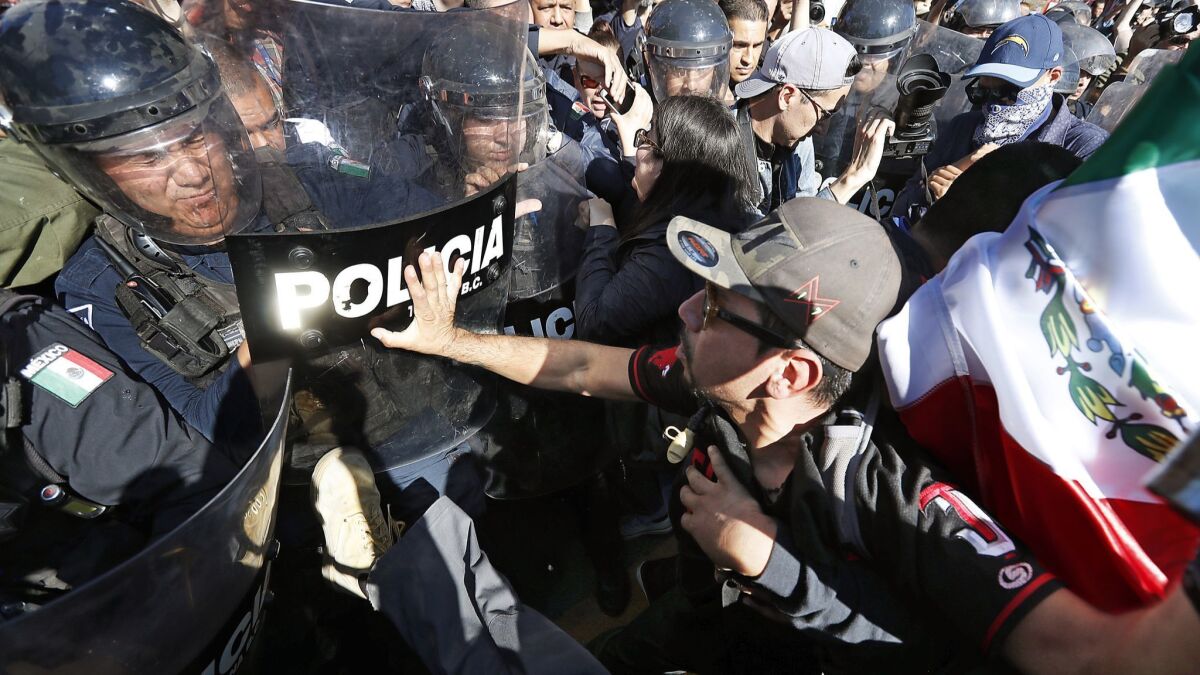 Reporting from Tijuana —
This city of migrants has turned on the caravan of thousands of Central American migrants that has roiled the border town.
"This is an invasion!" shouted Luis Alexis Mendoza, 30, a bespectacled carpenter who was among scores of protesting Tijuana residents staging an anti-caravan demonstration Sunday that culminated in a standoff with riot police on the street where more than 2,000 Central Americans were being housed in a sports facility. "We demand respect! We demand that our laws be followed."
He and others denounced caravan members — mostly Honduran nationals — as "criminals," "bums," and "freeloaders," among other negative characterizations used to describe the Central Americans.
Protesters sang the Mexican national anthem and waved Mexican flags in a loud display of nationalism and anti-caravan sentiment.
A march by protesters through downtown took on the character of a mob as angry demonstrators tried to storm the sports facility housing caravan participants, who began arriving last week in Tijuana after a month on the road.
Word that angry Mexican protesters were approaching the sports complex sent many migrants running back inside. Fear and uncertainty reverberated in the sports facility.
"We feel trapped," said Jose Antonio Paz, 32, who traveled from the city of El Progreso, Honduras, with his wife and four daughters. "People came after us with rocks. How can we defend ourselves?"
Added Linda de Los Angeles Morales, from El Salvador: "We were outside looking for food when we heard the Mexicans were coming after us…. Now we are locked inside and scared. What if they come to get us at night?"
The danger meant that most migrants could not leave the facility to seek food to supplement the meager meals provided at the facility. In the late afternoon, many lined up at the gates seeking to leave the complex in search of food.
"This is a public health emergency waiting to happen — especially as more people arrive from this and other caravans," said Dr. Allen Keller from Bellevue Hospital in New York, one of a number of volunteers who has arrived to help out at the sports complex.
Police wearing helmets and carrying plastic shields rebuffed the demonstrators' efforts to rush the sports facility.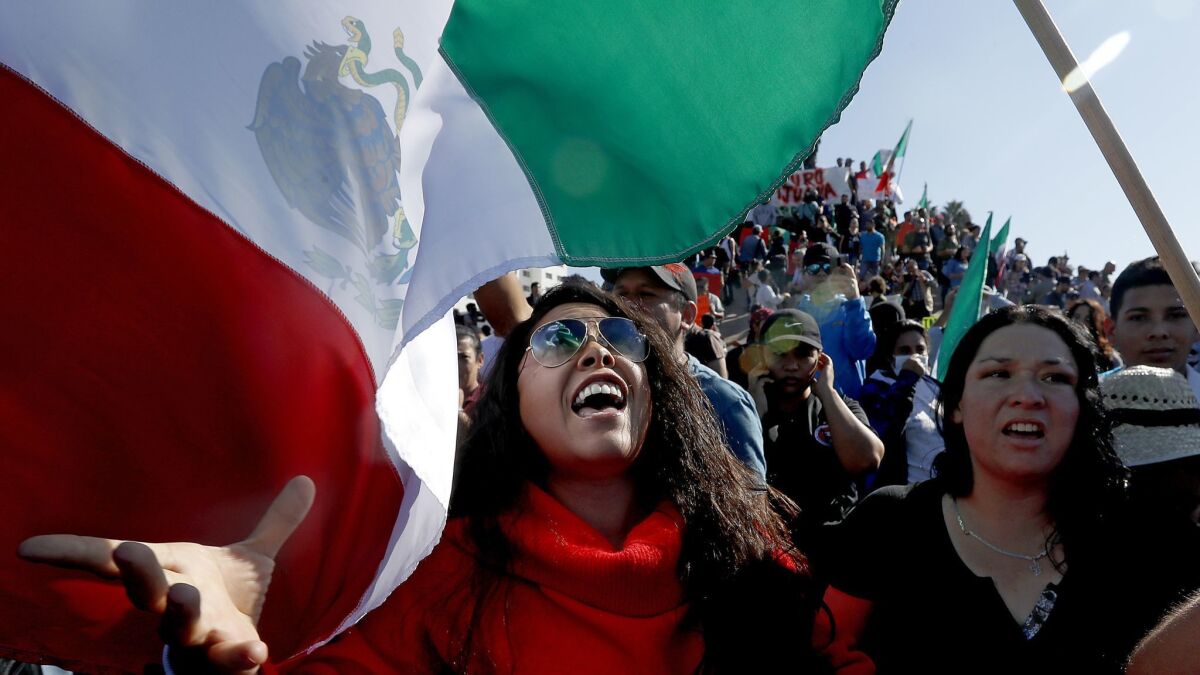 No injuries were reported in scuffles between police and protesters, who lingered for hours outside the concrete barricades sealing entrances to the makeshift shelter.
But the episode highlighted the stunning hostility that the caravan has encountered in a city of 1.6 million that has long been a way station for U.S.-bound migrants — mostly from Mexico but multitudes from Central America as well.
Ironically, many protesters echoed the complaints of President Trump, who denounced the caravan as an "invasion" and a threat to national security.
"We are not with Trump — he has spoken horribly about Mexicans — but he is right in that every country has a right to defend its borders," said Alejandra Garcia, 52, a mother of two who was among about 150 gathered as the protest began along a major boulevard here featuring a statue of Cuauhtemoc, the last Aztec emperor. "This is not about xenophobia. We are not against immigrants. Most everyone in Tijuana came from somewhere else. But people must come here in an orderly fashion and not try and make trouble."
Many contrasted the boisterous arrival of caravan members with the low-key influx of as many as 2,000 Haitian migrants in the last 18 months. Many Haitians, denied entry to the United States, have found jobs here and melded into Tijuana society.
"The Haitians came here to work, they respected our laws," said Rafael de Jesus Franco Armas, 57, a high school teacher here who said he was himself of Guatemalan ancestry. "Central Americans are our brothers. But these Hondurans have come to cause a scandal."
Tijuana's Zona Norte, where Sunday's protest march culminated, was once a smuggler's hub and home to cheap hotels and safe-houses where migrants, mostly Mexican nationals, congregated before crossing the border.
But, in recent years, U.S. authorities have largely shut down illegal entry from Tijuana by erecting several layers of fencing and other obstacles while bolstering Border Patrol ranks.
Many of the caravan members are expected to apply for political asylum in the United States, an option largely not available for Mexican nationals. They say they plan to try to cross legally and make their asylum claims, despite warnings from the Trump administration that they will face long waits with little prospect for success.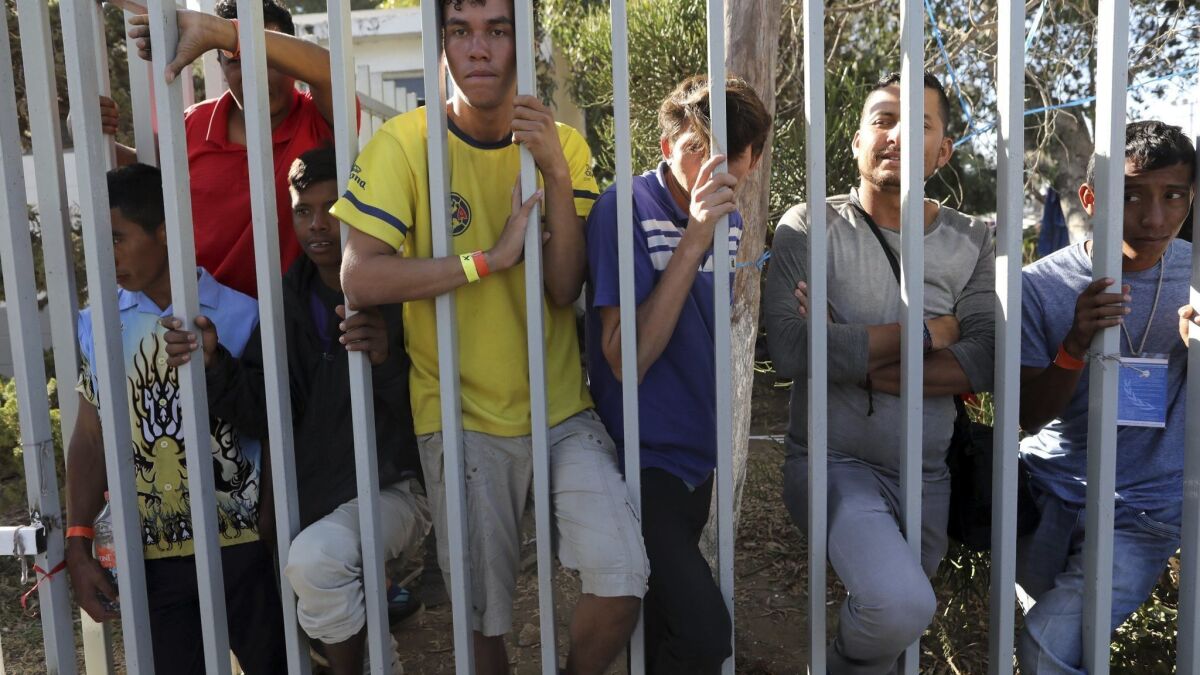 The influx of Central Americans — several more caravans are on the way — has posed a humanitarian, logistical and public safety quandary for Tijuana authorities, who were caught off guard by the sudden arrival of the initial caravan last week. The group had been expected to take at least one more week before reaching the border, but many caught rides on buses and trucks that expedited their trip north.
The mayor of Tijuana has denounced many caravan members as "bums" and city officials have pleaded for help from federal authorities in Mexico City to help handle the wave of U.S.-bound migrants. The migrants could be stuck in Tijuana for as long as six months, city officials say, since they have little chance of entering the United States. As many as 10,000 caravan travelers could arrive here in coming days and months, authorities said.
"We are helping as much as we can, we are respecting their human rights, but we are overwhelmed," said Genaro Lopez Moreno, local delegate for downtown Tijuana. "We are doing all we can at the moment."
Special correspondents Cecilia Sanchez in Mexico City and Liliana Nieto del Rio in Tijuana contributed to this report.
Twitter: @PmcdonnellLAT
---
Must-read stories from the L.A. Times
Get the day's top news with our Today's Headlines newsletter, sent every weekday morning.
You may occasionally receive promotional content from the Los Angeles Times.