5-year-old boy dies of Ebola as Uganda cases rise to 3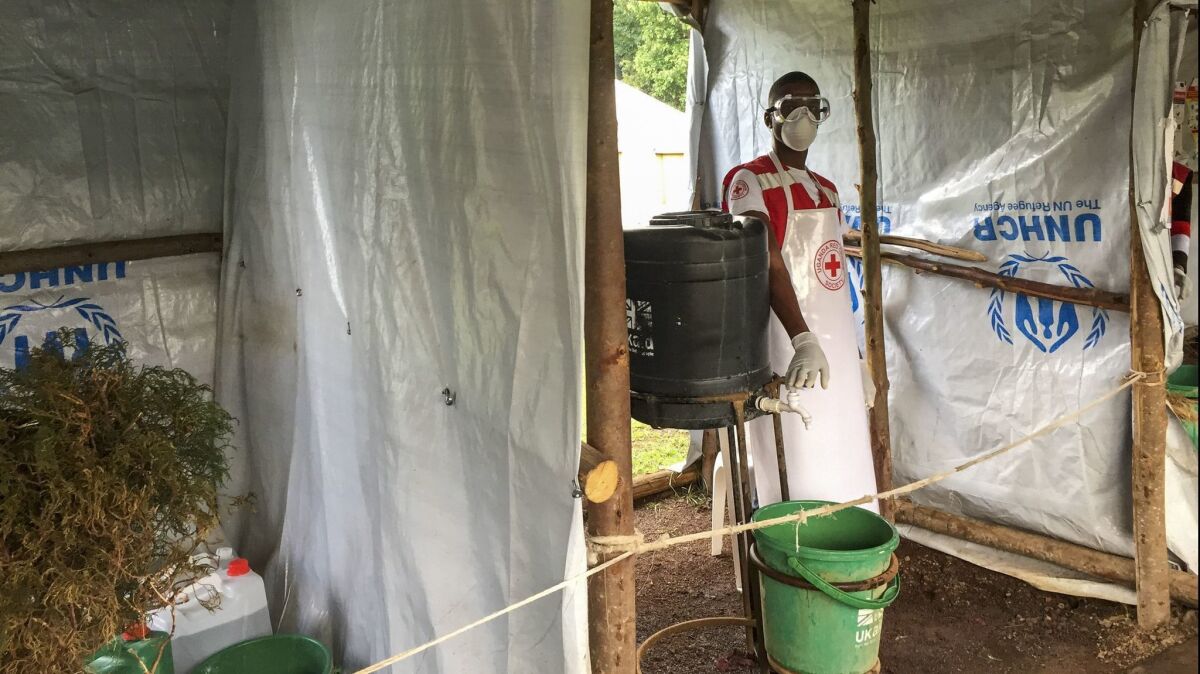 Reporting from BENI, Congo —
A 5-year-old boy vomiting blood became the first cross-border victim of Ebola in the current outbreak on Wednesday, as two more people in Uganda tested positive for the highly contagious disease that has killed more than 1,400 in Congo.
The boy, part of a Congolese family who crossed into Uganda earlier in the week, died overnight, the World Health Organization said. The two new cases are believed to be among his family members, who have been isolated at a hospital near the Congo border. Uganda now has three confirmed Ebola cases.
Authorities are trying to determine how the family, exposed to the virus in Congo, managed to cross a border where for months health officials have been screening millions of travelers.
This has become the second-deadliest Ebola outbreak in history since the first cases were declared in August.
Congo's health ministry said a dozen members of the boy's family had showed symptoms of Ebola and were put in isolation. But six managed to leave while awaiting transfer to an Ebola treatment center. They crossed into Uganda, where the boy received treatment and relatives were isolated. Two developed symptoms and were being tested.
Experts have long feared Ebola could spread to neighboring countries because of rebel attacks and community resistance hampering virus containment work in eastern Congo, one of the world's most turbulent regions. The virus can spread quickly via close contact with bodily fluids of those infected and can be fatal in up to 90% of cases.
Ugandan health teams "are not panicking," Henry Mwebesa, a physician and the national director of health services, told the Associated Press. He cited the country's experience battling previous outbreaks of Ebola and other hemorrhagic fevers.
"We have all the contingencies to contain this case," Mwebesa said. "It is not going to go beyond" the patient's family.
The Congolese family likely did not pass through official border points, where health workers screen all travelers for a high temperature and isolate those who show signs of illness.
Must-read stories from the L.A. Times
Get the day's top news with our Today's Headlines newsletter, sent every weekday morning.
You may occasionally receive promotional content from the Los Angeles Times.