As tensions grow, Ukraine closes its border to all Russian males ages 16 to 60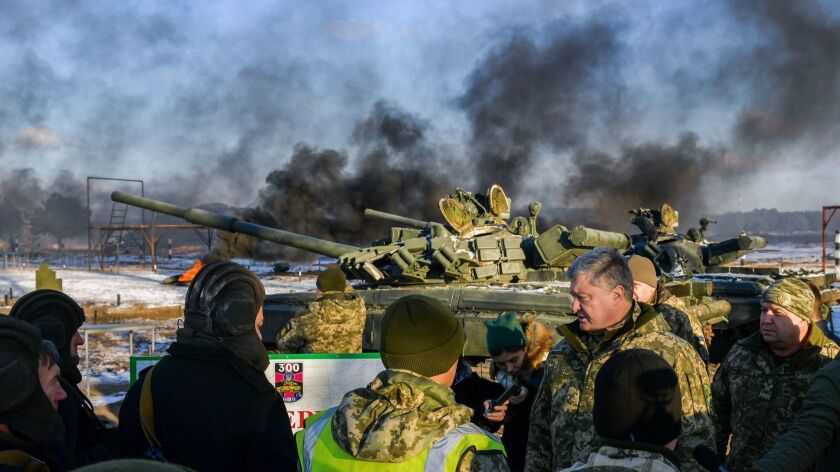 Reporting from KIEV, Ukraine —
Ukrainian President Petro Poroshenko announced Friday that Ukraine would bar Russian men from entering the country as part of a 30-day martial law imposed this week amid escalating tensions between Russia and Ukraine.
Poroshenko said the ban on Russian males ages 16 to 60 would prevent the creation of "private" armies that could be coordinated by Russian armed forces inside Ukrainian territory, something Kiev accused Moscow of doing during the lead-up to the annexation of Crimea in 2014 as well as in the eastern regions of Ukraine, where an armed conflict with Moscow-backed militias has killed more than 10,300.
"We will not let the Russians carry out operations they have been planning as far back as 2014," Poroshenko said on Twitter. Shortly after the announcement on Friday, Ukrainian media reported that nearly all Russian citizens — male and female — were being denied entry to Ukraine. The Ukrainian government also announced travel restrictions to Crimea and any territory controlled by Russian-backed separatists.
The ban offered some clarity on what has been a confusing three days since Ukraine went under martial law. Ukraine's parliament approved Poroshenko's call to impose martial law in response to Russia's attack on three Ukrainian naval vessels near the Kerch Strait on Sunday. Russia detained 24 crew members from the ships and charged them with illegally crossing the border.
While martial law began Wednesday across 10 regions, it has so far been uncoordinated, leaving many wondering how the measure will prepare the country for a potential Russian attack.
Russian President Vladimir Putin dismissed the call for martial law as a "provocation" meant to boost Poroshenko's slumping approval ratings ahead of the presidential election in March.
Meanwhile, Poroshenko has faced criticism at home as well, with many saying that martial law was declared as a political stunt rather than an act to defend the country.
Poroshenko has defended himself during a media blitz this week, which has included appearances on CNN and NBC, in which he warned that Ukraine is "under threat of a full-scale war with the Russian Federation" and that the conflict risks spreading to previously unaffected areas such as Kharkiv, Ukraine's second largest city, about 40 miles from the Russian border.
Poroshenko claims he has evidence that Russian forces along Ukraine's borders have quadrupled and martial law is essential to preparing the country in the wake of the Kerch Strait incident.
"We hope that states within NATO are now willing to deploy naval vessels to the Sea of Azov," Poroshenko told the German Bild newspaper Wednesday. The same day he helicoptered to an army training facility near Ukraine's northern border with Russia to inspect preparations.
The North Atlantic Treaty Organization so far has not announced any plans to move naval vessels into the Sea of Azov, which is jointly controlled by Ukraine and Russia. "All allies expressed full support for Ukraine's territorial integrity and sovereignty," NATO head Jens Stoltenberg said. Any plans for additional support for Ukraine will be discussed next week at a meeting of NATO foreign ministers.
Though western countries have expressed concern with the escalating tensions between Ukraine and Russia, few have offered concrete support. "We can only resolve this in talks with one another because there is no military solution to all of these conflicts," German Chancellor Angela Merkel said Thursday.
Many details of the martial law order have been left to regional officials to interpret for themselves. Some officials have stated that martial law bans any kind of protest from taking place, while others have debated whether it would allow firework sales ahead of the New Year's holiday.
"They don't even know what to do with [martial law]," said Dmytro Bulakh, a Kharkiv region deputy and anti-corruption activist. "I think martial law needed to be put in force in 2014. That was real war."
But some believe instituting martial law is meant to grab the attention of Ukraine's western partners and convince them of the seriousness of the situation when Ukraine has increasingly few options. Ukraine lost most of its naval capabilities when Russian annexed Crimea in 2014.
"Martial law is mostly being used as a tool to pressure for more support from the international community," said Yulia Yesmukhanova, a Ukrainian political analyst and independent consultant on governance projects. "Poroshenko is using the tools he has, even if they aren't effective."
Russia has been more decisive, declaring it will move new S-400 surface-to-air missile batteries to Crimea in response to the Kerch Strait incident. On Friday, a Russian court in Crimea ordered the 24 captured Ukrainian troops to be held in custody for two months pending possible trial.
---
UPDATES:
11:10 a.m.: This article was updated with Los Angeles Times reporting.
This article was originally published at 1:20 a.m.
---
Must-read stories from the L.A. Times
Get all the day's most vital news with our Today's Headlines newsletter, sent every weekday morning.
You may occasionally receive promotional content from the Los Angeles Times.