Putin blames Ukraine for standoff as Russia boosts defenses in Crimea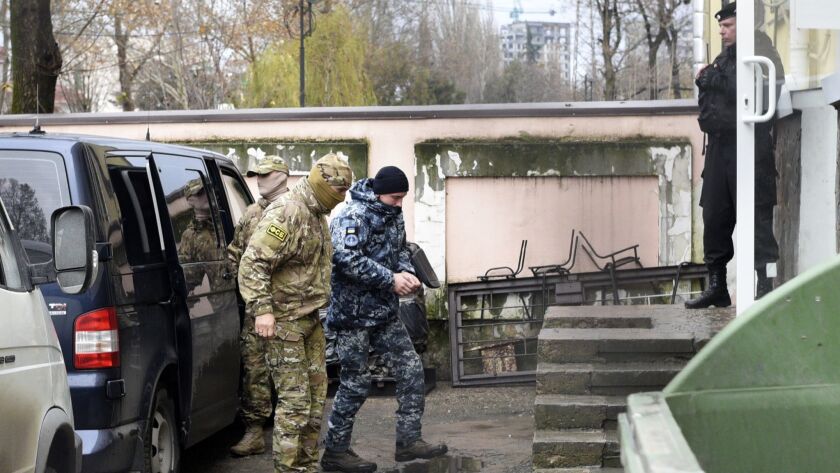 Reporting from Moscow —
Russian President Vladimir Putin on Wednesday said that the recent clash with Ukrainian navy forces in the Black Sea was a provocation organized by Ukrainian President Petro Poroshenko and praised the Russian coast guard for its handling of the confrontation, which saw Russian ships open fire on and seize three Ukrainian vessels and 24 crewmen.
Ukraine, however, accused Moscow of being the aggressor and released what it said was the exact location where its ships were fired upon Sunday by Russia, showing that they were in international waters.
The Ukrainian flotilla left the Black Sea port of Odessa on Sunday and sailed toward the Kerch Strait — a channel flanked by Crimea and the Russian mainland — to reach Ukrainian ports in the Sea of Azov on the other side of the passage. Russia insists the boats did not notify traffic authorities of their journey, while Ukraine says Russia was notified in advance.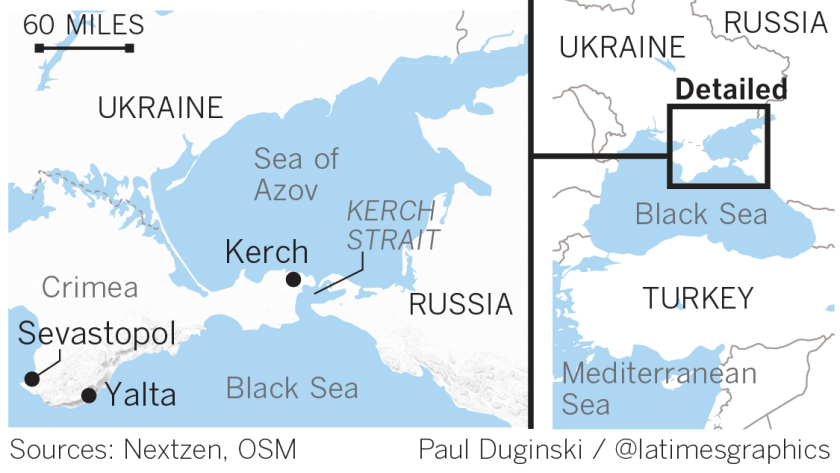 Sunday's voyage was not the first time that Ukrainian vessels have sailed from the Black Sea into the Sea of Azov, designated as shared internal waters by Ukraine and Russia by a 2003 treaty that Putin signed himself. On Sept. 23, with tensions already rising in the Kerch Strait as Russia began to impose greater control over passage, a Ukrainian flotilla made the run unimpeded.
Putin said the Ukrainian flotilla in September "fully complied with agreements and requirements: They announced the composition [of the flotilla], where they were going, and who was going. We provided them with a pilot and calmly led them to their destination in the Sea of Azov."
Sunday's incident has sparked the sharpest rise in tensions between Ukraine and Russia since Moscow annexed the Crimean peninsula from Kiev in 2014, and instigated an ongoing insurgency in eastern Ukraine that has claimed at least 10,000 lives. It also marked the first time that Russia has acknowledged opening fire on Ukrainian military forces, raising fears of a broader war.
"This was a provocation which was certainly organized by the sitting officials [in Kiev], including the president," Putin said at an investment forum in Moscow. "A small incident in the Black Sea, and they implement martial law. Well, it is clear that this was done on the eve of the presidential election. It is an absolutely obvious fact."
Putin is not alone in accusing Poroshenko of political posturing. The Ukrainian president has very much styled himself as a wartime leader in the last four years, but his approval ratings have tanked, and he now faces serious challenges from political rivals in the upcoming March elections.
Poroshenko on Monday persuaded the Ukrainian parliament to approve his proposal to implement martial law across 10 regions deemed at risk of Russian aggression, citing evidence of a pending Russian offensive. He did not elaborate. Many in Ukraine and abroad criticized the move as a ploy to bolster his faltering approval ratings ahead of presidential elections in March.
Before scaling back his proposed martial law plan, observers abroad and opposition circles in Kiev suggested that martial law could be used to postpone the elections and clamp down on press freedoms.
Russian Prime Minister Dmitry Medvedev echoed Putin's remarks Wednesday on Twitter, saying that "Poroshenko does not stand a chance in the current [electoral] situation and may not even make it into the runoff. This provocation in the Kerch Strait may have been engineered for pushing through specific political decisions that would benefit the incumbent president."
Putin spoke at length about Sunday's incident, noting that it was little more than a border dispute and that Kiev is now blowing it out of proportion. His remarks came as Moscow announced it would deploy new, cutting-edge S-400 air defense systems to Crimea, and a court sentenced all 24 captive Ukrainian sailors to two months of pretrial detention.
Despite calls from Kiev to treat the men as prisoners of war, which would shield them from criminal charges, they will all be subject to charges of violating Russia's territorial waters — a penalty that carries a maximum sentence of six years. Russia said that two of the men aboard were Ukrainian intelligence officers, a fact later conceded by Kiev. However, Ukraine said they were simply performing counterintelligence duties.
Ukraine on Wednesday released a map allegedly pinpointing where the men and their boats were fired upon and captured by Russian sailors. The map placed the three boats in international waters. It is not clear if the Ukrainian boats earlier violated Russia's claims to waters off the coast of Crimea, which is still recognized internationally as Ukrainian territory.
The incident has sparked new waves of condemnations from world leaders of what is viewed by some as just the latest example of Russian aggression against Ukraine, in this case seizing an opportunity to assert itself as the sole owner of the strait. Some leaders in Europe called for imposing deeper sanctions on Moscow
But Putin on Wednesday stood by the conduct of his coast guard, saying they did their job in the face of an uncertain foreign military presence in Russian territorial waters.
"Military vessels entered Russian waters and did not respond," Putin said. "How should [the coast guard] have reacted? If they acted differently, they all would have been brought to trial. They carried out their military duty."
Bodner is a special correspondent.
---
UPDATES:
1:30 p.m.: This article was updated with additional details about Sunday's clash on the Black Sea.
10:15 a.m.: This article was updated with Los Angeles Times staff reporting.
This article was originally published at 7:55 a.m
---
Must-read stories from the L.A. Times
Get all the day's most vital news with our Today's Headlines newsletter, sent every weekday morning.
You may occasionally receive promotional content from the Los Angeles Times.