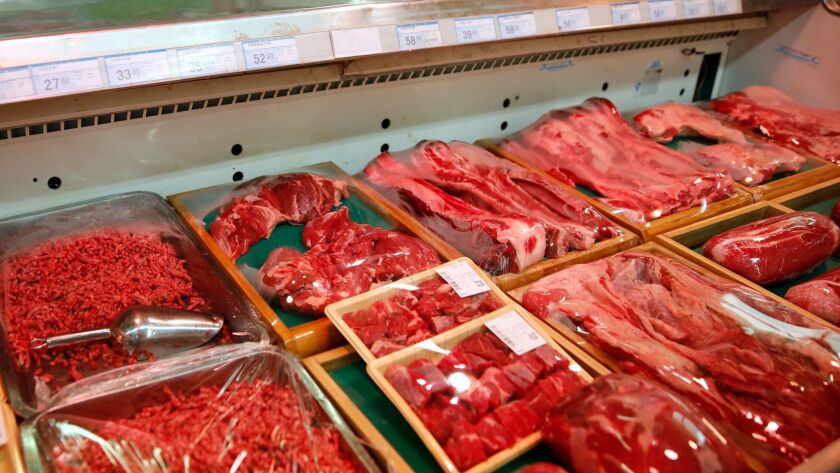 Reporting from WASHINGTON —
Eager to show progress on improving American trade, the White House announced an agreement with China on a range of market-opening issues that could pave the way for greater U.S. sales of beef, biotechnology products and certain financial services to the world's second-largest economy.
On the whole, the 10-item package announced late Thursday was met with skepticism by China experts and financial analysts, who doubted it would have a meaningful effect on the $310-billion trade deficit that the U.S. had with China last year — a key goal of the Trump administration's trade policy.
The deal put hard dates on some previously announced steps, such as China's opening access to U.S. beef by July 16, and was seen largely as the first fruits from Chinese President Xi Jinping's visit with Trump at his Mar-a-Lago Florida estate in early April.
Parts of the agreement merely reaffirmed that the two sides would act as soon as possible and follow through in issuing guidelines on measures crafted during the Obama administration.
The deal came after numerous discussions between Beijing and Washington in recent weeks, but it made no mention of top American concerns about the way Beijing manages its currency, deals with intellectual property protection and subsidizes state-owned enterprises and industries such as steel manufacturing. Nor was there any reference to a potentially far-reaching deal known as the bilateral investment treaty that the two sides had been negotiating for years.
"I think the idea that this is going to reduce the bilateral trade deficit is a very optimistic interpretation because there's just not enough there to make any difference," said Nicholas Lardy, an authority on the Chinese economy at the Peterson Institute for International Economics.
Trump nonetheless touted the deal Friday on Twitter, in what some saw as an effort to divert attention from the controversy swirling over his firing of the FBI director and the agency's investigation into his presidential campaign's connections to Russia.
"China just agreed that the U.S. will be allowed to sell beef, and other major products, into China once again. This is REAL news!" the president tweeted.
While hardly transformative, the new agreement and accompanying remarks by Commerce Secretary Wilbur Ross are the latest indication of a clear softening in Trump's once-harsh tone toward China. During the campaign, Trump repeatedly bashed China, threatening to impose tariffs of 45% on Chinese imports and promising to immediately label Beijing a currency manipulator.
Lardy, who spent the last week in Beijing meeting with Chinese officials and American businesses, said Friday that concerns about a trade war had declined significantly in the last couple of months.
Since his meeting with Xi, Trump has lavished praise on the Chinese president; he declined to name China a currency manipulator and dropped talk of sweeping tariffs on Chinese goods. Trump also has indicated that China could get a better deal on trade if Beijing helped the U.S. rein in North Korea and its ambitious nuclear-weapons program.
The trade deal was hailed by Ross as a "new high" in U.S.-China relations, and officials in China called the measures an "early harvest" from the 100-day dialogue that Xi and Trump established in Florida, which ends July 16.
It was unclear how much China has pushed North Korea since Trump's overture and whether that had affected the talks between the Trump administration and Beijing, although there have been reports that Beijing recently curtailed oil exports to Pyongyang.
Of the 10 items in the package, several amounted to essentially a restating of previously announced deals. China had agreed during bilateral talks last fall, for example, to allow imports of U.S. beef after banning it because of concerns about mad cow disease. U.S. beef exports to the world totaled about $6 billion last year.
For its part, the U.S. affirmed anew to resolve issues that would open China-cooked poultry to U.S. markets, but only "as soon as possible." The U.S. also said it welcomed China to import liquid natural gas from the U.S., but Lardy questioned whether China even had the capacity to buy much more supplies from America.
More significantly, China agreed that by July 16, it would issue bond underwriting and settlement licenses to two U.S. financial institutions, and that it would allow wholly foreign-owned firms in China to provide credit rating services. Chinese credit-rating agencies have little credibility in China, and access to foreign firms would help Beijing's efforts to develop the country's bond market.
China also said that by July 16, it would issue guidelines and allow U.S. suppliers of electronic payment services to "begin the licensing process," but foreign firms have long complained that China often makes it difficult to obtain licenses by establishing unusually strict requirements.
"The difference between an announcement and having economic boots on the ground can take months, if not years," said David Loevinger, a former China specialist at the Treasury Department and now a top Asia strategist for the Los Angeles investment firm TCW. He said, for example, that the Chinese language requirement for credit rating agencies is so stringent that most expatriates couldn't qualify.
In the last part of the agreement, the U.S. said that it welcomes direct investment by Chinese entrepreneurs. In specifically referencing "entrepreneurs," Lardy said that it may suggest the U.S. was inviting private Chinese business people but not necessarily state-owned firms, which have received greater scrutiny from U.S. regulators.
Also, the U.S. said it would send delegates to attend an international forum this weekend of China's "One Belt, One Road" — a global investment plan that is a top priority for Beijing. The Trump administration is expected to dispatch a senior White House official on East Asian affairs, but other countries are being represented by heads of state or other top-level officials.
Loevinger considered the U.S. recognition of the Chinese plan to build ties across the world as significant, saying that it marked a contrast in strategy from the Obama administration, which sought to bring China into the international system and institutions, such as the IMF and the G-20, designed largely by the U.S.
"This is a signal that for the near term, China is going to be taking the initiative," he said.
---
UPDATES:
2:20 p.m.: This article was updated with throughout with staff reporting.
This article was originally published at 4:50 a.m.
---