Trump says it's time for U.S. to recognize Israel's sovereignty over Golan Heights
Reporting from Jerusalem —
President Trump announced Thursday that the United States will recognize Israeli sovereignty over the Golan Heights, a fertile expanse of land Israel seized from Syria decades ago, handing the government of Benjamin Netanyahu another prize and angering the international community.
In a tweet that reverses long-standing U.S. policy, Trump said it was "time" to recognize full Israeli control over the disputed swath of land, an estimated 700 square miles wedged between eastern Israel and western Syria.
"After 52 years it is time for the United States to fully recognize Israel's Sovereignty over the Golan Heights, which is of critical strategic and security importance to the State of Israel and Regional Stability!" Trump tweeted.
In Jerusalem, Netanyahu beamed as he stood next to U.S. Secretary of State Michael R. Pompeo shortly after Trump made his announcement.
"President Trump has just made history," Netanyahu tweeted 15 minutes after Trump.
He called it a miracle of Purim, the holiday that just started and represents the salvation of ancient persecuted Jews.
Pompeo said that after a day of visiting holy sites, including the Church of the Holy Sepulcher and the Western Wall, he was more appreciative than ever of the need to protect the "hard-fought real estate" of the Golan Heights.
It was unclear whether Pompeo, who was on a two-day visit to Jerusalem, was expecting Trump's tweet. He had been pressed on the issue repeatedly in recent days and refused to provide a clear answer.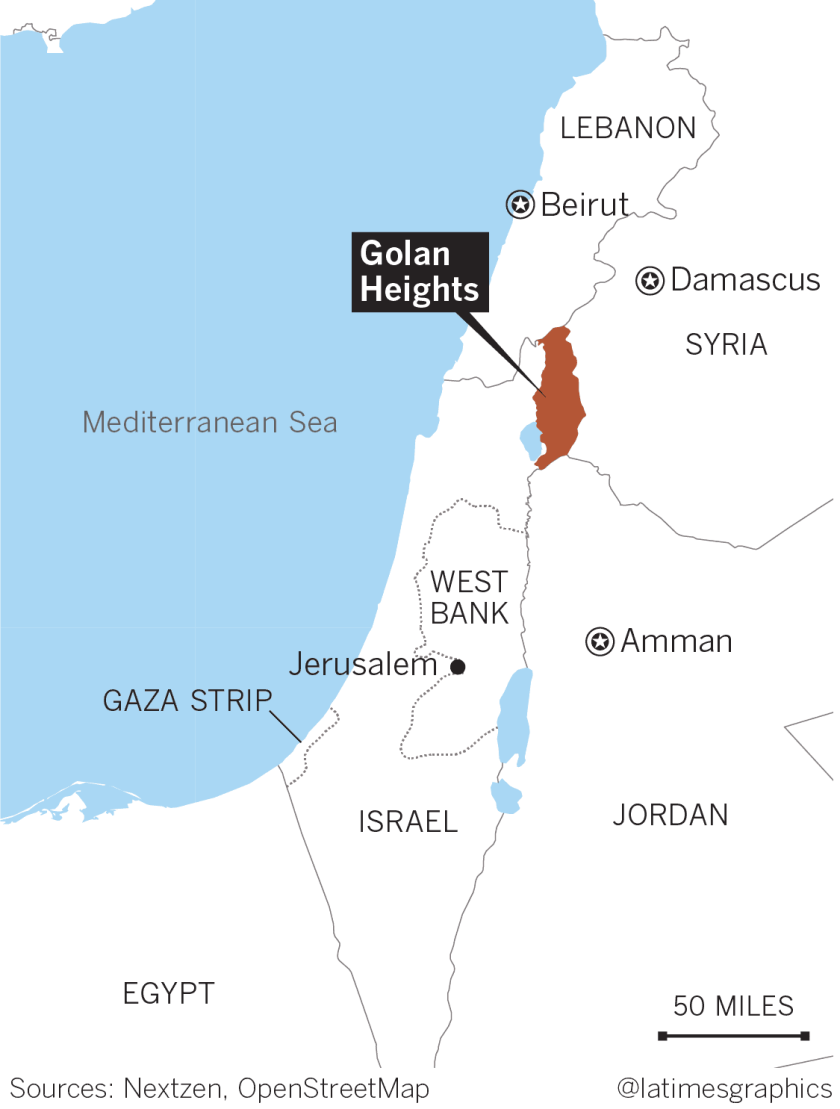 Israel maintains — and the Trump administration agrees — that inroads in Syria made by Iran through its proxy, the Lebanon-based militant group Hezbollah, were moving military threats closer to Israel in the Golan region. Netanyahu said Iran was trying to destroy Israel and the Jewish people.
Criticizing Iran has become a top policy priority for the Trump administration, and it sees opportunities to do that from Yemen to Iraq.
U.S. recognition of Israel's domination of the Golan Heights also gives the Israeli army a green light to build up its defenses on the verdant hillsides, although it was not immediately clear what would change. The United Nations maintains a peacekeeping force in the area of several thousand troops.
The decision, assuming Trump implements it, will be seen in many quarters as another U.S.-backed step to further legitimize Israeli occupation of land once controlled by Arabs. And it is already being described in Israel as another boost for Netanyahu's flagging reelection campaign ahead of the April 9 vote.
"The message that President Trump has given the world is that America stands by Israel," said Netanyahu, never shy to capitalize on his American contacts.
There had been numerous signs that the Trump administration was heading in this direction.
Netanyahu, facing a tough reelection battle, has campaigned on asserting Israeli control over the lush agricultural region. And he has lobbied the Trump administration to lend its support.
Some commentators in the Middle East compared the Golan decision to Trump's abrupt and controversial proclamation that Jerusalem — also territory contested by Israel and another group of Arabs, the Palestinians — would be awarded to Israel as its capital. He ordered his administration to make the U.S. the first major country to establish an embassy in Jerusalem.
One difference is that, unlike the West Bank, the Golan is more heavily occupied by Israeli citizens. That more closely brought the region into the geopolitical fold.
Netanyahu's critics said the Golan decision was more about Trump helping a friend in an electoral campaign than sound policy.
In fact, Netanyahu's main opponents in the upcoming election accused the prime minister of stealing their issue, the recognition of the Golan Heights as Israeli property.
Other experts and former diplomats found the move, which they said seemed impulsive, as potentially dangerous for its alienation of other Arab states, which would in turn scuttle other efforts to build agreements in the region.
"Now NOT the time 4 US to recognize Israel sovereignty over Golan Hts," Richard Haass, president of the Council on Foreign Relations, said in a tweet. "No Arab govt would make peace w Israel & would violate [United Nation resolutions that rule out] acquiring territory by war."
Proponents of recognizing Israeli control over the Golan Heights include some American conservatives and evangelicals who are close to Trump. Just a week ago, Sen. Lindsey Graham (R-S.C.) said he came to Jerusalem to make the argument for Israeli sovereignty over the Golan Heights.
Special correspondent Noga Tarnopolsky in Jerusalem contributed to this report.
---
Must-read stories from the L.A. Times
Get the day's top news with our Today's Headlines newsletter, sent every weekday morning.
You may occasionally receive promotional content from the Los Angeles Times.