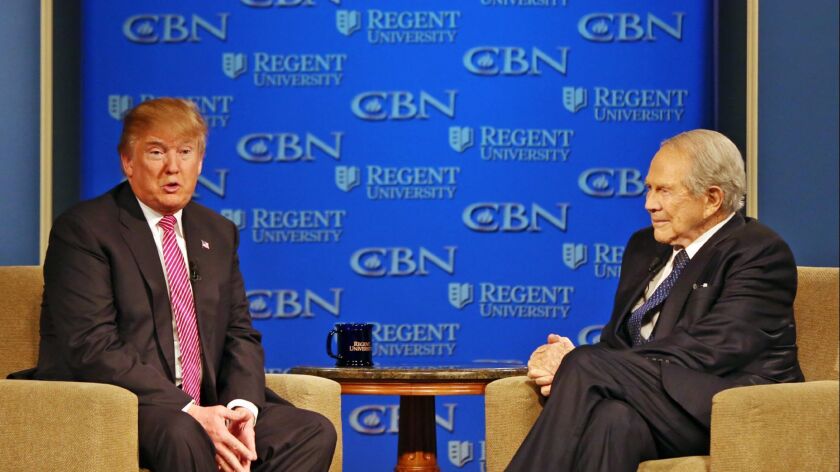 Reporting from VATICAN CITY —
A Vatican-approved journal has dismissed "prosperity gospel" as a pseudo-theology dangerously tied up with the American dream and President Trump's politics, launching its second major critique of U.S. evangelicals in as many years.
Two of Pope Francis' top communications advisors — an Italian Jesuit and an Argentine Protestant pastor — penned "The Prosperity Gospel: Dangerous and Different" for the current issue of the Jesuit journal La Civilta Cattolica, published Wednesday.
In the article, the authors note that the "prosperity gospel" and its belief that God wants his followers to be wealthy and healthy has spread throughout the world, particularly in Latin America and Asia, thanks to its charismatic proponents' effective use of TV and media.
But they point to its origins in the U.S. and its underpinning of the American dream, and say its vision of faith is in direct contrast to true Christian teaching and Francis' emphasis on the poor, social justice and salvation.
"In truth, one of the serious problems that the prosperity gospel brings is its perverse effects on the poor," wrote the authors, the Rev. Antonio Spadaro and Marcelo Figueroa.
"In fact, it not only exasperates individualism and knocks down the sense of solidarity, but it pushes people to adopt a miracle-centered outlook because faith alone — not social or political commitment — can procure prosperity."
Although "popularity gospel" is widely popular, many Christians consider it heretical. Ministers in the tradition often hold up their own wealth as evidence that their teachings work.
Trump campaigned in part on his record as a wealthy real estate developer and businessman, and preacher Paula White is a key Trump advisor. She and another prosperity preacher, Bishop Wayne T. Jackson, were among the religious leaders selected to offer prayers at Trump's swearing-in.
The Civilta Cattolica article said "prosperity gospel" clearly serves the U.S. economic-political model, especially under Trump, and the idea of "American exceptionalism" and that the United States "has grown as a nation under the blessing of the providential God of the Evangelical movement."
It cited Trump's inaugural speech and the militancy associated with prosperity preachers, in which in a few short sentences Trump mixed in the idea of "God, the army and the American dream."
The article named several prominent U.S. and international televangelists and megachurch pastors, including Oral Roberts, Pat Robertson and Joel Osteen — and denounced how they have increased their own wealth and popularity thanks to a "pseudo-gospel" that subverts the Bible.
Most problematic, the authors said, was the preaching that if the faithful give money to the preachers, they will reap the rewards exponentially because of their faith that God will provide them riches.
"This is why there can be a lack of empathy and solidarity in these cases from [prosperity gospel] followers," the article said, referring to migrant crises and natural disasters. "There can be no compassion for those who are not prosperous, for clearly they have not followed the rules and thus live in failure and are not loved by God."
---