Abuse survivor quits pope's child-protection panel, citing lack of cooperation in the Vatican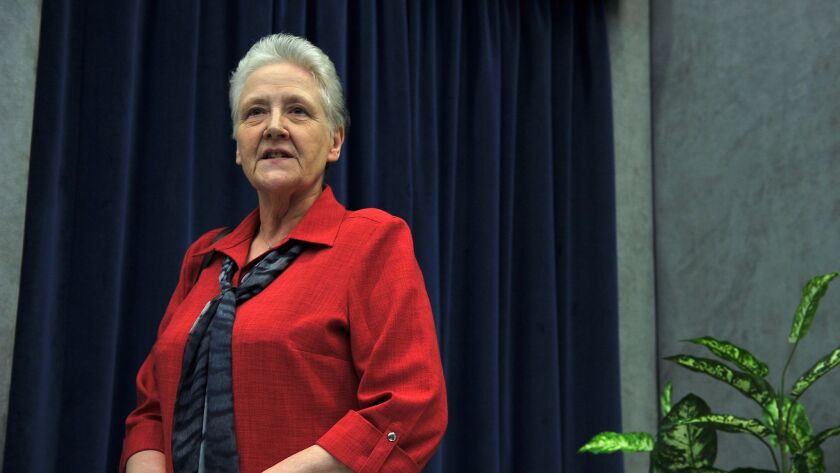 In a stinging indictment of Vatican efforts to address sexual abuse by priests, an Irishwoman who was abused as a child resigned Wednesday from a panel that is advising Pope Francis on how to respond to the scandal that has tarnished the Roman Catholic Church for decades.
Marie Collins said she quit the Pontifical Commission for the Protection of Minors because she was frustrated by a lack of cooperation with the panel by some members of the Roman Curia, or Vatican administration.
"As a survivor I have watched events unfold with dismay," she said in a statement to the National Catholic Reporter. "The reluctance of some in the Vatican Curia to implement recommendations or cooperate with the work of a commission when the purpose is to improve the safety of children and vulnerable adults around the world is unacceptable."
The commission said that the pope had accepted Collins' resignation "with deep appreciation for her work on behalf of the victims/survivors of clergy abuse." It also noted in a statement that she had accepted an invitation from the head of the panel, Cardinal Sean P. O'Malley of Boston, to work with it in an educational capacity.
"We will certainly listen carefully to all that Marie wishes to share with us about her concerns," O'Malley said, adding, "As the commission gathers for the plenary meeting next month we will have an opportunity to discuss these matters."
Collins was the only survivor of clergy abuse serving as an active member of the commission after Peter Saunders, a British member who was an outspoken critic of the panel's work, was placed on a leave of absence a year ago. Her departure raises fresh questions about the Vatican's commitment to ensuring that children are protected from predator priests.
Among the reasons Collins cited for her resignation was the failure to set up a tribunal to hold accountable negligent bishops, who long covered up accusations of abuse in dioceses around the world. Even though Francis signed off on the idea in 2015, she said, it was found to have unspecified "legal" difficulties and never implemented.
Collins also complained that although the commission had developed "safeguarding guidelines" to help bishops' conferences draw up their own polices to protect children, those guidelines had not yet been disseminated.
"The last straw," she said, was when she learned that a Vatican department was refusing to respond to correspondence from abuse victims.
"I find it impossible to listen to public statements about the deep concern in the church for the care of those whose lives have been blighted by abuse, yet to watch privately as a congregation in the Vatican refuses to even acknowledge their letters!" she said in the statement. "It is a reflection of how this whole abuse crisis in the church has been handled: with fine words in public and contrary actions behind closed doors."
Collins expressed disappointment that the pontiff had in some cases reduced sanctions for members of the clergy who were convicted of abuse. Although she noted that she had not had an opportunity to sit down with Francis during her three years on the commission, she said she believes "the pope does at heart understand the horror of abuse and the need for those who would hurt minors to be stopped."
ALSO
Pope Francis' sex abuse comments draw ire from victims
Vatican panel kicks off meeting on sexual abuse by watching 'Spotlight'
Vatican critic says only Pope Francis can dismiss him from sex abuse panel
---
UPDATES:
1:55 p.m.: This article was updated with staff reporting.
This article was originally published at 9:45 a.m.
---
Must-read stories from the L.A. Times
Get all the day's most vital news with our Today's Headlines newsletter, sent every weekday morning.
You may occasionally receive promotional content from the Los Angeles Times.