Walking to work and cutting back on meals: Life in the time of hyperinflation in Venezuela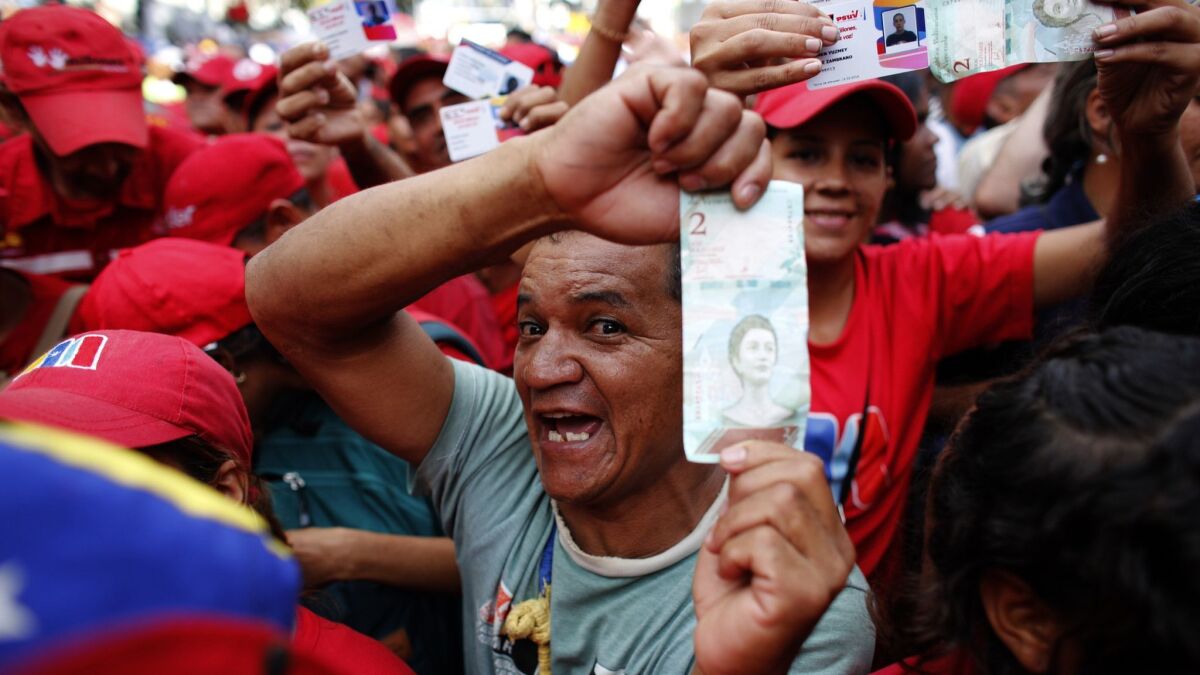 Reporting from Caracas, Venezuela —
Excuse Maria Eugenia Rojas' skepticism for the dramatic economic measures that took effect here Tuesday, touted by the nation's president as the keys to rescuing an economy so battered that even buying food, medicine and school supplies is beyond reach for many.
A listless, devastated economy is what the single, lower-middle-class mother of three has become accustomed to in recent years. Her standard of living has fallen and she struggles daily to make ends meet. She expects to continue to have to scramble just to survive and sees no indication that Venezuela's hollowed-out economy will rebound.
"Nothing will change for me," said Rojas, a former agricultural advisor who works as a cleaning woman and street vendor after her job disappeared and her husband left the family.
"Every day I walk an hour and a half to work because public transport has been suspended and an hour and half back with just a plate of food for my children," Rojas said.
With her confidence in President Nicolas Maduro waning and her spending power crushed by Venezuela's hyperinflation, Rojas said she's lost hope that things will improve anytime soon for her family. She recently abandoned her home in Caracas and moved to Valle de Pascua, a four-hour drive from the capital, because the cost of living in the metropolis was now beyond her means.
"It's my daily challenge, just putting food on the table for my children," Rojas said. "Our quality of life and our purchasing power have deteriorated in the extreme and now we can't afford the luxury of living in the capital."
To try to rein in the inflation that is choking Venezuelans, Maduro announced a set of jarring corrective measures — the national currency, the bolivar, would be devalued, new price controls set, taxes raised and the minimum wage hiked by nearly 3,600%. Most of those provisions took effect Tuesday, although the minimum wage increase — the one salve in the package for front-line workers — won't kick in until Sept. 1.
Even if the steps ultimately succeed in righting the slumping economy, Rojas said the measures are too little too late for her. In addition to leaving behind her former life in Caracas, she has given up things she once took for granted, such as her smartphone, cable TV and internet — all luxuries she can no longer afford.
Her overriding concern these days is scraping together enough money to pay for school uniforms and supplies for her children, who soon will begin public school in Valle de Pascua, south of the capital.
"I really have no idea how I am going to pay" for uniforms and supplies including notebooks, pencils and books. "The prices have gone off the chart."
So how does someone such as Rojas cope with the runaway inflation and anemic spending power that have beset this once-flourishing nation? She eats less so that her children's diet meets basic nutritional guidelines, a regimen that has resulted in her losing 40 pounds in the last two years. Her husband, who left the family in 2016, provides no financial support, she said.
Since she can't afford to buy groceries by the kilo, the customary purchasing method, she scrimps on her budget and buys only enough to scrape together modest meals for a single day. Often, all she and her children eat for breakfast or dinner are arepas, a traditional cornmeal patty, with cheese.
When she can't afford to buy supplies, she sells her arepas to workers at a nearby slaughterhouse to earn extra bolivars.
"I see things getting worse every day, we're just managing to survive," Rojas said.
On Tuesday, new bolivars were introduced in Venezuela, a move that Maduro said would help stabilize an economy that is in its fourth year of recession. The new bills are the same as old bolivars, except with five fewer zeros. As for immediate impact, Rojas said some store prices remained the same on Tuesday, while others, including for cheese and beef, shot up amid uncertainty over the measures' effect.
Josefina Rodriguez, who sells cheese at a street market in east Caracas, said Tuesday that she had to close her business temporarily because her suppliers still have not figured out the price impact of the devalued currency.
"I didn't open for business today," Rodriguez said. "Suppliers haven't given me the new price list, and we're not getting any new merchandise. We'll sell what we have left in storage but afterward I have no idea what will happen."
On Tuesday, informal currency exchanges quoted the new Venezuelan bolivar as being worth nearly 6 million of the old bolivars. Venezuela's currency has now lost more than 90% of its value since January. Despite that, the government stubbornly maintains price controls on many basic products such as rice and beans, an economic "straitjacket" for many.
The price controls continue to create an enormous incentive for smugglers who can acquire food items at government subsidized prices and then resell them in Colombia or Brazil at market prices, reaping enormous profits. The practice has left shelves bare in grocery stores.
"We hope in the space of 90 days everything will normalize," said Vice President Tareck El Aissami in a televised interview Monday. "We ask for [the public's] understanding."
Unmoved by the vice president's plea, opposition politicians, union leaders and some trade groups staged a nationwide strike Tuesday to protest the new measures while business owners complained that they didn't have the resources to implement the enormous minimum wage hikes mandated by Maduro.
Rojas said if it weren't for the daily uncertainties of life in Venezuela, she would have joined the protests.
"Simply put, I don't have time. I have to keep moving. If I stop, my children don't eat. I'm caught in a trap and I don't see any way out."
Special correspondents Mogollon and Kraul reported from Caracas and Bogota, Colombia, respectively.
---
Must-read stories from the L.A. Times
Get the day's top news with our Today's Headlines newsletter, sent every weekday morning.
You may occasionally receive promotional content from the Los Angeles Times.