U.S.-backed Venezuelan opposition faces limited options after unsuccessful aid effort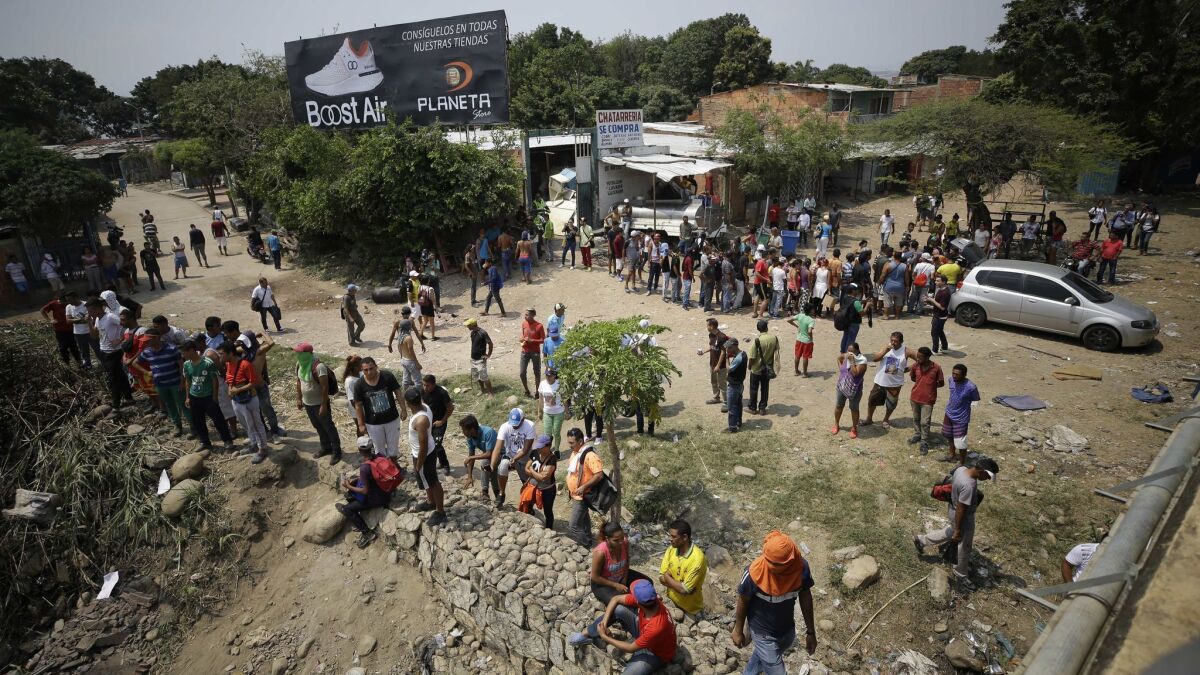 Reporting from Cucuta, Colombia —
The remains of a pair of scorched and mangled aid-delivery trucks blocked the middle of the Francisco de Paula Santander Bridge between Colombia and Venezuela on Sunday.
Farther south, the Simon Bolivar International Bridge — also linking the two countries — was littered with rocks, tear-gas canisters and shotgun shells.
The detritus strewn on the now-shuttered bridges stood as testament to the near total failure of a U.S.-backed humanitarian aid effort Saturday that was explicitly intended to break the loyalty of the Venezuelan military to the government of embattled President Nicolas Maduro.
Instead, Maduro's heavily reinforced border forces blocked delivery of hundreds of tons of food and medicines, amid running battles with opposition activists on the bridges and in the Venezuelan border town of Urena. More than 300 people were reported injured, mostly from tear gas fired by the Venezuelan police and national guard. Along Venezuela's remote border with Brazil, four people were reported killed in aid-related clashes.
While Colombian authorities asserted the defection of some 100 Venezuelan security personnel here, the Venezuelan military and police did not turn sides en masse and open a path for the aid — as Juan Guaido, the opposition leader and self-declared interim president, had predicted.
"The coup has failed," an exultant Maduro declared. "Victory is ours!" Maduro added, dancing with his wife, Cilia Flores, in a celebratory rally in the Miraflores presidential complex in Caracas on Saturday.
Meanwhile, U.S. officials and the Venezuelan opposition declared that Maduro's violent moves to block the aid would further tarnish his image and harden the resolve of those seeking to oust him.
In the aftermath of the aid initiative, Guaido and his U.S. patrons were quick to call the episode a victory that would ultimately hasten the fall of Maduro.
"Today we saw a man who isn't pained to send [authorities] to burn food needed by the hungry," Guaido said on Saturday evening here in Cucuta.
Venezuelan authorities blamed pro-opposition troublemakers for burning the aid trucks and for attacking Venezuelan security units on the bridges.
The aid operation unfolded one month to the day after Guaido, leader of Venezuela's opposition-controlled congress, declared himself "interim" president and labeled Maduro a "usurper." He was soon recognized as Venezuela's legal leader by the United States and dozens of allied nations.
On Monday, Guaido is scheduled to meet with allied Latin American leaders and U.S. Vice President Mike Pence in Bogota, the Colombian capital.
In various comments over the weekend, Guaido and U.S. officials hinted that more forceful moves aimed at pushing Maduro out of office could follow the aid effort.
In a Twitter message, Guaido said that the outcome here had prompted him to propose that the "international community" retain "all options open to obtain the liberation" of Venezuela. Previously, Guaido has stated that foreign intervention in Venezuela could be legal under Venezuelan law as a "humanitarian" act.
U.S. Sen. Marco Rubio (R-Fla.), who has been heavily involved in efforts to remove Maduro, posted on Twitter a photograph of bloodied former Libyan leader Moammar Kadafi after he was captured by opposition forces, before his summary execution. Rubio attached the hashtag, #MaduroCrimeFamily, to his post.
But the opposition and its allies in Washington stopped short of calling directly for U.S. armed intervention, a policy that even many opposed to Maduro's government reject.
"Bombs don't discriminate — they kill innocents as well as the guilty," said Kimberlit Gonzalez, 31, a mother of three who was among a group of a dozen Venezuelans waiting here for transportation to Peru. "It is true: Maduro doesn't care if his people starve, or don't have medicines. But war is not the answer."
Despite the ratcheting up of verbal assaults, analysts say, the Trump administration seems more likely to tighten sanctions on Venezuela, while continuing to build international efforts to recognize Guaido as the country's leader — even though Guaido controls no territory or government ministries.
A U.S. invasion is "extremely unlikely," predicted Bruce Bagley, an international studies professor at University of Miami.
"If we break [Venezuela], we will have to 'own' it for at least a decade or more while combating a guerrilla war, terrorism and widespread organized criminal activity," Bagley said. "A presidential election year is coming up and Trump would be committing political suicide if he chooses to invade and occupy Venezuela."
In an interview with Fox News Sunday, Secretary of State Michael R. Pompeo reiterated the Trump administration position that "every option is on the table."
"We're going to do the things that need to be done to make sure that the Venezuelan people's voice — that democracy reigns and that there's a brighter future of the people of Venezuela," Pompeo said.
While U.S. officials and the opposition blame Maduro's mismanagement and corruption for Venezuela's woes, Maduro blames a U.S. "economic war" for his country's chronic shortages and its descent into hyperinflation.
"They [U.S. officials] will keep imposing the sanctions that are already destroying the country," said Mark Weisbrot, co-director of the Center for Economic and Policy Research, a left-leaning Washington think tank.
Any direct U.S. military intervention in Venezuela could result in a "bloody civil war," said Weisbrot.
Success of the opposition in Venezuela would probably depend on a patient approach, said Luis Salamanca, political science professor at Central University of Venezuela in Caracas. That would probably require the opposition to remain united behind the figure of Guaido for some time, which could prove a challenge for a long-fragmented movement.
"There are several ways to achieve change but what is shaping up is a slow strategy without any deadline," Salamanca said. "For there to be a military overthrow, you have to undermine them from inside, tire them out, to overcome their revolutionary irrationality."
Times staff writer McDonnell reported from Cucuta and special correspondents Kraul from Bogota and Mogollon from Caracas. Also contributing were staff writers Tracy Wilkinson and Laura King in Washington and special correspondent Liliana Nieto del Rio in Cucuta.
---
Must-read stories from the L.A. Times
Get the day's top news with our Today's Headlines newsletter, sent every weekday morning.
You may occasionally receive promotional content from the Los Angeles Times.