8 Images
Radovan Karadzic arrested
Sarajevo
Residents of Sarajevo celebrate early today in the streets after hearing the news that Bosnian Serb wartime leader Radovan Karadzic was arrested in Belgrade. Karadzic and his military commander, Ratko Mladic, are seen as the main culprits of the Bosnian war in 1992 through 1995, which claimed an estimated 100,000 lives. The two men are indicted in connection with the Sarajevo siege during which up to 11,000 people were killed, and the Srebrenica genocide of 8,000 Muslim men and boys.
(Hidajet Delic / Associated Press)
Newspaper
A Bosnian woman reads the country's daily newspaper with a front-page headline: "Karadzic Arrested" and a photo of Bosnian Serb leader Radovan Karadzic. A judge early today finished interrogating the arrested wartime leader, triggering a procedure to hand him over to a U.N. war crimes court. Karadzic is the accused mastermind of Europe's worst massacre since World War II.
(Amel Emric / Associated Press)
Memorial
A Bosnian Muslim women passes by a stone marker imprinted with the number of Srebrenica massacre victims at the Memorial Center of Potocari near Srebrenica.
(Amel Emric / Associated Press)
Radovan Karadzic supporters
Serbian police confront supporters of Radovan Karadzic during a protest in Belgrade. The war crimes suspect was practicing medicine and living in Belgrade when he was arrested on genocide charges Monday.
(Mansanori Yoshida / AFP / Getty Images)
Potocari Memorial Center
A Bosnian Muslim woman prays at the memorial wall engraved with victims' names at the Potocari Memorial center.
(Elvis Barukcic / AFP / Getty Images)
Survivor
Habiba Masic, a survivor of the Srebrenica massacre, reacts as she listens to news of the arrest of Radovan Karadzic. Images of Srebrenica citizens who went missing after the safe U.N. enclave fell into Bosnian Serb hands in July 1995 line the wall behind her at the Assn. of Srebrenica widows in Tuzla, about 43 miles north of Sarajevo.
(Amel Emric / Associated Press)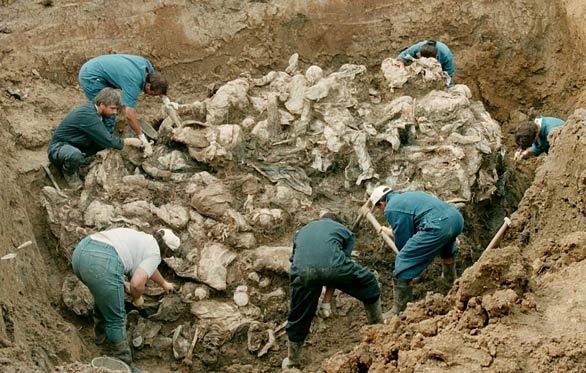 Mass grave
Forensic experts from the international war crimes tribunal in the Hague work on a pile of partly decomposed bodies on July 24, 1996. The remains were found in a mass grave in the village of Pilica, about 186 miles northeast of Sarajevo. The bodies are presumed to be those of about 7,000 men who went missing after Serbs overran the Muslim enclave of Srebrenica in July 1995.
(Odd Andersen / AFP / Getty Images)
Picture combo
At left, war crime suspect Radovan Karadzic during a press conference on March 3, 1994, in Moscow, and at right, a recent picture of Karadzic in Belgrade. Karadzic was arrested on genocide charges while practicing medicine under a fake name in Belgrade, officials said. The wartime Bosnian Serb leader had managed to remain at large for 13 years despite an international manhunt.
(AFP / Getty Images)