Can food lovers save Mexico City's nutrient-rich islands and the farmers who toil here?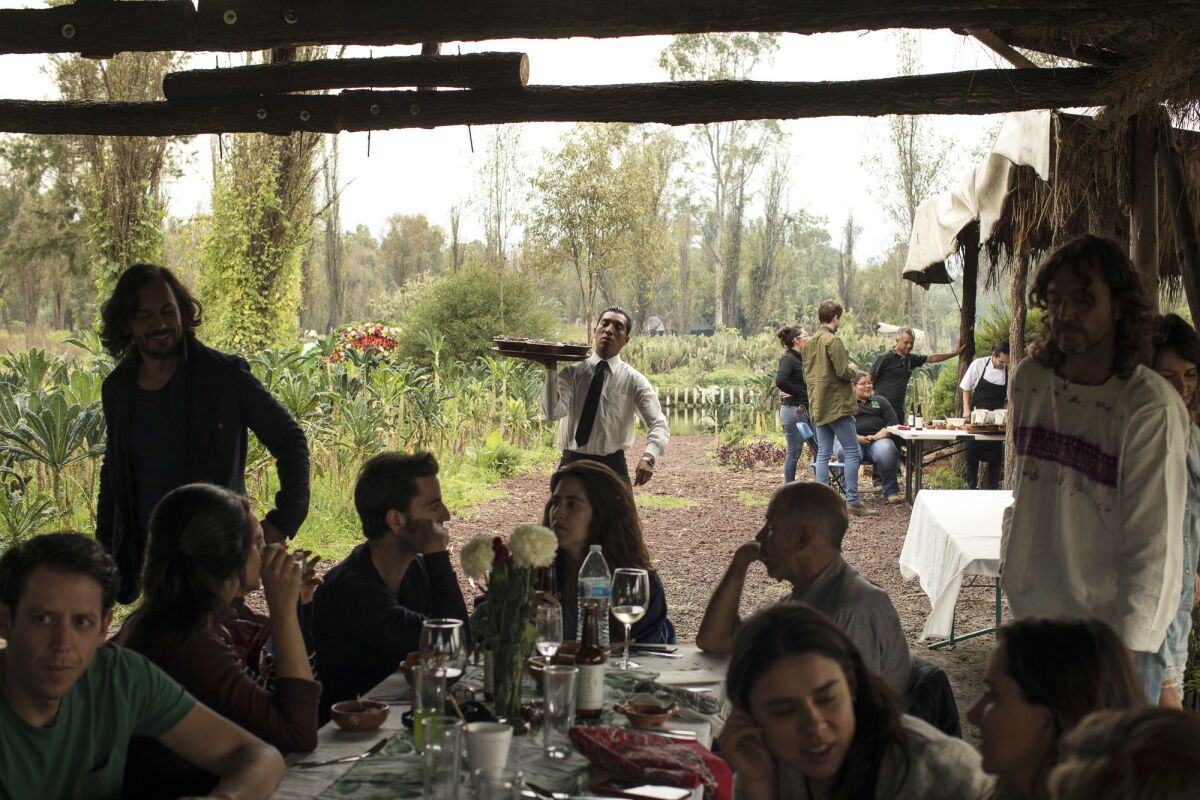 When he arrived at the small island in the midst of one of the world's biggest cities, chef Gabriel Rodriguez knew that the only piece of equipment at his disposal would be a simple brick grill. He would have to use it to fire tortillas until crisp enough to carry the weight of beans, salsa, herbs and cheese, to heat a broth of mushrooms, chicken and algae, and to char cornhusks stuffed with celeriac, squash and cactus.
But Rodriguez was delighted to sweat out every detail of his five-course tasting menu in a makeshift kitchen without so much as a refrigerator for the chance to support Yolcan, the collective whose mission is to revive ancient farming techniques and sustain those who grow food on the tiny nutrient-rich islands in the southern Mexico City community of Xochimilco.
Since March, in the maze of the verdant canals of Xochimilco, chefs like Rodriguez climb aboard wooden boats and drift past the blankets of water lilies to dock at a lush vegetable garden exploding with kohlrabi, red leaf lettuce and fennel. Here they will cook for as many as 50 guests at a time at a monthly food event known as Semillas del Chef, where the vegetables and fruit grown by the Yolcan farmers are featured in every dish.
Launched in 2011, Yolcan is a nonprofit that supports more than 20 families of farmers in Xochimilco, Texcoco and Hidalgo whose organic produce is featured in dozens of Mexico City restaurants and makes its way to hundreds of households in the region.
Rodriguez, who cooks at Tetetlan in Mexico City and is a winner of the popular Mexican television show "Top Chef Mexico," hopes that by participating in the island dinners he can convince others to consider the magic they can work with the heirloom tomatoes (in this case stuffed with burrata and a tomato reduction) or the fennel (churned into ice cream) that are grown on the islands.
Xochimilco is best known by tourists for its colorful party boats where revelers listen to mariachis and buy quesadillas from the floating vendors. But Lucio Usobiaga, one of the founders of Yolcan, wants visitors who attend Semillas del Chef events to learn what's really at stake here.
"We're trying to conserve and restore the chinampas," Usobiaga said, referring to Xochimilco's network of tiny islands that have formed over the centuries from the mud and compost in the canals. "It's a very important environmental area for Mexico City, and it's threatened by many factors: urban sprawl, pollution, and the abandonment of the chinampas."
Today, about 850 of the chinampas in Xochimilco are used for active farming and another 15,000 are thought to have farming potential, said Alberto Gonzalez-Pozo, author of a book about the islands.
But urbanization is threatening Xochimilco. Developments — many of them illegal — are popping up on some of the islands, and sewage often flows directly into the canals. The spring water that once fed the canals of Xochimilco was long ago harnessed for the densely populated neighborhoods of Mexico City and the back-and-forth cycle of drought and flooding alternately swamps the islands or causes them to sink.
"It's little by little but it's neverending," Gonzalez-Pozo said. "It's a worrying phenomenon."
The chinampas were once much smaller, some as narrow as 12 feet, Gonzalez-Pozo said. Today, some of the islands are as wide at 60 feet after many of the narrow canals were filled in. The loss of the waterways that once separated the islands has also reduced their fertility.
Many of the families who have farmed the chinampas for generations are giving up due to the meager wages, Usobiaga said. By paying fair wages and providing technical assistance, a planting schedule and a purchasing contract, Yolcan is hoping it can support families who want to continue farming.
Traditional farming practices include scooping mud from the lakebed, transporting it by trajinera (the long wooden boats used in the area), drying it out and then using it to plant individual seeds, or making a mulch from the local grasses to protect plants from the sun and maintain moisture.
---
But when Usobiaga began the Semillas del Chef series, he wasn't as concerned with diners understanding the exact way plants are nurtured or how they help cleanse the canal's polluted waters. He just wanted visitors to enjoy a good meal in a beautiful setting.
"For me, it's very simple: you can support the chinampas by eating well and spending time there — there's no sacrifice involved, everyone benefits."
Rodriguez said he immediately jumped at the chance to cook for the series.
"I was really stressed because I know some of the best chefs in Mexico have cooked with Yolcan, and when they told me I was going to cook here at the chinampas, I thought oh! I was so happy."
As he plated each course, Rodriguez bowed his head over the ingredients he'd prepared in his own kitchen and hauled out to the island. He tossed a salad of purslane with a padron-pepper-infused dressing and arranged pear chips specked with fennel seeds in a cloak over an orange-amaranth cake. But even after obsessing over each element of his five courses, Rodriguez said he was having fun.
Norma Listman and Saqib Keval cooked for a Semillas del Chef event in July at the height of Mexico City's rainy season. Standing in their restaurant Masala y Maiz, which opened a year ago in Mexico City's San Miguel Chapultepec neighborhood, they pointed to the green beans, yams and squash from the Yolcan farmers that had inspired the day's menu.
Each day, Yolcan sends Masala y Maiz a list of the produce that's available. Sometimes, they send along an extra product they think the chefs might enjoy using in a dish. After a year of working with Yolcan, Keval and Listman now sometimes request that the farmers plant specific varieties of vegetables they'd like to use in the future.
"When I came from the Bay Area, with all of the beautiful produce you find there, it was a no-brainer that I wanted to work with Yolcan," Listman said. "I cannot imagine being without Yolcan."
When they did the Semillas del Chef event, Listman and Keval tried to plan for every eventuality. Then, they watched as thunderheads rolled in.
"We're plating this very delicate dessert and they're holding sheet trays above the plates so we can finish. At that point everyone's happy, it's raining, it's very dramatic, dessert's coming out, we're pouring mezcal and tequila for everyone, wine for everyone. I'm running to the bar and grabbing shot glasses and Casa Dragones to bring back to the kitchen, pouring drinks for the staff to get a tequila blanket going," Keval recalled. "It was exhausting, it was fun, it was wonderful."
Tillman is a special correspondent.
---
Must-read stories from the L.A. Times
Get the day's top news with our Today's Headlines newsletter, sent every weekday morning.
You may occasionally receive promotional content from the Los Angeles Times.