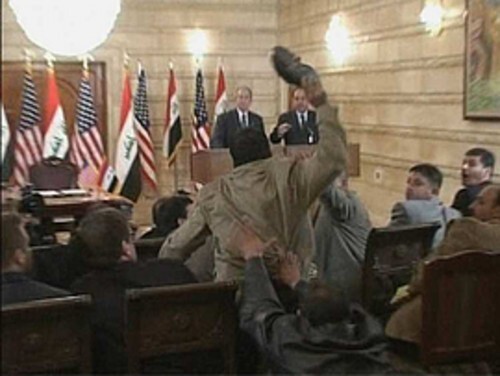 6 Images
Shoes and politics: Moments in history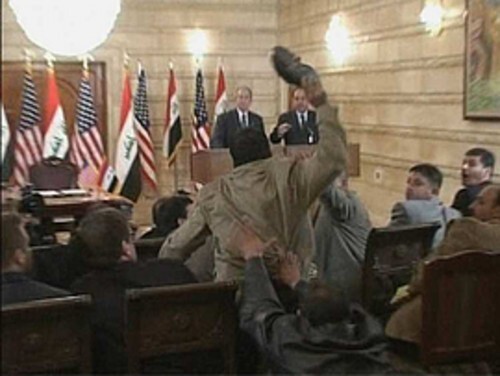 In a Sunday news conference in Iraq,
President George W. Bush
(left) stood at the podium with Iraq Prime Minister Nouri al-Maliki when journalist Muntather Zaidi, a correspondent for Baghdadiya, a satellite TV channel that broadcasts from Cairo, flung one shoe and then another at Bush. The president ducked and wasn't hit by the flying footwear.
(Associated Press)
On Sept. 1, 1952, Adlai E. Stevenson, the Democratic presidential nominee, shows his human side with the worn sole of a shoe. Stevenson was at a rally in Flint, Mich., with then-Gov. G. Mennen Williams.
The shoe became a symbol of how down-to-earth Stevenson was -- an image that contrasted with his intellectual persona -- though it didn't help him in the election. Dwight Eisenhower beat him for the presidency.
Photographer William M. Gallagher of the Flint Journal won the 1953 Pulitzer Prize for this photograph.
(William M. Gallagher)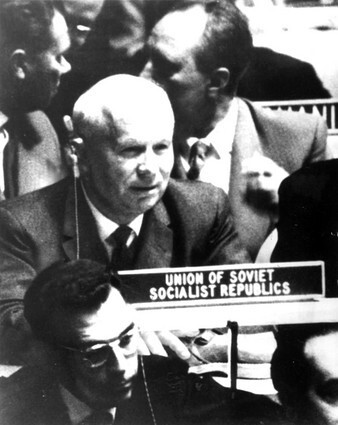 In October 1960, Nikita Kruschev, the Soviet premier, slams his shoe on his desk during a
United Nations
General Assembly session in New York City. He was protesting a speech by the Philippines delegate, who charged the Soviet Union with "swallowing up" Eastern Europe.
Some debate whether Kruschev brandished the shoe or actually banged it, but the act became shorthand for his disdain for the West.
His granddaughter Nina Khrushcheva wrote about the incident in a 2000 essay in the L.A. Times:
"I still think that, had the shoe-banging not happened, it would have been invented. The best anecdote is always the one that truly reflects the morality and character of certain times. The shoe incident became a real symbol of the Cold War, probably the only war in which fear and humor peacefully coexisted."
(Associated Press)
After a popular revolt forced dictator Ferdinand Marcos and his wife, Imelda, to flee the Philippines in 1986, officials were astounded to find more than 1,200 pairs of shoes owned by the former first lady.
Imelda Marcos gained notoriety for shopping trips to the world's swankiest boutiques, glitzy parties and lavish beautification projects in the midst of the Philippines' extreme poverty, the Associated Press wrote in 2001. The shoes became a symbol of extravagance and excess.
In this photo, Imelda Marcos in 2001 was reunited with about 200 pairs of her shoes in the Marikina Shoe Museum, near Manila.
(Pat Roque / Associated Press)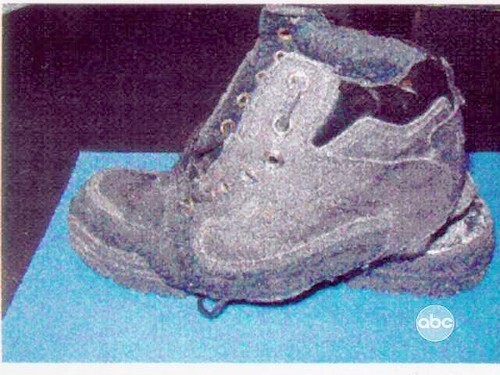 On Dec. 22, 2001, terrorist Richard Reid tried to detonate a bomb in his shoe (shown here) aboard an
American Airlines
flight from Paris to Miami.
He was overpowered by passengers and later convicted in the U.S.
This act forever changed security at airports around the world where passengers now remove their shoes and have them screened before boarding a flight.
(ABC News)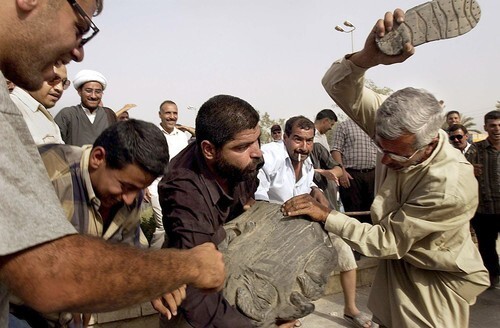 A man prepares to beat the statue of Ahmed Hassan Bakr, former Iraq president and Baath party member, after the figure was toppled in May 2003 in Baghdad, Iraq. Striking someone or something with a shoe is an act of great disrespect in Iraq.
(Wally Skalij / Los Angeles Times)